When Ariella Furman relocated to Pittsburgh two years ago, she heard one thing and observed another. People she met complained that there were not enough LGBTQ things to do in Pittsburgh, but after some research, Ariella figured out the real problem: There was not enough information about the LGBTQ things to do in Pittsburgh.
Her initial response was to form a new social group for LGBTQ women, Impulse Pittsburgh, which hosts monthly dance parties and social opportunities for women in the community. While very successful, she continued to hear that many women simply had no idea where to find information on events and opportunities to meet other LGBTQ women.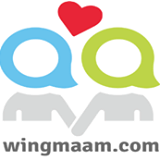 That is when she decided to create her own phone app, Wing Ma'am, a little bit of Grindr with a nice dose of community event planning thrown in to create a safe resource for LGBTQ women to find the information that they want.
Yes, there are calendars on various local websites, but a lack of resources (aka volunteers or funding) leaves most of them woefully incomplete. There are several email lists, but they have lost their luster in terms of frequency. There is social media of course, but that requires you to "friend" or "like" or "follow" each group or organization that might have an event you'd like to attend, or to be Facebook friends with the really connected kids who will invite you to everything. (OMG, I know that person too.)
Wing Ma'am app users can take advantage of the opportunity meet and connect with LGBTQ women in their vicinity, much like the Grindr app. But it is more than a hookup application. It also provides event planning features. Users can find book clubs, movie nights, discussion groups and dance parties organized by local women in their community. Local organizations will be able to post their LGBTQ-women-oriented events too.
Furman describes it as a "social movement," which is an interesting play on words for an LGBTQ app, fusing the hookup paradigm with the incorporation of social media into the social change we want to promote, including safe spaces for LGBTQ women to do things. Bringing queer women together to party, knit, talk politics or watch the Pirates at PNC Park does create social change whether you are in a queer-defined space or a general space. Furman is not being gimicky when she uses that tagline; there's truth to this concept.
The app is fairly easy to use: Users create profiles using their preferred terms to describe their identity and can opt in or out of the geolocating service. They can search events, create events or engage other users. Furman made a point to create an inclusive array of descriptors for users; this is not your mom's lesbian-only app. It is definitely the place to promote the Ms. Pittsburgh Leather Fetish contest as well as the Womyn's Discussion Group.
She told me that eventually LGBTQ organizations and businesses will be able to set up corporate accounts, making it easier for groups like the Gay & Lesbian Community Center of Pittsburgh or the local PFLAG chapter to promote their women-friendly events. However, this is not the app where a corporate entity can tap into the queer market demographic. Furman will have forum moderators monitoring these events to ensure that Ladies Night at XYZ straight bar isn't mislabeled as an LGBTQ event.
In the next phase, Furman plans to roll out a certification process for LGBTQ safe spaces -- sort of a vetting process to help users find family-owned business to support. She envisions a subtle window decal adorning the coffeehouses and bookstores throughout the region.
This sounds great, right? Pittsburgh giving birth to a woman-centric, LGBTQ-oriented technology resource. But what about people beyond Pittsburgh? Furman is planning to launch simultaneously in three other cities, chosen by donors to the project's Indiegogo campaign, and then the rest of the country in the early fall months. So while the app cannot magically create an LGBTQ community in your small town, it can give you the tools to do some creating of your own.
Furman's innovative idea is especially well-suited to Pittsburgh, a region that has no "gayborhood" and never will. With 90 city neighborhoods to explore and an increasing number of LGBTQ spaces in the suburbs, there's a lot of territory to cover.
Be sure to follow the project on Indigogo, Facebook and Twitter.
Check out the campaign video for more information (and see if you recognize your Pittsburgh friends):