A well-traveled Tony Karman, President and Director of EXPO CHICAGO, recently returned from visiting Galleries in Berlin, Paris, Milan, Madrid, London, Amsterdam, Vienna, Mexico City, Basel, Canada and Brussels. On his American itinerary were the leading contemporary galleries and museums in Houston, San Francisco, New York, Los Angeles, Miami, and other important art spaces in his hometown of Chicago. While these other American cities rewarded far less air mileage than his out-of-country forays these American Galleries offered hi-calibre Modern and Contemporary works of ART to deck the Exhibition and Selling Halls of Chicago's Navy Pier come this September 18-21. He arrived home with a trunkful of Global and ground-breaking galleries. Seventeen countries will be represented at the 2014 EXPO which attracted over 30,000 buyers and visitors in 2013.Projections for this September may prove larger as EXPO delivered on its promise to be an ART FAIR, Gallery for new Artists, and integrate cutting edge Film and VIDEO and new media works alongside IN/SITU, EXPO's Space for large-scale installations and site-specific and performative works by select international artists. Karman simultaneously created partnerships with the city's leading visual arts organizations and institutions for special exhibitions on and off the show floor.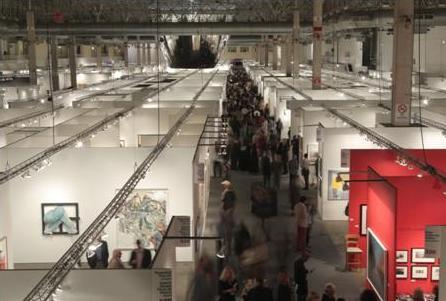 Karman stood out in a soft summer drizzle this week on the terrace of the Ian Schrager owned PUBLIC Hotel , one of the hip hotels partnering with EXPO CHICAGO, to share the good news for Chicago's International Exposition of Contemporary and Modern Art with EXPO friends and supporters."We are very proud to announce this exceptional list of exhibitors that have been selected to represent our third edition" an exuberant Karman proffered. The 2014 Selection Committee included Isabella Bortolozzi of her eponymous gallery in Berlin, Chris D'Amelio of David Zwirner of London/ New York and other International gallerists and American Exhibitors including Chicago's Rhona Hoffman of the gallery of the same name.
Lisson Gallery of London, Milan and New York will be exhibiting for the first time in Chicago, where the idea of the GRAND ART FAIR ,it can be fair to say, had its American origin and attracted the ART World from around the Globe. Lisson is a perennial favorite at Art Basel in Switzerland and will be showing from its wide array of Conceptual and Minimal Artists, whose panoply includes Marina Abromovic, Sol LeWitt, Anish Kapoor , as well as sculptor Tony Cragg and Donald Judd alongside others from its stable.
2014 EXPO CHICAGO includes the return of MASSIMO DE CARLO of Milan and London , another Gallery whose eye-popping exhibitions incite Collectors to jump on a jet to see one-man shows by Chris Burden, Liv Xiaodong, Josh Smith and Max Bill. Elizabeth Dee Gallery of New York is new to Chicago this year having been singled out for praise by FRIEZE Director Amanda Sharp at the recent FRIEZE New York 2014 on Randall's Island.
Other new additions to the highly selective but globalcentric inclusion of creative and newsworthy gallerists are Whitestone of Tokyo and Meesen De Clercq of Brussels. One of Chicago's renown Art Dealers known as much for its shows as its generations of building substantial collections for its loyal clients, Richard Gray Gallery will maintain its position as an original Gallery Anchor while Marlborough Gallery, now of London, Madrid, Monaco, Barcelona as well as New York will appear anew as will New York's Salon 94.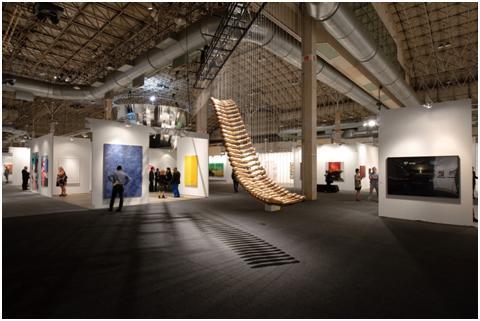 Director Karman and his EXPO CHICAGO team have also partnered with Mayor Rahm Emanuel to highlight the vast cultural opportunities that Chicago has to offer Collectors, Dealers, ART Enthusiasts and Tourists by opening more opportunities for the Fair goers through CHOOSE CHICAGO and DCASE, Chicago's Department of Cultural Affairs and Special Events as well as utilizing The Arts Club of Chicago, Art Institute of Chicago ( The MAGRITTE Show will be on Exhibition during the Fair and specially accessible to EXPO attendees) while the MCA ---Museum of Contemporary Art--- will host the opening VERNISSAGE Evening with an Evening dedicated to David Bowie-----ART and MUSIC go hand in hand , don't you know---- as well as the free Riccardo MUTI Concert in MILLENIUM PARK for the newly established "ART AFTER HOURS" program featuring Chicago's Symphony Orchestra and its renown maestro.
Tony Karman boards another plane tomorrow, this time to Toronto as the guest of former U.S. Ambassador to Canada ,the Honorable David and Julie Jacobson, to attend a dinner at the home of collectors Joe and Sandy Rotman to personally extend the invitation to EXPO/CHICAGO to the Toronto Collectors and enthusiasts as well as strengthen the warm bond between the two cities. Throughout his miles of travels commensurate with a secretary of state Tony Karman has far exceeded his job description of Director and President of EXPO CHICAGO. Karman has emerged as Chicago's well-traveled and well-spoken ARTS AMBASSADOR putting EXPO CHICAGO firmly on the ground as a Global ART EXPOSITION.