Moira Forbes delivered a Trifecta on the track for Thoroughbred Women running and winning and earning success governed by the four Forbes metrics: MONEY, MEDIA PRESENCE, SPHERES OF INFLUENCE, AND TECHNOLOGY.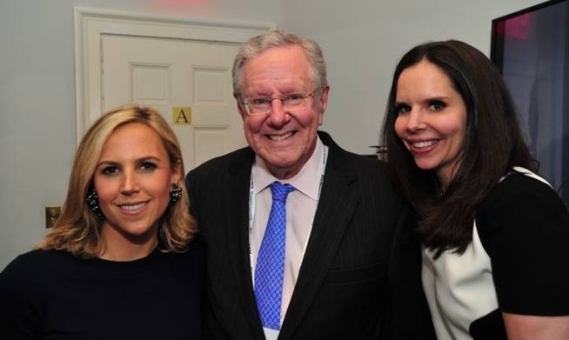 Tory Burch, Steve Forbes and Moira Forbes, President & Publisher of ForbesWoman, backstage at the Forbes Women's Summit in NYC.
(Credit: Glen Davis/Forbes)
"It's the new old girl's club - or the young girl's network." - Tory Burch
The ForbesWoman team, coming off a highly affirmative and uplifting Forbes Women's Summit in New York in May; the June publication of the hard copy 10th Forbes Magazine's "World's 100 Most Powerful Women" issue and its edifying on-line presence prompted Moira Forbes to take a seat on the CBS Early Show across from Charlie Rose, Norah, and Gayle to explain why Mary Barra, General Motor's new CEO, was the issue's cover girl. She also shared with them why German Prime Minister Angela Merkel, 59; Federal Reserve Chair Janet Yellen, 67; and Melinda Gates Co-Chair, Bill and Melinda Gates Foundation were number 1, 2, and 3 on the Forbes 100 Most Powerful Women list.
New best-selling author and first out of the paddock presidential candidate Hillary Clinton, 66, weighed in at number 6, while First Lady Michelle Obama got listed at number 8 at 50 years old.
Mary Callahan Erdoes, 46, CEO, Asset Management at J.P. Morgan who oversees $2.4 trillion in client assets and who saw $2.8 billion in revenue in the first annual quarter was the opening interviewee of the Forbes Women's Summit, where women of all ages gathered to connect, share stories from the winner's circle, and befriend one another. Moira Forbes, Publisher and President of ForbesWoman, superbly conducted both a professional and personal Oprahesque (#14 on the List) interview in which she extrapolated get-ahead advice from the mother of 3 and arguably the most important woman in banking. "Be early to all of your meetings," Erdoes strictly cautioned, narrating how she kept a timer to get herself 3 minutes early to every meeting and phone call in every part of her business day. And because the participating audience was made up of "Most Powerfuls" as well as young Harvard MBA's and former covers of other magazines like Sports Illustrated who had made it to the C-suite from the runway, Erdoes' "Early" Message resonated.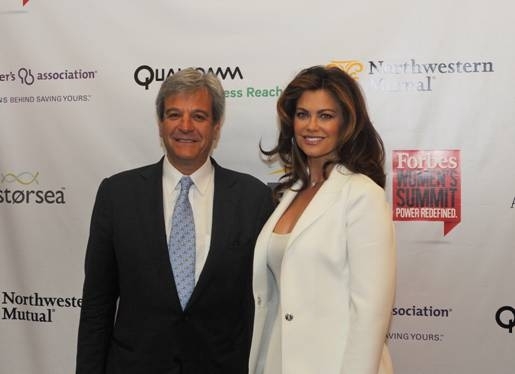 Mike Perlis, CEO of Forbes Media, with Kathy Ireland at the Forbes Women's Summit (Credit: Glen Davis/Forbes)
Kathy Ireland, CEO Kathy Ireland Worldwide - one of the world's largest lifestyle brands and humanitarian, spoke both about her business and the global dangers facing women today. "We have to look out for our sisters around the world who really need us and are risking their lives."
Shiza Shahid, Co-founder and CEO of the Malala Fund, garnered support for girls' rights activist Malala Yousafzai, a young Pakistani shot for wanting to go to school. Humanitarianism and Philanthropic spirit are another element the women at the Summit and on the Forbes Power List share. Big bank accounts alone are no longer a sole indicator of a woman's power.
Kori Schulman, 28, Director of Online Engagement, The White House Office of Digital Strategy, who with her team brought us such online forums as President Obama's recent Tumblr Q&A on college affordability, "Fireside Hangouts" with Administration officials on Google+, and this week helped coordinate digital engagement around the highly publicized White House Summit on Working Families led by President Obama said that "from keynotes to conversations around the table, I was struck by the stories of women of all ages and backgrounds... these women were passionate about helping more young women rise to the top." The generations differed and came from various points of view among the 300 leaders who showed up at the Forbes Women's Summit: Power Redefined, but everyone knew there was more to be learned by listening and befriending than hearing her own voice, even if the woman seated next to you was 20 years younger or billions of dollars richer. Many of the attendees at the Summit were also listees in the Forbes 100 Most Powerful Women issue. These women swinging in from diverse spheres of influence including the most dynamic thinkers in business, philanthropy, education, media, and entertainment.
Jealousy, oft considered a Women/Female characteristic was nowhere in evidence at this gathering of gifted and hardworking women. There was no evidence of the green-eyed Envy that was the invisible character in "The Women," one of the world's longest running plays penned by Clare Boothe Luce. A new biography about Luce is just out for summer reading and Luce would certainly have been on the Forbes Women's List if she was still with us.
Sheryl Sandberg, #9 on the list, and at 44, COO of Facebook, commanded great attention with her best-selling book "Lean In: Women, Work, and Will to Lead," which won famous fans including Yahoo CEO Marissa Meyer and Beyonce, spawned thousands of Lean In Circles, inspired a spin-off ("Lean In for Graduates," published in 2014), and a SonyPictures movie deal. The Sandberg connection with Big Business, Silicon Valley, and Books, and a segue into Movies/Entertainment is not singular on the Powerful Woman Platform. Women seem to move along many disciplines on their way to and continuation of Success and Influence. And certainly more than men.

From left to right, Padmasree Warrior, Chief Technology and Strategy Officer, Cisco Systems; Debbie Sterling, Founder, GoldieBlox; Lyndsey Scott, App Developer, Standable Inc.; Stephanie Hill, VP and General Manager, Information Systems & Global Solutions Civil Business Lockheed Martin; and Dr. Telle Whitney, President & Chief Executive Officer, Anita Borg Institute (Credit: Glen Davis/Forbes)