The Forbes "Under 30 Summit" in Philidelphia ended Wednesday, having brought together the now and present future.
Malala Yousafzai, now 17, who recently became the world's youngest recipient of the Nobel Peace Prize, was interviewed by MSNBC host, 26-year-old Ronan Farrow. "The best way to fight terrorism is investing in education," Malala said. The global citizen who currently attends school in Birmingham, England, where she lives with her parents and two brothers, repeated what she had told President Obama, "Wars are only killing people. Send us books instead of drones." Her charity, the Malala Fund, fights for girls' education all over the world and is now a global movement. Shot by Taliban militants fearful of her campaign for girls' education, her ensuing courage and wisdom catapulted her into the sphere of prime ministers, presidents, and prizes. All the while she continues her schoolwork, her teachers not cutting any slack for speeches or prizes. It is her dream to go back to Pakistan. "When I'm Prime Minister of Pakistan," she says, "I will bring the changes to fruition." Malala has already done more to set back the Pakistani Taliban than the Pakistani military.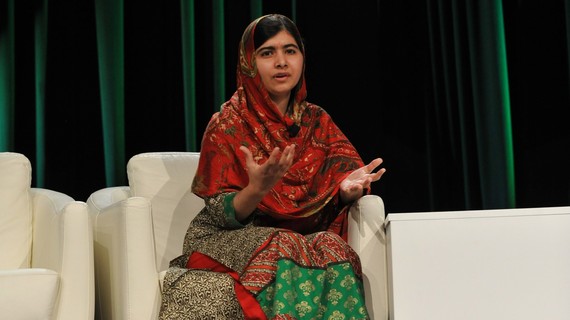 Photo by Glen Davis/Forbes
As the attendees tweeted their approval and applause, which registered on large screens about the Philadelphia Convention Center, it became evident that the first theme of this entrepreneurs' and game changers' summit was of coupling success with a social conscience; of those spotlighted, social enterprise was married to business. Randall Lane, Forbes magazine editor and organizer of the Summit, privately noted that the participants of this year's Under 30 Summit would be the voices we'd be hearing for the next twenty years.
Ann Wang, a young entrepreneur and CEO and co-founder of Enrou, a "shop to empower" brand supporting social impact, was the winner of the $400,000 Pressure Cooker Prize, a takeoff on the TV show Shark Tank, that infused money and free advertising into her company, which empowers and enables its employees while sustaining profitability. The winner was selected by the Summit participants' voting on the Under 30 app, with capital provided by America Online co-founder and CEO of Revolution, Steve Case; Troy Carter, Founder and CEO of Atom Factory; and Mike Perlis, CEO of Forbes Media and former partner at Softbank Capital, who presented the winner with an oversized check.
The second theme coursing through the Summit was that of "disruptive thinking," exemplified by Peter Thiel, cofounder of Paypal and Palintir, early investor in Facebook, LinkedIn, Airbnb, and others. His Thiel Fellowships grant $100,000 to 20 people under 20 on the condition they drop out of college to pursue their entrepreneurial ideas. Thiel summed up his remarks with, "It's unacceptable that you have to go to Yale or go to jail."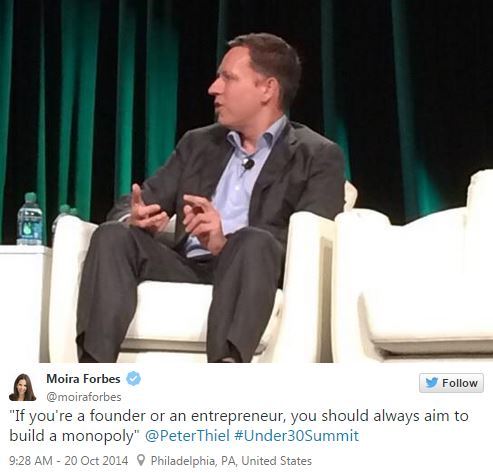 In the disruptive vein, earlier this year, Palmer Luckey stunned the world by selling his virtual reality headset company, Oculus Rift, to Facebook for $2 billion. Pairing a nerdy floral shirt with abundant self-confidence, Luckey exemplified the newest breed of entrepreneur who can sell a high tech company before it even has a balance sheet. To Luckey it wasn't unusual, working in his disruptive paradigm shift, that he would sell his company before its applications were all realized. When explaining his product to "old" people of 40, he says, "Do you know what ski goggles are? Well these are ski goggles that you can plug in." While Palmer Luckey was explaining how both medicine and education would benefit from his virtual reality, the Forbes twitter feed was voting Palmer Luckey "coolest guy in high tech."
Sean Rad, CEO and co-founder of Tinder, shook up the audience by announcing that the hottest dating app in the world gets a billion swipes a day. The 20-somethings' hook-up app has made 4 billion matches so far, be they ever so fleeting and, according to some critics, superficial. However when Rad asked for a raise of hands of those who had used Tinder, the room went one-armed.
The first night of the Summit, rock music prevailed with a rock concert and Afrojack, one of the world's top DJs, now making $22 million a year for spinning discs, a headliner himself. The second day of the Summit, the under-30s and much older hedge fund mentors in attendance ran up the same street and stairs that Rocky had done as the music played "Eye of the Tiger." Empassioned medical researchers working in brain cancer and Alzheimer's and money managers all under 30 brought this Summit full circle. These young people are not like the hippies of yore, dropping out, but rather they are dropping in to make money and make a difference. Ask Neil Blumenthal, co-founder and co-CEO of Warby Parker, who donates a pair of glasses for every pair he sells.