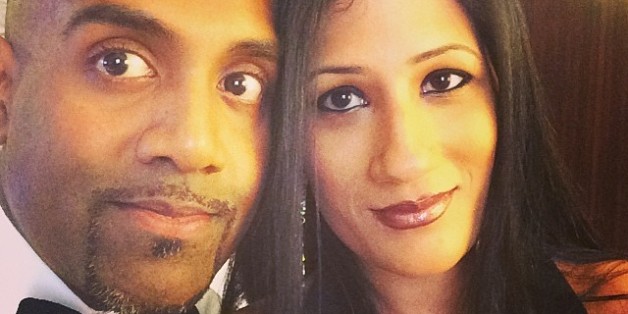 As a communications professional, White House Correspondents Weekend is a sweet mix of work and fun. Our job is to make sure everything goes off without a hitch -- from letting the press know who our guests are and making sure they are taken care of to being with the boss through the red carpet and pre-parties. The weekend is always a blast (and exhausting)... but this year was a little different for me. For the first time, I attended the festivities as a mom. And as any working mom knows, being away from your baby for long periods of time can be difficult. From finding child care, to pulling your "look" together (did I have any mashed sweet potatoes in my hair?), here are five ways this working mom survived White House Correspondents Weekend!
1) A husband/partner/spouse that is willing to drop everything and do anything for you: Gold star goes to my husband, Abhisek. There is no way I could have managed working this weekend without him. From the minute our baby woke up at 6 a.m. (which is about when I replied to my first work related email of the day), he was there so I could keep working. But what he really gets extra points for is going to CVS, in the middle of our rush to get ready to leave the house, to buy me a certain type of tape I needed to hold my dress in place! #therightboobtapeiskey
2) A loving, trustworthy, and reliable sitter: This night goes late... I mean really late. Like 3 a.m. late. Which, as anybody with a baby knows, is brutal. Thankfully, we have an amazing sitter, Becky, who agreed to watch our baby overnight so we could enjoy the evening without worrying about getting up at the crack of dawn. What I love about Becky is that she is a mom to an 18-month-old, so she personally understands my anxiety about leaving him. When we came home in the morning, our babe was nothing but smiles (and super happy to see us). He slept through the night, took all his bottles, and ate all his meals. That's the key: knowing that if you have to leave your child, who you leave them with will love them and make them feel secure.
3) Rent the dress and wear your road-tested heels: Remember the days of leisurely going from store to store, trying on dresses and sometimes spending weeks before you actually bought one? Those days are gone! This year, unlike other years, I opted for Rent The Runway. I picked an easy Halston Heritage black cocktail dress. It was classy but comfortable. And pick a pair of shoes you know are road-tested. Sometimes I wonder how before my baby I survived hours on end in four-inch heels. I'm still not sure, because now, post baby, my back just can't take it. Knowing I wouldn't be sitting very much during the pre and post parties, I went with a pair of gold strappy heels that I knew would be my friend throughout the night. They've been with me for five years, and have never let me down. Granted, my feet needed a good rub the next day, but at least I wasn't one of the women walking out heels-in-hand from the MSNBC after-party.
4) Avoid the headache and avoid the hangover: If you are a parent, you know how AWFUL -- I mean AWFUL -- it is to be hungover and taking care of your baby all day. These little tikes have endless energy, and if you are hung over, time slows down to a snail's pace. The drinks flow freely at the White House Correspondents festivities, but it's best to pace yourself, and drink a lot of water. Avoid the headache and avoid the hangover!
5) Try to enjoy yourself, and know your baby will love you when you get back: I'm not going to sugarcoat it: leaving my baby overnight was hard. Even though he loves his sitter, he's at the separation anxiety stage and he cried like crazy when I was leaving, with no signs of giving in, looking at me with those baby eyes that seem to say, WHY MOM?! WHY ARE YOU LEAVING?! And as any mom knows, that guilt is an all-encompassing guilt. But I just kept reminding myself that he is in good hands, and sure enough, a half hour later, he calmed down and Becky texted us photos throughout the night of my happy, smiling baby playing and having a good time. So I pushed that anxiety to the side and enjoyed a wonderful night out with my husband.
Sujata Mitra is the Director of Communications, News and Politics for the Huffington Post.