Love
/lev/
Noun
1. an intense feeling of deep affection.

Win
/win/
Verb
1. be successful or victorious in (a contest or a conflict).
On Friday June 26, 2015, the Supreme Court of the United States announced its decision to legalize gay marriage. When I heard the ruling, I was choked up and instantly thought of two of my male friends who were getting engaged the next day while on a trip to New York. Minutes later, I began receiving emails and phone calls requesting a statement regarding how I'll make my wedding planning business more "gay wedding friendly". I was asked how I will start catering to all of the gay weddings coming my way. I'm acutely aware of the nature to exploit and benefit from moments such as these, but it threw me off. I didn't get into this business to plan Black weddings, Asian weddings, White weddings, Gay weddings, etc. I got into this business to plan the most beautiful day of two people's lives.
Last year I had the honor of planning the wedding of Lisa and D'Lovely. During our initial meeting, Lisa asked me how I felt about planning a gay wedding. She said repeatedly, "I've met the girl of my dreams and now I want my dream wedding." I've always tackled each wedding with the same questions: "How many people will be attending? Where will the wedding be held? What's the budget?" Race and gender have never played a part in my planning process. They wanted to have their wedding at The Georgian Terrace which hosted the premiere party of Gone With the Wind. Not only was it one of D'Lovely's favorite movies, it was also the first time that an African American, Hattie McDaniel, won an Oscar. D'Lovely wanted to make a point of having the first black lesbian wedding in the very place that once excluded blacks. The layers of this moment were so deep and their love was definitely winning.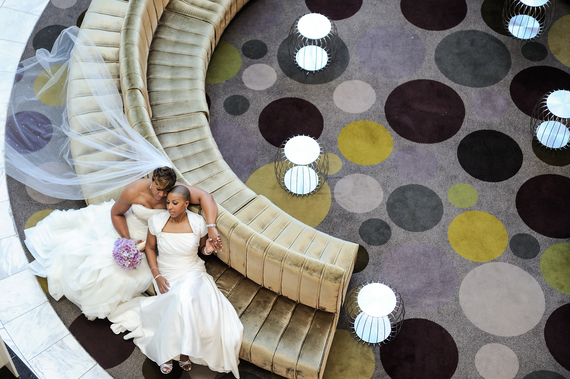 A few hours later, I began receiving text messages and phone calls asking if I was watching Obama's eulogy for Senator Clementa Pinckney who was gunned down, along with eight others, in his church during Bible study for being black. It was an historic moment, for me, watching the president talk about race and saying so many things that I wish I had heard him say before. Earlier that morning he gave a speech about marriage equality and just hours later he's giving a eulogy for a man who was murdered for his race. The slogan "love wins" was sprawled all over my Facebook and Instagram pages all morning but my celebration was cut short when I thought of the 5-year-old child who had to play dead in order to not be shot by the gunman. The moment literally took my breath away. Up until I saw Obama singing "Amazing Grace" I was here for love winning. I haven't sung that song since I learned that it was written by a former slave owner who wrote it on his death bed, I digress...Obama and many others who felt the gravity of the moment and sang from their soul's deepest crevice, were all winning.
I struggled all day with the feeling that there was a sense that the fight was over. The phrase "love wins" had a period at the end of it for me, after hearing about the growing number of burning churches in South Carolina over the weekend; the endless cell phone videos of innocent black bodies lying dead in the street without consequence to the murderer; the innocent black children who just wanted to attend a pool party but were held at gunpoint, dragged by their hair and flung to the ground... I went to bed feeling emotionally drained. On Saturday morning, I awoke to the news of Bree Newsome who snatched the confederate flag off of the pole in front of the State Capitol in South Carolina. Bree's love of justice and activism and honor brought her to that moment. Bree Newsome was definitely winning. She won for so many of us.
Suddenly the phrase "love wins" had a comma at the end and not a period anymore. I had to talk through the contradictions that I perceived in order to come to a calm place again. In talking through everything, I received calls from a few friends who mistook my frustration for being opposed the SCOTUS ruling. That couldn't be further from the truth. Love won on Friday June 26, 2015 and I look forward to more victories in this battlefield of love.