I am going to admit something to you: I am a grass is greener type of gal and this gets me into all sorts of trouble, all the time. I remember years ago, when I was still living in California, pining for the excitement and edgier life of New York. When I moved here 6 years ago, that excitement and edge did not disappoint, but as time went on, that old yearning kicked in, and I longed for the softer, greener side of California.
This feeling became particularly bad last year when I became a mother and found it one of the most isolating and bewildering experiences. I missed the ease of being near my family and friends in California, but I also missed the old New York I had come running to 5 years previously, that seemed suddenly very out of reach. You can see my predicament: I was sitting squarely in my own patch of grass, but it was dry and brittle as far as I could see. It was time to get out the metaphorical hose and start watering. In other words, it was time to get back to the here and now.
I am a list maker, and find it one of the most helpful practices for almost anything. As a mother and a freelancer, lists clear up the chaos of my life and keep me on task. As a thinker, lists distill thoughts I have into clear and succinct ideas. This spring I had an epiphany about the mixed feelings I was having about where I live. I knew that deep down there were absolutely things I loved about where I lived, I just was in a funk and needed reminding. So I made a list of the things that delight me about where I live.
These things included the view of the Empire State Building, or the international array of treats that I can find at my grocery store. I added items that make me feel at home, and give me an overall sense of connection to the here and now, like going to the park with my son every day and seeing the occasional red cardinal outside my kitchen window. As an illustrator, I am a visual person, and what better way to make this list come alive for me, but to actually draw it?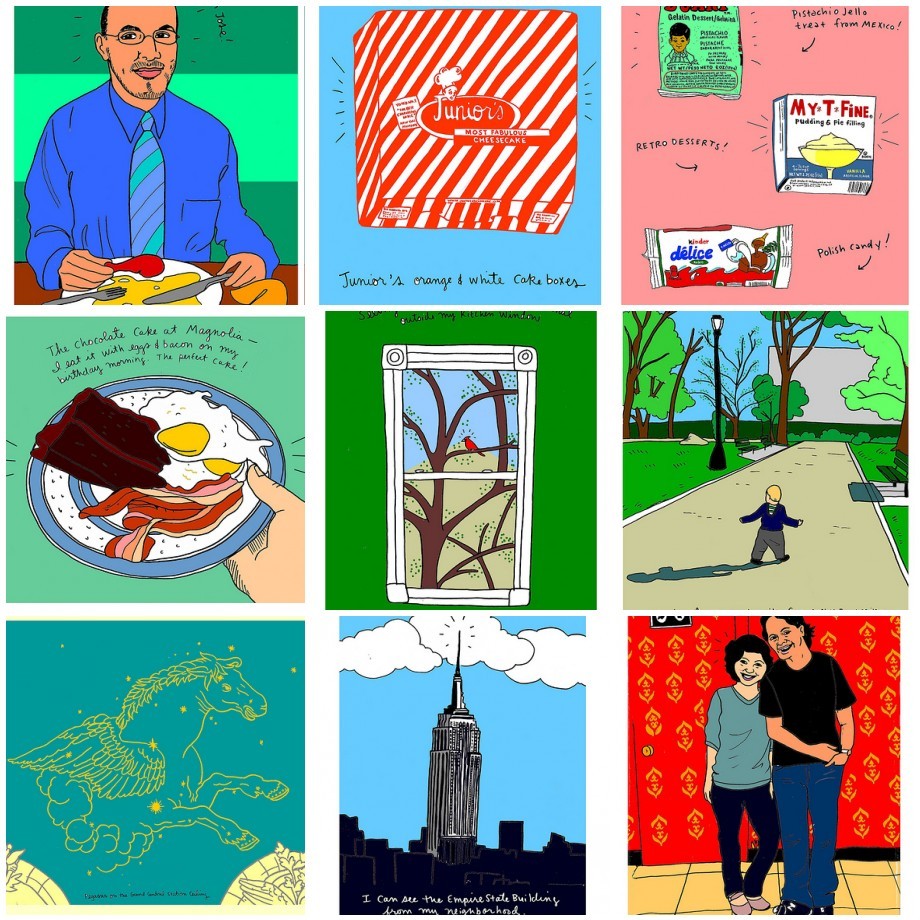 I tell you, drawing this list has changed how I feel about nearly everything. Not only has it been a fun treasure hunt to explore the things that delight me, but it has shown me how much of a community I do have in my neighborhood. Here I was feeling isolated, when I discovered how we now know the café owners down the street, all the cashiers and baggers at the grocery store, and all the tenants in our building. I am excited to say that a number of these folks are on my list of things I love about where I live.
I still miss my family and friends in California. I still have moments where the grass is greener in some pasture I can only view from afar, but working on my visual list sews me directly to my own patch of grass. I can actually see clearly how not only am I in a good place, but a wonderful place. It's so good to be home.
See the growing set here.