By Sara Schneider Wine Editor, Sunset magazine
I've been thinking a lot about sparkling wine recently. Partly due to the season, but also because I've recently launched a new series of in-depth video lessons with Curious.com.
It's probably not shocking that more sparkling wine is consumed during the holidays than at any other time of year. But it's almost a victim of its own success: Those bubbles are so festive, we toast our hearts out with them, then abandon the flutes in favor of still wine when dinner appears.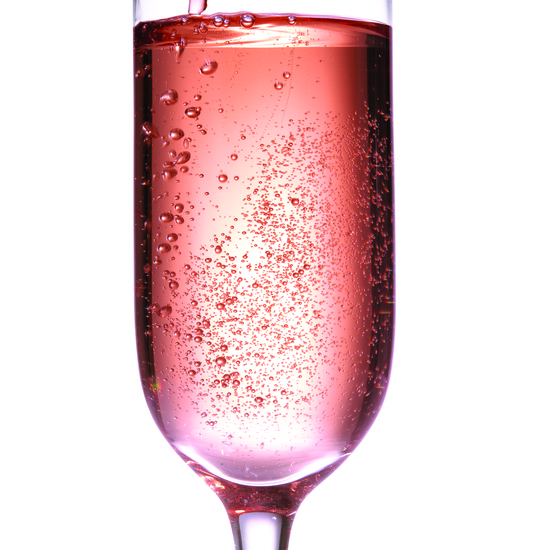 Photo Credit: Annabelle Breakey
If you're as excited for holiday bubbles as I am, here are some facts and tips that will help you add a little sparkle to your holiday meals:
Fact one: Sparklers' reputation for celebration makes people forget that they're fabulous food wines. Their fairly low alcohol levels, bracing acidity, and texture from effervescence make the most of flavors and dishes that challenge many still wines: salty, fried, spicy, and rich foods -- even soup.

Of course, if you're drinking bubbly through dinner, you need more of it, which leads us to...
Fact two: These days, West Coast sparklers are giving Champagne a run for its money. In fact, more than a run -- their quality-to-price ratio makes them an appealing means to an affordable holiday.
Photo Credit: Jeffery Cross (left), Thomas J. Story (right)
To pick the right West Coast sparkler for every meal, you need to know fact three...
Fact Three: Sparkling wine isn't just one kind of wine. The brut (dry) category we drink most of comes in four different styles. Know the difference, and you're a food-pairing genius. Here are the styles, from light to heavy.
1. Blanc de blancs: Made mostly out of Chardonnay, this is the most delicate style. It carries the apple, pear, and lemon that still Chards do, but because the fruit is on the light side, the toast and yeastiness from a sparkler's time on the lees (spent yeast) tend to pop. And the bubbles are ethereal.

Pair with: creamy cheeses; sushi, sashimi, crudo, and cooked seafood of all kinds (from shrimp poppers to fish tacos); dishes that involve pastry, like chicken pot pie.

2. Brut blends: The most common style, these are blends of Chardonnay and Pinot Noir, for the most part (the two main grapes in Champagne). As in blanc de blancs, the Chardonnay brings its apple, pear, and citrus to the mix, but the Pinot adds some red berry and cherry. This range of flavors makes a brut incredibly food-friendly.

Pair with: spicy cured meats (from fancy charcuterie to a good Polish dog), chile-rubbed roast turkey, salads and other dishes that include tart winter fruit like pomegranates and cranberries, North African flavors (charmoula), and Caribbean preparations (jerk chicken).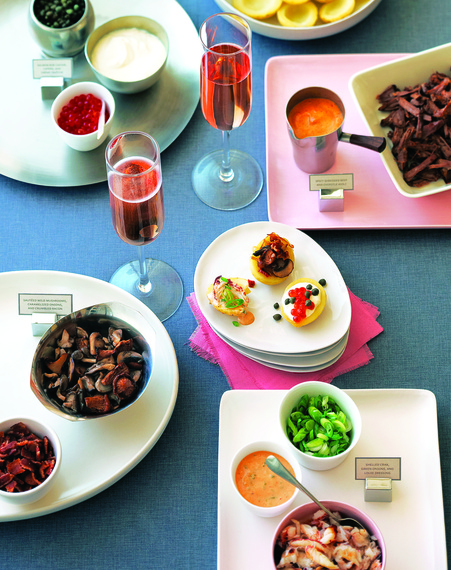 Photo Credit: Annabelle Breakey

3. Blanc de noirs: As the name implies, this is white wine made mostly (or completely) from red grapes--Pinot Noir. No matter how light, though, the robust, spicy red fruit flavors that lurk in a blanc de noirs make it a delicious match for hearty meat.

Pair with: tangy, spicy beef (think empanadas), duck with a fruit-based sauce, leg of lamb, Asian dishes spiced with ginger, Indian curries.

4. Brut rosé: Heavy on Pinot Noir, with a little time on the skins to pick up color, a bottle of pink bubbles is the most festive form of all. The berry/cherry flavors seem more obvious, if only because of the wine's color. And that fruit-forward character partners well with spicy foods.

Pair sparkling rosés with: Mexican food, Cajun and Creole flavors, salmon caviar, garlicky dishes (chicken with 40 cloves!), and holiday ham.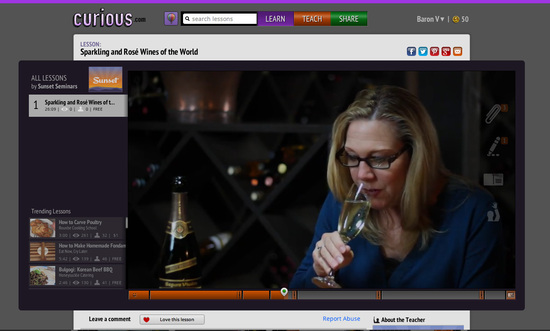 To learn more about red, white and sparkling wines, join me on Curious.com to watch Sunset's Essentials of Wine, a new in-depth video-based guide to wine appreciation.
You'll also find perfect pairings for all your favorite foods at sunset.com/pairings and in the December issue of Sunset magazine.