By Joe McGauley
Every state in the Union lays claim to something special. It might be a dominance in industry, spectacular natural beauty, or perhaps they've even been deemed by this very website to fly the coolest flag in the country.
Those bragging rights extend to their more curious contributions, too. We rounded up funny, fascinating, and architecturally odd structures in every state to prove there's plenty of weird* to be found from sea to shining sea.
(*To be considered, buildings needed to be aesthetically bizarre, have a strange backstory, or both. Understandably, some states had a significantly more fruitful selection.)
Alabama
Petty-Roberts-Beatty House
Where: Clayton
This octagonal house was used as staff headquarters for Union Cavalry at the end of the the Civil War, and it's one of only a handful of antebellum eight-sided homes to have survived in the South.
Alaska
The Dr. Seuss House
Where: Willow
Unofficially named after the beloved author for its uncanny resemblance to Seuss' illustrated abodes, this 12-story spectacle was abandoned for around 10 years and only recently completed. Considering the views from the top, its owners may legitimately be able to see Russia from their house.
Arizona
Chapel of the Holy Cross
Where: Sedona
Dreamed up by an Arizona heiress who was somehow inspired by the construction of the Empire State Building in 1932, this Catholic church was built directly into the rock face, but unfortunately resembles a villains lair more than anything. Still, it's cool as hell.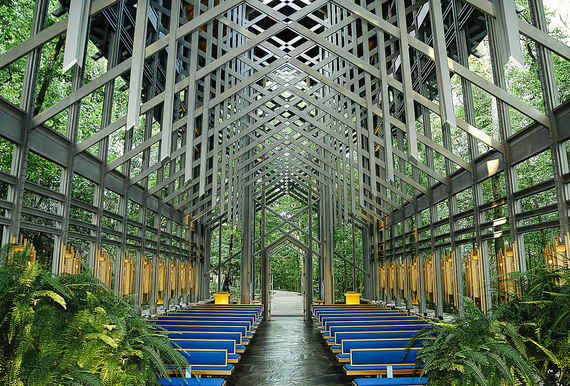 Credit: Thorncrown Chapel
Arkansas
Thorncrown Chapel
Where: Eureka Springs
This ethereal wooden and stone church sits in the middle of a forest, as if abandoned and sacrificed to overgrowth. And while it looks like an open-air structure, it's enclosed by enormous glass panels all around it.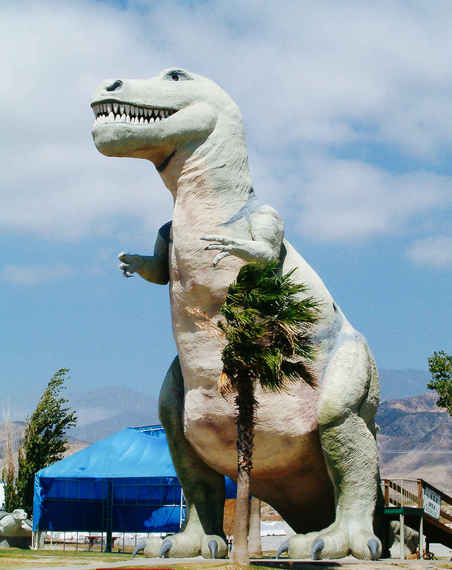 Credit: Weird CA
California
Cabazon Dinosaurs
Where: Cabazon
You may recognize the 60-foot high T-Rex sculpture, "Rex", from Pee Wee's Big Adventure or this Tears For Fears video. Built in 1962, it's one of two giant dinos on the property, and has a staircase that extends from the tail up to a lookout room behind his teeth. These days it's owned by a group of creationists to spread their, ahem, unique views on the origin of man.
Colorado
Bishop Castle
Where: Rye
What began as a family construction project in 1969 has transformed into a remarkable castle-shaped "monument of hardworking people", built by an exceptionally eccentric dude who singlehandedly sourced the 1,000 tons of rock needed to finish it.
Connecticut
Gillette Castle
Where: East Haddam
This odd-looking stone specimen was commissioned by the American actor William Gillette, best known for his portrayal of Sherlock Holmes. After his death, its status was in limbo as Gillette (who was unmarried and childless) left a clause in his will that it was to never be owned by a "blithering sap-head who has no conception of where he is or with what surrounded." Eventually, the state stepped in and took it over. Sorry, William.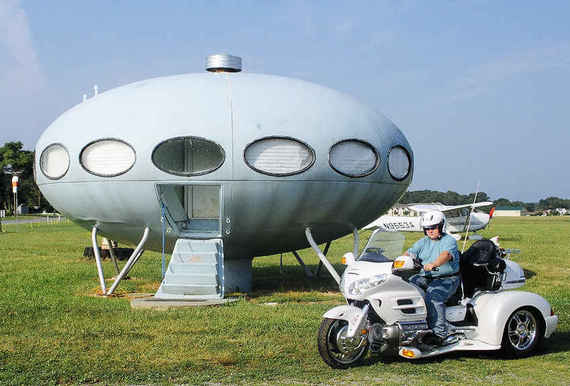 Credit: RoadsideWonders.net
Delaware
Futuro House
Where: Milton
In the late '60s, this retrofuturistic spaceship abode was developed by the Finnish architect Matti Suuronen. Just 96 were constructed, and only half of those have been accounted for around the world--including this one in the middle of a Delaware field.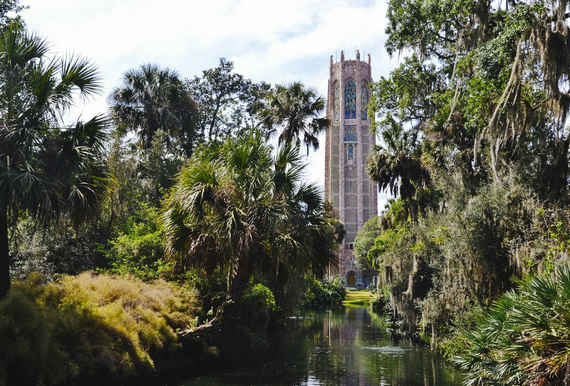 Credit: HREXACH.wordpress.com
Florida
Bok Tower
Where: Lake Wales
Curiously not the Eye Of Sauron, this monolith in the middle of a tropical landscape is a 205-foot tall stained glass-encased bell tower surrounded down below by a botanical garden and bird sanctuary. And probably alligators.
Georgia
Pasaquan
Where: Buena Vista
This internationally renowned compound actually consists of six wildly colorful buildings surrounded by totems and sculptures. It was constructed by a wildly eccentric folk artist who went by the name "Saint EOM."
Hawaii
Coco Palms Resort
Where: Wailuā
In its heyday, this was a posh resort hotel and moviestar hangout, not to mention the backdrop for the Elvis film Blue Hawaii. After a hurricane in 1992, it fell into disrepair and is now abandoned, burned out, and overgrown, but nonetheless a popular spot among tourists for its rich history.
Idaho
Dog Bark Park Inn
Where: Cottonwood
Colloquially known among locals as Sweet Willy, this two-story beagle-shaped building is obviously a dog-themed bed and breakfast.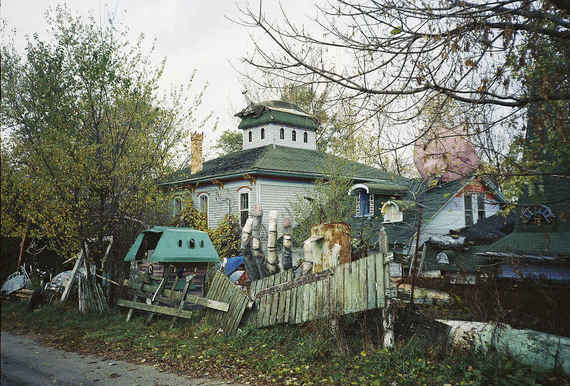 Credit: Flickr/Katz_42!
Illinois
Raven's Grin Inn
Where: Mt. Carroll
This former hotel was converted by its current owner into a year-round house of haunts, with weird handmade contraptions, creepy rooms, and a slide that extends from the attic to lower floors.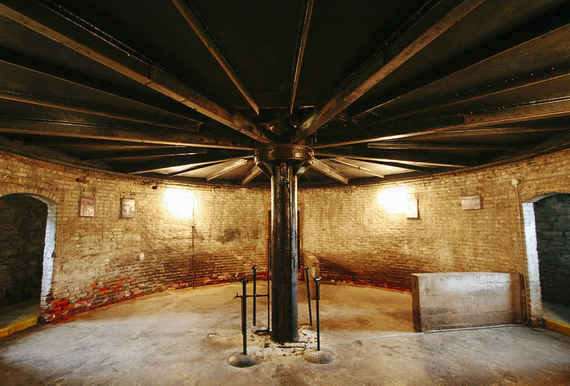 Credit: Flickr/tourismguy
Indiana
Rotary Jail
Where: Crawfordsville
Now a museum, this former jail's rotating design was a short-lived and brutal trend in incarceration. The cells were built on a platform that spun around a central axis which could be moved by hand crank to let inmates in or out, one at a time.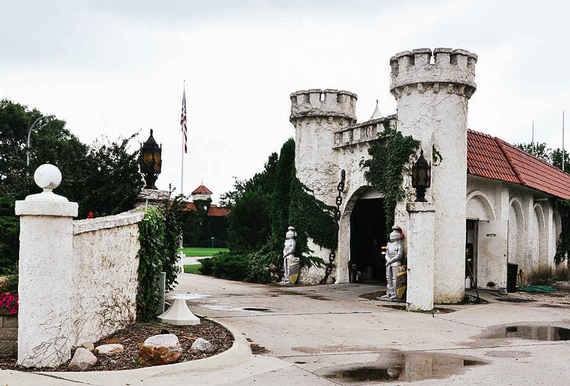 Credit: Roadside Architecture
Iowa
Castles of Ida Grove
Where: Ida Grove
Iowa's winner is less a single structure, and more of an entire town's worth of weirdness. One of its wealthiest residents (and hardcore castle fan), Byron LeRoy Godbersen, set off a castle-building craze in the 1970s, and eventually everything from strip malls to fast food joints around town were rocking the medieval look.
Head to Supercompressor.com for the full list of the oddest and most bizarre buildings in each state!