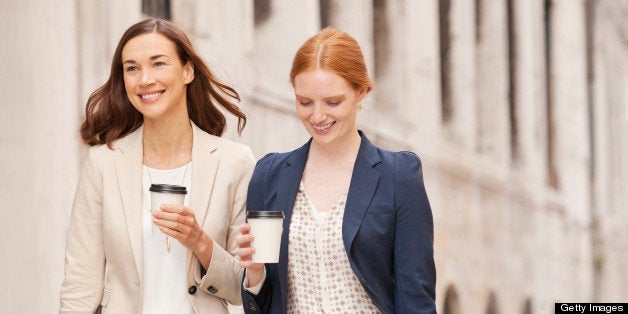 As a businesswoman and global leadership coach, I had high hopes for my granddaughters' future success in a business world where gender equality would be a given. Then I read an obituary in the New York Times about a remarkable rocket scientist named Dr. Yvonne Brill. She was the only woman who worked on satellite design in the mid 1940s. Yet her roles as a supermom, cook, and wife who followed her husband from job to job were the main focus of the tribute before getting around to her professional accomplishments. The fact that in 1972 she patented her propulsion system, which satellites still depend on today to prevent them slipping out of orbit, is secondary. All too often, women who manage successful careers with a balanced personal life continue to be labeled as a "superwoman." Whoever heard of a male CEO or board member typecast as a "superman" just because he is also a dad and a husband?

The roles that men and women have played for centuries still remain in rigid gender-specific molds. Decades -- 70 years! −- after the Second World War, when women first worked at the Boeing airplane factory while men went off to battle, stereotypical gender bias remains deeply entrenched, affecting our teenagers' career decisions. Even today, fewer girls pursue careers in science and engineering, despite the fact that girls, as the New York Times points out, have long outshone boys academically in high school and college.

While attitudes towards race and sexual orientation have shifted dramatically in the Western world since the '70s, gender bias attitudes are still stuck in the past when it comes to corporate leadership. Men's condescending attitudes toward women often tend to keep females from advancing to the top, not only in Fortune 500 companies, but also in startups. This was recently highlighted in a disturbing article in Forbes, "Silicon Valley Venture Capital Firms Say They Welcome More Women -- If Only They Could Find Some." This implies there's a lack of competent women in the field.

Laurie Yoler, managing director of an investment bank in Silicon Valley disagrees. She told U.S.A Today that, "Venture capital is one of those areas where frat brothers hire their buddies." Clearly, the "sisters" are left out as the brothers move up the corporate ladder.

"I often feel completely alone in this startup world," confirmed one female California based venture capitalist. "I don't golf or go drinking with the guys, so I've learned there are other ways to be a woman in a man's world. I've got the hang of networking over lunch and coffee to build strong working relationships, and gained trust by delivering results. But I can tell you it's tough. Sadly, the boys club is still alive and well," she acknowledged.

Gender stereotypes came to the fore for me in a recent board meeting I was invited to attend. Two candidates were short-listed for a chair at the top table.

"Rick is a great candidate," affirmed the president. "He's ambitious and aggressive, with a strong track record of opening up new markets in Africa."

"What about Marilyn?" inquired the CFO. "She has loads of experience in expanding consumer markets in the developing world."

"She's a bit too bold and bossy," the president retorted. "I vote for Rick to get things done."

It was clear to me that Rick's contribution and aggression were rewarded; while Marilyn's accomplishments were dismissed as "daring and brassy." Similar adjectives applied to a different gender meant different things. The contribution women might make at the top of organizations is curbed by these blinkered views.

But that's not the whole story. Many highly talented women complain that, "Women don't help women either."

"In fact they sometimes make it harder for us to get to the top," declared one woman client aiming for a global VP role. "My boss is not married, and she seems to assume that just because I am a mom with two kids that I'm not ambitious. She favors the guys in the team with the plum jobs."

A recent report "Why Diversity Matters" continues to highlight that companies with a better gender balance at board level deliver stronger performance. Organizations that fail to attract, retain and promote half of their potential leaders may be losing billions of dollars. This bias may well be choking our economic revival.

So while Sheryl Sandberg in her book Lean In insists it's up to women to help themselves, men and organizations also need to "lean in" and reframe their thinking about women in leadership positions. Our competitiveness in the global landscape depends on addressing the issues that are blocking us from building a gender equality culture at the top.

During childhood and as adults we learn from role models through observation and imitation. These gender stereotypes shape the way we make decisions about our careers. Comments like "women prefer children to the boardroom," certainly don't help, especially when made by Simon Murray, Chairman of Glencore, a multibillion international company.

A qualified lawyer, I met recently, resigned from her job because she found the double burden syndrome of work and family exhausting. She's worried.

"I'm concerned about not working," she confirmed. "Am I sending an indirect message to my daughters to 'find a rich husband' because they don't have a strong female role model at home?"

Women and men, organizations and policy makers need to band together to ensure that competence, not gender, matters. My granddaughters in elementary and middle school, like Dr. Brill, are excelling in math and science. But will they also find gender bias a limit on how big they can dream?