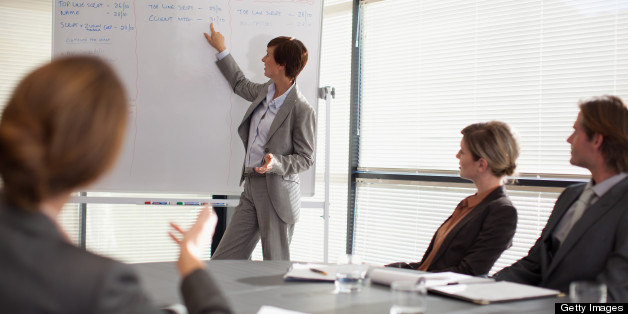 Way too many of us have been talking way too long about the need for corporate boards of directors to add more women.
Maybe it's time to quit talking and time to start putting more pressure on these companies with our wallets.
Institutional investors are beginning to do just that.
Recently, the New York State Comptroller's office (as trustee of the New York State Common Retirement Fund) censured one company it invests in -- Urban Outfitters Inc. -- for paying little more than lip service to the idea of diversity.
Urban Outfitters has been under pressure for some time to make changes to its all-male board. So, what did the company do to respond to this pressure? It nominated Margaret Hayne, the spouse of Urban Outfitters Chairman, CEO and founder Richard Hayne, and an employee of the company for more than 30 years to a board spot.
New York Comptroller Thomas P. DiNapoli rightly recognized the farce.

"Urban Outfitters has closed its boardroom to women and minorities, which does not serve the company, shareholders or customers well," DiNapoli said in a news release. "Research indicates a significant correlation between boards that are diverse and a higher firm value. Shareholders should see through the nomination of Margaret Hayne, the ultimate insider, and demand that Urban Outfitters take steps to promote a policy of board inclusiveness."
The Thirty Percent Coalition, a group I belong to, is similarly using the power of the dollar to try and improve boardroom diversity.
Earlier this year, our group helped launch an effort that included writing letters to 168 companies urging them to add more women to their boards.
During the 2013 proxy season, members of the coalition filed shareholder's resolutions urging these companies to adopt charter language supporting board diversity and institute a practice of including women and minority candidates on their boards. As a result, constructive and cooperative discussions are underway at a number of these companies.
"Not only do women and minority directors help companies reach broader markets, but they also bring independent thought and perspectives to the table which may not exist in a homogeneous board," Christine DeGroot, an analyst at Calvert Investments, said in a news release. Calvert, working with the Thirty Percent Coalition's institutional investor committee, filed many of the shareholder resolutions.
To affect real change for women, we need to do it with our words -- but also with our actions and with our money.
Here are several steps we can take as individuals:
Don't invest in companies that don't have women on their boards. At companies you already invest in, demand that they make more room for women at the top levels of management.
Refuse to spend money at companies that don't support women or diversity. Why promote the profits of companies that aren't doing what is right?
Encourage corporate boards to tie CEO and executive compensation to improving diversity. Nothing affects change at a company like executive bonuses.
Corporate boards and CEOs may not always understand the need for diversity and the advantages of having more women within their ranks, but they do understand the importance of profits, investors and keeping customers happy.
When it comes to getting more women in the top levels of management, let's let companies know when we're not happy -- with our words, with our actions and with our wallets.