"I want to become a dancer...in New York," said the girl with dreamy eyes. Dressed all in white, she was sitting with perfect posture in a defiantly confident pose.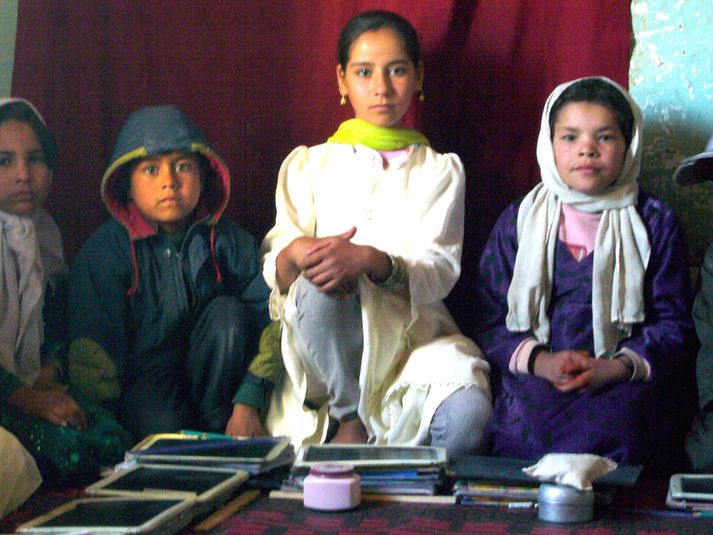 In another setting her statement would sound like an ordinary ambition for a teenage girl to have. But there, in BRAC's classroom in Afghanistan, among teenage and adolescent girls wrapped in headscarves who were experiencing school for the first time, her statement sounded as a bold and defiant battle-cry.
The room burst with giggles. I was astonished and amazed that this girl who had never seen professional dancers, much less New York, had dared to dream beyond her ken. I was also convinced that she'd probably do it.
Education was going to be her passport out of that village, out of an arranged marriage to an older man before she was 18 and 4 or 5 children by 25. Her fate was not yet sealed as it had been for so many others. She seemed so determined, so hopeful. She was ready for a struggle for a life more beautiful, full of love and freedom, where she could express the uniqueness of her soul and character through her passion for dancing.
I carry her with me as I watch the news of conflict in Afghanistan. I balance the gloomy news by recalling her shining face and the incredibly warm and uplifting documentary Afghan Star. This film tells the story of the making of Afghan television's version of American Idol. Audiences of this film are left with a totally different representation of the country. Afghanistan is not just about bombs, bare mountains, conflict and misery. It's also about young Afghan men and women who have given wings to their aspirations and dreams.
Poverty and stigmatization are among the greatest obstacles towards the realization of the Afghan people's bold dreams. I was glad to discover during my travels in Afghanistan that a mood of despair was giving way to hope and determination. People around the country are working to rebuild their lives and to lift themselves out of poverty.
BRAC loans provide families with support to start small business and generate income. I met many borrowers from BRAC's microfinance programs. At the time, all the borrowers were women and they were all convinced life was better for them now than during the Taliban. They were less afraid and had more freedom, more to eat and opportunities to send their children, especially their daughters, to school.
One very thin poor woman was a weaver. She proudly showed her handloom. Another mother and daughter used their loan to buy a sewing machine. Their neighbors made school bags. I visited several modern beauty shops which seemed to be thriving. I met a local baker who made bread over a traditional stove. In the countryside, women borrowed money to develop small agricultural plots, and poultry and livestock businesses. They were raising fruit tree saplings and growing vegetables.
I was accompanied by male staff so the women always wore their bright blue burkhas. I was so curious how it felt to be under one. To see what they see when draped in cloth. Of course these good humored curious women got a kick out of dressing me up in one of them. For me, it sure didn't feel like freedom to have one more layer on top of me in that heat. But many women explained how it protects them and gives them freedom to move about more easily. The lens of our own culture can distort the true picture and not allow us to comprehend how relative everything can be.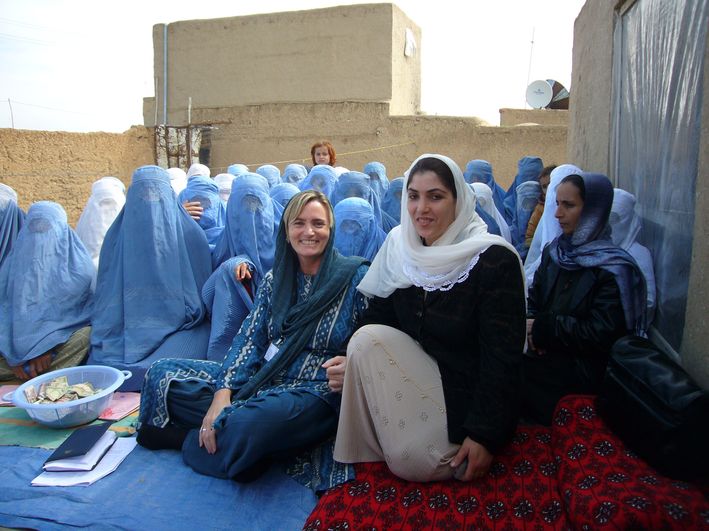 The rest of my trip was as eventful and rewarding as the beginning. I saw BRAC schools and met with parent teacher associations and school management committees that BRAC has formed. I visited health clinics that were packed with women waiting to see a doctor or nurse. I remember a pharmacist who lost a leg to a landmine. He was so grateful to have his job that his work mitigated the consequences of his disability.
It was rewarding to see how BRAC programs in microfinance, health and sanitation, education, adolescent development, agriculture and livestock and social and capacity development had touched the lives of thousands of people, giving them chances for a dignified life and a more secure future for their children.
The work of BRAC Afghanistan is featured in September's O Magazine in an article by Nicholas Kristof. To learn more about BRAC's work in Afghanistan, click here.
BRAC will also be featured in the forthcoming book, Half the Sky: Turning Oppression into Opportunity for Women Worldwide (Knopf), by husband-and-wife Pulitzer Prize winners Nicholas Kristof and Sheryl WuDunn that will be published September 10.