Broadway and opera composer Jeanine Tesori writes fresh, inventive scores that dazzle the ear and touch the heart. I was lucky to meet Tesori last week when she was in D.C. for rehearsals of her new opera, The Lion, the Unicorn, and Me, commissioned by Washington National Opera's artistic director, Francesca Zambello, with a libretto by J.D. "Sandy" McClatchy.
Based on the endearing children's book by Jeanette Winterson, the holiday work depicts the Nativity story from the donkey's point of view as he escorts Mary and Joseph to Bethlehem for the birth of the Christ child. Directed by Zambello and conducted by Kimberly Grigsby, The Lion, the Unicorn, and Me debuts on December 14 and runs at the Kennedy Center's Terrace Theater through December 22.
It's lucky that Tesori likes to juggle several projects at once because she's exceptionally busy. Her musical Fun Home (with book and lyrics by Lisa Kron) is running at New York's Public Theater until mid-January--it was extended three times--and was just recorded by PS Classics for a February 18 release. She's also looking ahead to March when her musical Violet will start previews on Broadway. This 1997 show, her first, was originally presented by Playwrights Horizons, with a book and lyrics by Brian Crawley. The upcoming Roundabout Theatre production will star Sutton Foster who played the title role in City Center's concert version last July. Reviewing for The New York Times, Stephen Holden wrote, "As Ms. Tesori has demonstrated in [other] shows...she has an ear acutely attuned to American roots music. At the same time, she is an eloquent melodist."
I'm an unabashed fan of Tesori's music, and when we spoke I learned that she grew up in Port Washington, New York, graduated from Barnard College, and lives in Manhattan with her sixteen-year old daughter Siena. Among her credits are the Tony-nominated scores for Thoroughly Modern Millie and Caroline, or Change, and she also wrote Shrek the Musical. Last spring she was named artistic director of Encores! Off Center, a series at New York's City Center that celebrates off-Broadway musicals.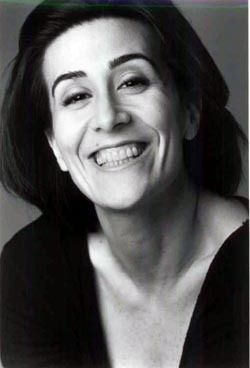 HP: What was your first opera: Caroline, or Change, done on Broadway in 2004, or A Blizzard on Marblehead Neck, commissioned by Francesca Zambello and produced at Glimmerglass Festival in 2011? I know that Tony Kushner wrote both librettos.
JT: We weren't sure what to call Caroline. It behaved like a play, it was sung through like an opera, and it had the rhythm of a musical. So it was doing a dance, and in a way it was an opera for Broadway. It was amplified and very electric, but I do think this was the first time I was thinking about this form--the way recitative works, for instance. I love listening to Janacek and seeing how he handles speech. But yes, Caroline came first, then Blizzard.
HP: I know that working at Glimmerglass led to The Lion, the Unicorn, and Me. Do you consciously think, 'Now I'm writing a classical piece for Washington National Opera' or is your musical language the same for Broadway, too?
My language is very dependent on the story I'm telling. I try to burrow deeply inside the characters and the world we're creating. My goal is to create a world that people can come in and see and then leave it thinking, 'Oh that's probably going to be here tonight even when I'm not here.' One that feels as though it belongs there in the space: it's not being done for you--you're just visiting. And that's a holistic world that starts from the way that you compose a piece to the way it's directed to the color of the costumes, and that's why it's hard to get right because there's so much agreement that has to happen.
HP: You wrote for inanimate objects in Caroline, and an ogre and donkey in Shrek, and now you're writing about a few animals and another donkey in The Lion, the Unicorn, and Me. Is there a different way of approaching the vocal line for anthropomorphic characters?
JT: It's all about behavior for me. For instance, I am not writing for machines [in Caroline, or Change], but for a human who behaves likes a machine. It would be very difficult to play a machine since machines don't want anything. In Caroline, the Dryer was a devilish juke-joint guy who really wanted to melt Caroline to the ground. He's not an appliance; it was how he applied what he was doing to her. In The Lion, the Unicorn, and Me, the Donkey represents a person who is overlooked. Such people are usually 'too' something--maybe they're 'too short,' or 'too little'--and the world expects nothing from them. As he says in the libretto, 'People just don't believe they can do what they know they can do,' meaning an overlooked person is minimized. And that's where the impasse happens. I think there's a lot of the Donkey in all of us.
HP: Is there a way to describe your music for WNO's holiday opera?
JT: I think that it's tender and definitely melodic, and it's an opera that can ease a young audience into the idea of a sung-through piece. The opera is funny and touching, and very true. Every parent who has a newborn realizes you're never going to stop worrying about that child. And every kid understands that you just want your parents to know you can do something. So at the end of the day, [the opera] is a family trip with really high stakes. It's two acts, but each one is about 35 minutes, and then they can take a break and talk about what they've seen and heard.
HP: Are there arias? And, if so, how do you feel about modern works without arias?

Yes, there are arias in The Lion. But it's so individual how someone finds a full expression in this form, and then he or she has to see if there's an audience for it. I applaud people who say, 'This is how I write. Is there an audience for me? If not I have to figure that out, and if there is, I have to cultivate how I hear the world.'
HP: What part of you does this new opera draw on?

JT: Well, I've had times in my life, as everyone does if they're honest about it, when I've really struggled. I feel this way about the character of the Donkey, that he's that part of us that thinks, 'If people only knew what we're capable of.' It's that Marianne Williamson-Nelson Mandela quote that we're much more afraid of our light and our greatness than our failures. And it's absolutely true. I'm also a mother, and I'm aware that when you have a kid you're so afraid for your child going forward into the world; it's the biggest fear and it never goes away.
HP: When did you start working on the WNO commission?
JT: I think it was a year ago, maybe August. The libretto came first and then Sandy [librettist J.D. McClatchy] and I went back and forth a bit. We talked about how it should be structured. I did an outline, he did an outline...And then we'd go back and forth. I find composing to be very challenging, but it was really fun. It was a great gift to adapt this piece. It's a really smart book that likes a good knock-knock joke...I think there are also some incredibly comic aspects. The animals are delightful and Sandy has written some great and funny things for them.
HP: You've said musicals don't sing on exposition, they sing on emotion. How do you infuse the music with the right emotions? Is it intuitive as you work with the libretto?

JT: That's a good question. I feel very much like an actor in any piece I work on. I'm giving a blueprint of why I wanted to write it; why I should write it, and not why I should write it better than anyone else because someone else would have their version. It's how I hear the world, and then I give it to [the performers, the director] so they can communicate it to the audience. I feel I go deep inside each piece when I write, and I liken the process to deep-sea diving. You go twenty minutes in, you then slowly go down to really stay with it, and then slowly come up so you don't get the bends.
HP: How do you feel about your success as a composer?
JT: I just really want to work. If I get a great review, I'm so happy. If I get a bad review, I'm still happy. It's much nicer if people like you, but if they don't...it's still about the work.
HP: You've said you were inspired by your Sicilian grandfather.
JT: Yes, because his great dream was to do what I'm doing. He died when my mother was five, so we never met. but I have his baton, his arrangements, and his music stand. And five years ago, I went to Sicily and visited the town where he was born.
HP: Family is important to you, and the Nativity tale is a parenthood story. Will the audience learn anything new from seeing The Lion, the Unicorn, and Me?
JT: For me it's not about the religion. You have to be alive and recognize yourself as a human being, and know what it's like to bring something into the world. To carry the joy of motherhood and carry the idea that, as the story goes on, that baby will be carrying the hopes of people. It's the idea of something placed on small shoulders. I love that because I feel kids are so wise, and I've been so gifted by being a parent. I'm a much better person for it. I understand that children are people who haven't been alive as long [as adults], but if we listen they have so much to give.
***
Singers in the Domingo-Cafritz Young Artist program will perform the principal roles in WNO's The Lion, the Unicorn, and Me, along with eleven-year-old Henry Wager who plays the Angel. A chorus of sixteen youngsters from the D.C. area, ages 6-15, will round out the cast.
For information visit, www.kennedy-center.org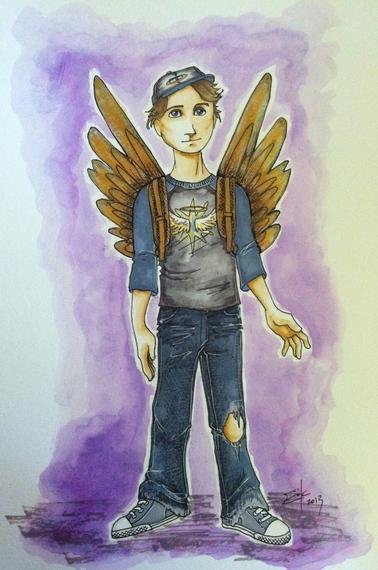 Costume sketch of Angel by Erik Teague for WNO.