Isabel Leonard is a singer whose voice appeals to the heart as well as the ear. Some critics have called her lower register "amber-hued," but I hear a pure, silvery sheen from the bottom of her range to the top and a luminous timbre that fits soprano roles as perfectly as the lyric mezzo repertoire. She infuses each song or aria with palpable emotion, and whether she's funny or grave, pensive or passionate, she maintains a seamless vocal line.
Is it any wonder Ms. Leonard was tapped by the Metropolitan Opera to sing Stefano, a pants role, in Romeo and Juliette in 2007, a year after earning her master's from Juilliard? She has been in demand at major opera houses ever since, earning accolades for both singing and acting. Some of her calling-card roles include Rosina in The Barber of Seville and Cherubino in The Marriage of Figaro, both of which she will reprise at the Met next season, Dorabella in Cosi Fan Tutte (Salzburg 2009), and Angelina in Rossini's Cinderella, which she sang this year in Munich and which she'll sing throughout May in her company debut at Washington National Opera. The whimsical production by Joan Font, new to WNO, opens Saturday.
This month is also notable because on May 12 Ms. Leonard will release her first solo album, Preludios, on the Delos label. I received a preview CD from her publicist, and from what I heard the singer's artistry and versatility are impressive in this foray into Spanish songs, accompanied by pianist Brian Zeger. [Note to D.C. fans: she will sign her album at the Kennedy Center after her May 13 Cinderella performance.]
The 33-three-year-old Leonard won the 2013 Richard Tucker Award and a 2013 Grammy for the role of Miranda in the Met HD recording of The Tempest. A native New Yorker, she is on the board of trustees of Carnegie Hall and has recorded a PSA for the Prostate Cancer Foundation to honor her beloved father who died before she left Juilliard.
What follows is an edited version of a phone conversation I taped last week as the soprano was riding the train from New York to D.C., heading back to rehearsals at the Kennedy Center.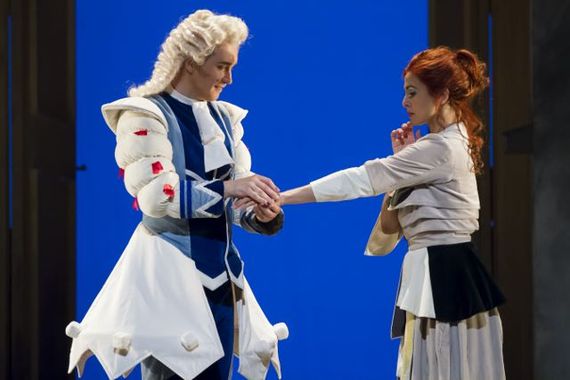 Maxim Mironov as Prince Ramiro and Isabel Leonard as Angelina (Cinderella). Photo by Scott Suchman for WNO.
You've had a rapid rise from Juilliard grad student to opera star. When you were singing in musicals at the LaGuardia High School, did you ever imagine yourself at the Met?
[Laughs] I didn't know what to imagine. I knew I wanted to be involved in the theater--whatever that meant--and I wanted to sing.
In interviews you've said you'd love to sing Guenevere in Camelot or Julie Jordan in Carousel--and other great soprano roles in musicals. Would you like to perform on Broadway?
I would love to do Broadway, maybe a short run depending on the role. It might be a case-by-case situation. The great thing would be working in New York for a long period of time. But there are also opportunities to sing those roles at opera companies which are staging American musicals these days.
I know your goal is to alternate soprano and mezzo roles depending on what seems right at the time. Do you have a preference?
No, absolutely not. For me the preference is based on the role, the character, the type of music, and whether it's appropriate to sing--whatever works.
Where does your current role, Cinderella (Angelina), fit in the spectrum? How does she differ musically and dramatically from Rosina in Barber?
Rosina's character is in some ways more comical. And as we know, she comes out of the gate running with 'Una voce poca fa.' But Angelina/Cinderella doesn't really warm up until the very end. Interestingly enough, both characters have serious situations they're dealing with, so I think that even in comedy there's a dose of realism...The thing I love about singing Cinderella is that Rossini gives her many more lyrical moments that I don't have as Rosina. I love those, and for me to go back and forth between the coloratura passages and the lyric moments creates a flexibility in the voice. It's a kind of vacation when you get to do lots of different things in the same piece. In Cinderella it's high and fast one moment, low and fast in another moment--there are all these variations that make the role fun for me.
Washington National Opera's Cinderella (La Cenerentola) runs from May 9-21. Can you tell us what to expect? Is the production offbeat?
The storytelling isn't offbeat. In the characterizations, there are a variety of colors. Cinderella is very realistic; her sisters and her father are hyper-pigmented and their reactions--their physicality--are bigger and more commedia dell'arte. Then the prince comes and he's realistic, and Dandini rides the line in the middle. In this version the costumes are quite fun. They look like something out of Alice In Wonderland.
You're known for gorgeous coloratura that often culminates in exquisite pianissimos. I've read that you've worked with only one voice teacher--Edith Bers--at Juilliard, and I assume she's the reason for your flawless technique.
I've studied with Edie since I was a freshman at Juilliard and she was the one who molded me, and I've always trusted her. For all singers it's vital to have a teacher you trust, and for me, being who I am, I try to have a kinesthetic sense of how my singing should feel. And I've finally gotten to the place with Edie's help where that kinesthetic sense is much more apparent. In the beginning you don't always know what's right or wrong because you're still learning. And then you move along in your studies and the key is not only to get your technique right when your teacher is there to listen but when your teacher isn't there.
You seem exceptionally physically fit. I saw the Met Opera's Figaro on PBS and watched you (as Cherubino) do six push-ups. What's your exercise routine and does it increase your stamina?

It does, and you know, [my routine] always depends on what role I'm doing. If I'm singing Cinderella, I don't necessarily exercise, but the minute I do Cherubino it comes naturally and I'll generally exercise in the morning before I go to rehearsal because I know I'll need that energy. Every time I do the role, it gets more and more physical. I've gone through many different permutations but every time I find something new and it's become flat out fun.
In one interview you said you like as little drama in your life as possible. True?
I think of myself as a practical person. We all have drama in our lives, and I've had my share of it, but that doesn't mean I like it or want it all the time. And I think sometimes people think artists need drama in their lives in order to be dramatic on stage. I think that's nonsense. If life is something I can observe and be part of without too much stress, I learn something that can inform my craft. You want your craft to be an extension of your life.
You studied dance in your youth at the Joffrey Ballet School. Does your dance training help your singing?
I think any physical training or discipline is helpful because it gives you command of your body. I want to be able to move. This morning I ran up four flights of stairs with my child to get him to school because the elevator was taking too long, and if a day comes when I can't do these things, something will have to change. [Laughs]
You're a fluent speaker of Spanish. On May 12 you're releasing your first solo album, Preludios, a disc of Spanish songs. Why did you choose the music on this recording?
I have an inherent attraction to the sound of the music, the language, and particularly the stories. I'm singing songs by Manuel de Falla, Federico Garcia Lorca, Joaquin Valverde Sanjuan, Enrique Granados, and Xavier Monsalvatge.
This summer at Santa Fe Opera you'll sing Ada in the world premiere of Cold Mountain opposite Nathan Gunn as Inman (August 1-22). How do you feel about creating this role in a new American opera?
I'm thrilled. Everyone has to come and see it! And if they can't get to Sante Fe they can hear it next year at Opera Philadelphia (Feb 5-14, 2016). The cast is amazing and Jennifer Higdon, the composer, is wonderful and kind, and everyone involved in this project is walking the same path. And that doesn't always happen. Everyone is looking forward to telling this story in the best way possible. Right now I'm doing my research--I've read the book a while back and I'll probably read the novel again between now and the summer.
Is there a role you're dying to do in the future?
I've always said that one day I'll sing Carmen, but I'm in no rush.
Marilyn Horne was an early mentor and champion. Has she given you any career advice?
Just being in her presence is career advice. She has such strength, power, and integrity that just seeing her reminds you to stand up straight and do your job right.
Your son Teo is about to turn five. Has he attended any of your performances?

Oh yes, he definitely has. He came to see me in Barber of Seville in Dallas and he liked it. And of course he loved seeing me on Sesame Street. I stayed in touch with the two characters I worked with, and they happened to be working nearby and we went down and he got to meet Murray the Monster.
As a parent you must support the idea of arts programming for children?
I do. I'm on the board of Carnegie Hall and had lunch with Clive Gillinson [the executive and artistic director] the other day, which I try to do once a year. I like to hear what they're working toward, and then I try to bring ideas back to them about projects. They have a lot of good educational programs in place, but they're always trying to expand them.
Mother's Day is almost here so it's fitting to mention that you're close to your mother who hails from Argentina and who continues to offer you sage advice.
Yes. My mom has always said, 'You don't know where you stand, and if you're going to do this for a living you need to give it 100 percent and see if you're going to make it because if you don't, you'll need to be able to do something else.' And I think she's right. This applies to everything in life, even relationships. You need to give 100 percent.
***
Washington National Opera's Cinderella opens at the Kennedy Center Opera House on May 9, and Ms. Leonard will share the title role with Irish coloratura, Tara Erraught, who is also making her company debut.
For information and tickets, visit www.kennedy-center.org

For more information about Ms. Leonard, visit www.isabelleonard.com
Ms. Leonard is also active on Twitter: @IsabelLeonardny