When Marquita Lister sings Serena in Boston Symphony Orchestra's Porgy and Bess this week, she will come full circle in a celebrated career whose seeds took root while she was an undergrad at Boston's New England Conservatory of Music. In those days the soprano dreamed of joining the other great artists who sang on the hallowed stage at Boston's Symphony Hall.
Since her 1992 debut as Aida at Houston Grand Opera, Lister has sung principal Verdi, Puccini, and Strauss heroines, among others, with A-list opera companies in America and abroad. Her acclaimed association with Porgy and Bess began as Bess in Houston in 1995. She reprised the role in 1998 at Connecticut Opera, and again in 2000 and 2002 at New York City Opera where she won the 2002 Diva Award. She also starred in a nationally televised PBS broadcast of the opera that year, and since then has performed Bess some 500 times at venues across the globe.
While critics have called Lister the quintessential Bess of her generation, she looks forward to switching gears to sing Serena, the moral compass of Catfish Row, in three BSO concerts featuring Laquita Mitchell as Bess and Alfred Walker as Porgy, conducted by English maestro Bramwell Tovey--details below. Last week the busy soprano spoke to me by phone from her primary residence in Washington, D.C. She also maintains an apartment in Berlin.
The world premiere of Porgy and Bess took place in Boston at the Colonial Theater on September 30, 1935, prior to its Broadway opening that October. Now, 77 years later, you're singing Porgy and Bess with the Boston Symphony for the second time, the first having been at Tanglewood in 2011. Are there special challenges when performing this opera as a concert?
Oh yes. What people love about Porgy and Bess is not just the music but the theatrical impact. It's a piece that we're very fortunate to have because the music is genius. But to portray certain scenes, it's hard for the music to stand alone unless the singing actors and actresses can pull out all the emotional intent of the music purely through their voices. That's always the case with any opera that you transfer from the stage to a concert version.
Are there are advantages to performing this Gershwin work as a concert?
The advantage is that you can just stand there and sing, without being worried that the drama will hinder your ability to sing beautifully. And the audience can really hear the music which is brilliant and well ahead of its time.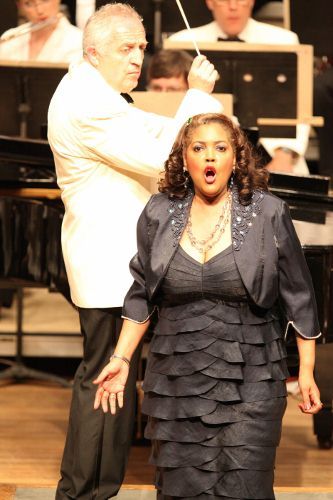 Bramwell Tovey, the BSO, and Lister at Tanglewood in 2011.
(Photo by Hilary Scott)
How do you enjoy singing the pious Serena as opposed to the drug-addicted, sexy Bess?
The first time I sang Serena last summer was in one of the most stressful environments I could've chosen which was at Tanglewood, one of the most important music festivals in the world. When I was asked to sing her, I thought, Wow, I finally get to sing 'Oh Doctor Jesus' and 'My Man's Gone Now,' which to me are two of the most beautiful arias in the piece and very operatic.
Do you think it helps to be a veteran of so many productions to sing Serena?
I'm old enough to have heard the great interpreters of this role--such as Joyce Simpson and Angela Simpson, and of course Priscilla Baskerville. And I happen to be reading David Weaver's book, Black Diva of the Thirties, about the original Serena, Ruby Elzy.
Having done Porgy so many times, I've heard some Serenas who aren't so operatic and some who are very operatic; it's all a matter of taste and what the conductor wants. In my own case, it might have been easier to sing her live for the first time in a performance with sets and costumes so I could've really wrapped myself around the drama and portrayed this very reverent woman in a manner I found comfortable. I come from a very spiritual upbringing myself, but being thrown into a concert version I had to ignite my imagination in a way that was difficult. It went well for me last summer, but this year I should be better because I've had more time to think about her.
Nonetheless, she is quite different from Bess. I have lived with Bess for many years and so to step out of the red dress now and put on Earth Mother clothes, it's a transition--a mental transition and one I'm surprisingly comfortable with. But do I want to totally give up the red dress and red shoes? No, I still want to do Bess, though I'm not too interested in rolling around the floor. [Laughs] I'm not 25 years old anymore! But I think we can portray Bess's vulnerability and frailty without tumbling around. It's possible to do this with good acting. I've also recorded the role [for Decca and RCA], but I think I'm capable of doing an even better recording in the future. I hope one comes along.
In previous interviews you've said that African-American singers have to be careful of Porgy and Bess so as not to wind up only singing these roles.
Yes, and I think the stigma remains. If you have a very clever agent and you have fortitude you can have a mix of roles. I was very fortunate that while I was singing Bess, I was also singing Salome, Tosca, and Aida. It didn't hold me back in the way it did some other people. And look at Eric Owens! He just sang Porgy in San Francisco and then sang Alberich in the Robert LePage Ring Cycle at the Met. He's one of the few who's managed to do this great work and still be respected!
Have you found you've needed to limit your involvement with this opera?
I don't like using the word 'limit.' I feel I should be able to perform this opera as much as I want to. As far as I'm concerned it's as great a work as Tosca or Aida. But unfortunately some people hiring for Porgy and Bess seem to think it's easy to sing, or that you don't have to have a certain type of voice to sing it...Even now in 2012, I think some directors underestimate how hard the music is.
Frankly, as an African-American woman I have always been surprised that Gershwin had the guts to write a piece that gave a platform to a race of people who, in 1935, were not considered to be worth anything. The piece shows how this particular group of people lived, and he wanted to depict them in the most authentic way possible by incorporating the street cries of the vendors, and the gospel moments, and blues, and a little bit of jazz. He gave platform to an entire culture, and yet the story is universal. You don't have to be African-American to know how it feels to experience the loss of hope or faith, or what it's like to have a drug addiction. This is why the piece has such staying power. What makes something great is that audiences continue to be drawn to it.
There was controversy about the recent Broadway production, which closed last weekend and which made many changes to the libretto. Care to weigh in?
As far as I'm concerned, the opera's perfect just the way it is.
You sang for the original Porgy, Todd Duncan, but you've said that he didn't encourage you to pursue opera. Now that you've successfully sung every role in the standard soprano repertory, do you feel that your youthful experience with Duncan is a cautionary tale for other young singers?
Yes, of course. In the interim I also sang with other veteran Porgy and Bess performers such as Cab Calloway and Anne Brown, the original Bess, who actually attended some of my performances as Bess. She was never anything but gracious and complimentary. But when singing for people we idolize, we have to understand that they're still people. They have their own taste. When it came to Todd Duncan, I wanted to sing for him since he was such a famous teacher in Washington, D.C., where I'd grown up. By then I'd been accepted into the New England Conservatory of Music and had done well in the Met National Council Auditions, but when I went to his studio and performed, he had nothing positive to say to me! I was floored.
Now that I'm doing master classes myself, I try to be conscious of the fact that there's a fine line between being tough and loving and being downright discouraging. To tell someone they don't stand a chance--how can anyone know that? I come from a spiritual background and I feel that as long as you keep trying, God will lead you where you need to go.
What's the significance of singing at Boston's Symphony Hall?
Huge. I had tickets to a recital series there when I was in college, and I heard every great singer come through Symphony Hall and give recitals or concerts--Leontyne Price, Shirley Verrett, Marilyn Horne, Jessye Norman. The list goes on and on of the singers who came through that house and had their voices just hang in the air. But one thing I have to say about Porgy and Bess, it has taken me places I've always dreamed of going. In 2009 I sang Bess at the Hollywood Bowl and that was also a dream come true--it was like checking something off my wish list. It was a fabulous experience and that's when I met Maestro Tovey. Then going back to Tanglewood with Porgy was huge for me because I'd gone there as a student. And now, finally, I'm going to perform at Symphony Hall, and I think this is coming at the exact right time.
You've had a rich and varied career for the past twenty years. Are there any dream roles you have not yet sung or want to reprise?
I'd love to look at Helena in Die ägyptische Helena by Strauss, as well as Chrysothemis in his Elektra, and I'd love to sing Minnie in Fanciulla del West, all new roles. I'm also dying to sing Cassandra again in Les Troyens.
This new era of opera in HD forces singers to be very conscious of their weight. Do you feel that current standards of weight control are too stringent for some sopranos?
I think that being overweight is subjective. What one person considers heavy, another person considers normal. If every soprano has to look like a Hollywood actress--and has to maintain a size zero to a size four--we may lose some great young singers. The old adage 'Fat sings' is true, meaning if you become too muscular and have too much abdominal rigidity, there's a certain rigidity that forms in the tone. I don't think people should be unhealthily overweight, but they shouldn't need to be so thin that their voices are no longer beautiful or less rich, possibly because they can't come up with the support some roles require.
I gather you're looking forward to working again with Bramwell Tovey?
Maestro Tovey conducted me as Bess at the Hollywood Bowl and at Tanglewood as Serena, and he also invited me to sing Mahler's Second Symphony in Vancouver with him this past January. He's wonderful. He has a passion for the music and a commitment to excellence, and yet he creates such a joyful, relaxed atmosphere, you want to work for him. You really want it to be good. I love him!
***
Porgy and Bess in concert will be performed by the Boston Symphony Orchestra and guest soloists on September 27, 28, and 29. For tickets and further information visit www.bso.org.
For more information about Marquita Lister, visit www.marquitalister.com