The theatrical adage "The show must go on" worked well at the Kennedy Center last night after illness forced tenor Stephen Costello to quit the stage during his much-anticipated concert with soprano Ailyn Perez. As music fans know, the married Mr. Costello and Ms. Perez are opera's newest "power couple"--young, gifted, gorgeous, and in demand at houses all over the globe. They earned plaudits last March as Nemorino and Adina in WNO's Elixir of Love, and were supposed to open the company's fall season with an evening of duets (some of which they recorded for their new Love Duets cd on Warner Classics).
But Mr. Costello looked pale as he strolled on stage at the Terrace Theater and announced that he was "under the weather." He wanly said he hoped to offer an "interesting evening," though as the tenor began "Un di felice" from La Traviata his tone faltered and he made a hasty exit. Ailyn Perez, stunning in a pink strapless gown, exchanged glances with pianist Danielle Orlando and the two women took their leave.
Ten minutes later, however, Ms. Perez and Ms. Orlando returned, and what ensued was a thrilling recital of arias and songs, performed with charm, elegance, and limitless versatility. From the "bravas" and mini-standing ovations, the audience quickly fell under the spell of the soprano who sang Violetta to acclaim at Covent Garden and San Francisco Opera this summer. Her tone was warm and lush and slightly dusky with a timbre uniquely her own, and in the manner of other fine recitalists--Elly Ameling, for one--Perez found the emotional heart of each song and altered her vocal color to communicate wit, sorrow, longing, and joy.
This is a diva who can act as well as she sings.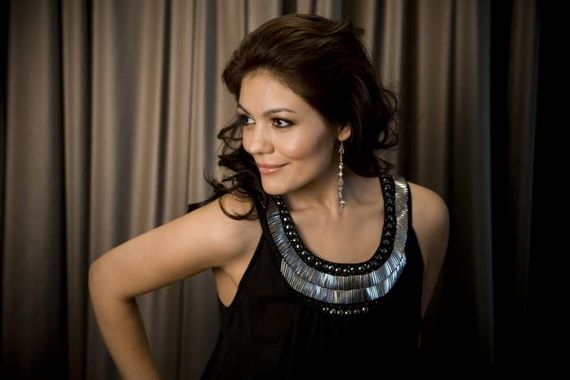 Photo from Poeme d'un jour cd cover by Paul Marc Mitchell.
The trio of opening songs by Fernando Obradors put me in mind of the late Arleen Auger, who also championed these whimsical love songs especially "Del cabello mas sutil." Ms. Perez made lightning quick changes of mood and temperament to excellent effect. When she returned following a brief interlude, she inhabited the flirtatious, eager persona of Massenet's Manon in "Je suis encore," smoothly navigating the pianissimos, trills, and melismas. She then sang three songs by Reynaldo Hahn with elegant French diction and an audible smile in her voice as she embraced the arrival of Spring in "Le printemps." (Perez recorded the Hahn songs on her marvelous 2013 Naxos CD, Poeme d'un jour.) She concluded part one with a virtuosic rendition of "Je veux vivre" from Gounod's Romeo and Juliette, showing the heroine's desire for independence through her rapturous coloratura.
Ms. Perez told the audience at one point that "Stephen is the funny one," but before she launched part two with the poignant "Willow Song" and "Ave Maria" from Verdi's Otello, she described her character Desdemona as a woman "waiting for her husband." Then she merrily said, "Okay, maybe I'm funny, after all." But as she glanced down in contemplation and sang, "Mia madre aveva una povera ancella," she displayed a dark timbre that presaged the heroine's tragic end. Her "Ave Maria" was also deeply moving.
Ailyn Perez was the first Latina singer to win the Richard Tucker Award (2012), and she brought fluid Spanish diction, as well as panache and whimsy, to Manuel De Falla's "Siete Canciones Populares Espanolas" (another cycle she recorded for her Poeme d'un Jour disc). She followed up with two popular arias, "Si, mi chiamano Mimi" from Puccini's La boheme and Doretta's song from La Rondine. Toward this last part of the program, I heard slight vocal fatigue causing a few high notes to sound sharp, but this artist's energy and verve overcame these tiny flaws until her final show-stopper, Gershwin's Summertime, which she performed with gossamer perfection.
I also want to praise pianist Danielle Orlando. Her accompaniment was sensitive and long on finesse, and she was a note-perfect collaborator for music chosen at the eleventh hour. It was a tour-de-force evening for Ms Perez and Ms. Orlando who were "troupers" in the best sense of the word. I hope they both come back soon and bring Mr. Costello so we can hear the duet program, which should also be memorable judging from the vocal magic displayed on the Love Duets cd.