Though he'll sing the role of Greenhorn in WNO's east coast premiere of Moby-Dick this week, Stephen Costello is already an opera veteran.
Since opening night of the Met season in 2007, when he debuted as Arturo in Lucia di Lammermoor, this Philadelphia native has performed at world-class companies here and abroad, winning acclaim for his bright, elegant tenor and accomplished acting. He's a performer to watch, and also a man with dreams -- such as, he wants to sing on Broadway one day. You'll also find him as a witty presence on Twitter, where he was named "one of nine operatic tweeters to follow" by WQXR in New York.
Costello's Washington company debut in Moby-Dick will be his third outing as Greenhorn, a character whose lyrical arias lend poignancy to this riveting epic, adapted from the Melville novel by composer Jake Heggie and librettist Gene Scheer. Costello created his role for the Dallas Opera premiere in 2010 and sang it again for San Francisco in 2012, a performance captured on a Euro Arts DVD. Critics have raved about Costello's portrayal of the callow seaman who morphs into Melville's iconic Ishmael, and his colleagues seem similarly awed.
"When I first heard Stephen at the first rehearsal of Moby-Dick in Dallas," says baritone, Robert Orth, who originated the "old salt" role of Stubb, "I was blown away. I knew nothing about him or the spectacular career he was just beginning. All I knew was that here was this full-throated Italianate sound which sounded so right in this brand new American opera. I was dazzled. Each night of our Moby-Dick performances, I stood backstage to listen to Stephen sing his big numbers. And the sound of that voice never failed to thrill me."
I felt the same watching the PBS broadcast of the Met's Anna Bolena in which Costello sang the part of Lord Percy, Anna's former lover. His impassioned, note-perfect rendition of "Vivi tu" gave me goose bumps, so I searched Youtube and found wonderful clips from Moby-Dick and Houston Grand Opera's Rigoletto, and luminous duets with his soprano-wife, Ailyn Perez, from two Richard Tucker Award galas: Costello won this honor in 2009 and Perez in 2012. Hailed as opera's newest romantic couple, they met as students at the Academy of Vocal Arts in Philadelphia, married in 2008, and moved with their feisty Papillon to Chattanooga, Tennessee. They are often cast together, and the pair will spend the summer of 2014 singing La Traviata in London and San Francisco and Rigoletto in Hamburg; they also recently recorded a cd of love duets for Warner Classics, scheduled for release this May.
It's heady stuff, but the artist I meet in the Maryland studios of Washington National Opera displays no signs of his burgeoning fame. Blessed with youth (he's 32), good looks, and shimmering talent, Costello seems well-grounded and grateful for the many opportunities rushing his way. He tells me a funny story about his dog Tequila, with whom he travels, and talks enthusiastically about his back-to-back WNO debuts in Moby-Dick (February 22-March 8) and Elixir of Love (March 20-29), both in the Kennedy Center Opera House. He mentions that on non-performing days he plans to tour the museums and landmarks of D.C., one of his favorite cities, and he intends to have a few sessions with his voice teacher.
I think it's important to study as often as possible. I just saw my teacher, William Schuman, for a week in Houston where I just finished singing the Duke in Rigoletto, and I'll take the train to New York and see him on my first day off here. As a singer you can't hear what's coming out of your throat; you're only hearing it from the inside, so you need a trusted person who knows how your voice works. It's like a car. You take it to the same mechanic because they know it inside out and every time you get it back it works fantastic.
When I ask if it's true that Jake Heggie wrote the role of Greenhorn/Ishmael for Costello's voice, he explains, "I don't think Jake had us all in mind originally. But when he and Gene Scheer figured out the scope of Moby-Dick, they decided on the different parts, and as Jake went along he thought of people he wanted and he suggested singers to Dallas Opera. We were cast early in the process--he and I had met only once during Lucia in 2007. When he had the cast together, he tried to tailor the roles to the singers in the premiere.
"Before rehearsals I was having trouble learning Jake's music; it's very rhythmic and the counts are very different, and I didn't want to show up in Dallas not doing what he wanted, so I called and told him I wanted to visit San Francisco and work with him for a week. And he said, 'If you come, I'll reserve every day.' I was eager to work with the composer because it was a new piece and I wanted it to be right."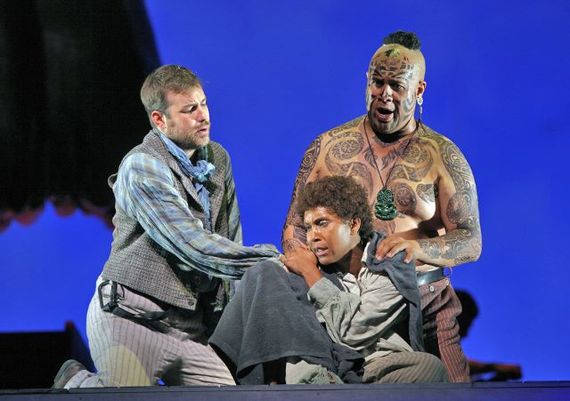 Stephen Costello (left) in Moby-Dick. Photo by Cory Weaver.
Having watched Moby-Dick on DVD, I know the production makes unique demands on the singers, and I wondered how Costello handled these rigors. "When I first did Moby I didn't realize how taxing it would be," he explains. "I was climbing fifty feet up in the air, and climbing down. Literally, it's so busy you feel you're on a ship. You're always moving; you're constantly adding clothes or taking them off, and there are many people on stage all the time! It's very physical, and you end up losing weight. So I have to pay attention to my nutrition and give myself enough protein since I'm constantly running back and forth. Since the last time I did it in San Francisco, I've been going to the gym, mainly for my health. I'm eager to see if this makes a difference in my energy level."
Moby-Dick also offers a slew of benefits, as Costello points out. "In productions such as Anna Bolena and Rigoletto, the costumes are tailored and they're tight. In Moby it's like you're wearing pajamas, and you have more freedom. It's very comfortable on stage." And he adores the music. "My first aria is like a big Puccini aria, and I also like the exposure and simplicity of the 'Human Madness' aria, which is accompanied only by an oboe. It's cool--very open--and it makes Greenhorn very vulnerable. It's almost like an art song."
Less than two weeks after Moby-Dick closes, Costello will play Nemorino in Washington National Opera's Elixir of Love by Donizetti. "Elixir is a great sing," he observes.
"You get beautiful lines and wonderful duets and scenes, and it makes your voice feel so good." But does he view his character as a clueless wonder as some tenors tend to play him? "No," Costello says, "I want him to be simple, but I don't want him to be an idiot. Nemorino's happy with who he is, and he's in love with a girl [Adina] who doesn't give him the time of day...But he's like Jimmy Stewart's character in Mr. Smith Goes to Washington. He's very honest and he wants to make the best of what's going on around him." He smiles. "It's light and easy to listen to; there's no heavy dramatic aspect. But it's so touching when Adina finally comes around."
Ironically perhaps, this tenor didn't set out to sing opera. His first exposure to music as a child was listening to Elvis on his father's car radio, and he wanted to be a trumpet player while attending George Washington High School in Northeast Philadelphia. In school he also played Lieutenant Cable in South Pacific, and he enrolled in the University of the Arts as a musical theater major. He calls himself a "musical theater junkie" and he still hopes to play Tony in West Side Story. He has an upcoming gig in another Leonard Bernstein musical, Candide, details to be announced, and he'll sing Camille in the Met's new Merry Widow next spring. Operetta is another of his favorite genres.
Costello mentions a few operatic "dream roles" he aspires to sing: "I'd love to do Werther. It's a great opera and the music's so beautiful. It's a little bigger, but not too big, and it's a thinking part. I'd also love to do Don Carlo. And I want to do more productions of The Daughter of the Regiment, since I did it in San Diego." Another quirky goal for the future: He wants to sing on The Tonight Show Starring Jimmy Fallon.
The tenor admits that coping with a dual-singer marriage is "hard." The couple wants to start a family, but right now their careers are thriving so it would be tough to take time off. And while non-singers might assume it's bliss for Costello and Perez to perform together, he says, "We do love working together. But at the end of the day, it's a job. You sing because you love it and make a career of it because you love it. But you go to rehearsal together, and when you're working you can't bring the stuff that happens in rehearsal home...Opera is emotional, and she's worried about you and you're worried about her, but when you go home you have to do normal things like cook dinner or play with the dog."
At that same, he wouldn't have it any other way. "The best part is being able to earn a living as a singer. I've been able to meet people I would never have met--people in the film industry, the justices of the Supreme Court, Charlie Rose...you get to see the entire world. And all the people I encounter seem to have the same passionate response to opera. When you're part of a great production, it's wonderful."
***
For information about Washington National Opera's east coast premiere of Moby-Dick, visit www.kennedy-center.org.

Based on the classic Melville novel, Moby-Dick offers music by Jake Heggie and a libretto by Gene Scheer. Along with Stephen Costello, the WNO production features Carl Tanner, as Captain Ahab, Matthew Worth as Starbuck, Eric Greene as Queequeg, and Talise Trevigne as Pip. Evan Rogister is the conductor, and the production is by Leonard Foglia.
For information about Stephen Costello, visit www.stephencostellotenor.com . You can also follow him on Twitter @CostelloTenor.
Special thanks to Robert Orth, who just finished a run as Simon Powers in Dallas Opera's production of Death and Powers, a new American opera by Tod Machover, Robert Pinsky, and Randy Weiner.