Italian artist Alighiero Boetti (1940-1994) believed that artists simply observe and point to what already exists in the world. And because the world is a complicated place -- filled in one moment with fullness and variety, and in the next, with sameness and emptiness -- Boetti's artwork also moved between these opposite aesthetic and conceptual notions.
Duality, opposition and ideas of twinning occupied Boetti throughout his short life and career. In fact, a large photomontage of two Boettis side by side, called "Gemelli" (Twins), greets viewers at the entrance to the exhibition. He subsequently changed his name to Alighiero e Boetti, as if he were two sides of one person or two entirely separate people.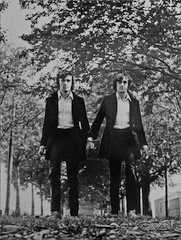 "Gemelli" (1968), photomontage
Born in Turin, Boetti is not a household name outside of Italy. Alighiero Boetti: Game Plan, a magnificent retrospective at MoMA, on view through October 1, will certainly change that. Boetti came of age in the 1960's as a central player in Italy's Arte Povera movement which celebrated the use of household / hardware store materials in art making. Moving beyond Arte Povera, he tried on Minimalism and Conceptualism, always employing a dizzying array of materials and techniques.
The exhibition, the largest of Boetti's ever shown in the United States, begins on the sixth floor with early works that highlight the artist's quest for transforming ordinary household material into tantalizing objects. Boetti delighted in finding order out of non-order. Discarded material, construction site debris and the throw away contents of household junk drawers are transformed into beautiful things through the artist's stacking and crisscrossing systems.
"Cubo" (Cube) is a mash up of wood, fiberglass, cardboard, plastic, glass, rubber, polystyrene, steel rods and wire wool all glued together and viewed through a Plexiglas box. In "Legnetti Colorati" (Little Colored Sticks) bundles of common wood are artfully arranged to create a blossom pattern on the floor.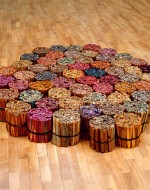 "Legnetti Colorati" (1968), wood, synthetic polymer paint, elastic bands
Nearby is "Colonna" (Column) made of paper doilies stacked on an iron core. The stack looks sturdy, immoveable, belying the impermanence and decorative purpose of the doilies, employed here to create an industrial architectural element.
The fullness of the stacked items in the first room give way to a pared down, minimalist aesthetic in the following rooms, as Boetti moves away from Arte Povera and towards a more conceptual and simpler aesthetic. In "Cimento dell'armonia e dell'invenzione" (Contest of Harmony and Invention) Boetti has drawn simple lines in pencil, covering the very orderly graph paper with his own disorderly pencil lines.
Order and disorder is explored in many other pieces, including "Ordine and Disordine" (Order and Disorder), a series of 100 4 x 4 or 5 x 5 embroidered squares that each say ordine and disordine and are randomly placed on the wall, just as my eye was yearning for an installation of symmetry.
An untitled work from the same year, 1969, is made of household stickers one might find in an elementary school teacher's supply closet, placed in random fashion on the paper. The visual result is a stunning pattern, reminiscent of tribal rugs with an all around pleasing rhythm.
Boetti had an insatiable curiosity and was a thinking person's artist, referring to "thinking" as a sixth sense. He loved words and how text appeared on canvas -- woven, penned or engraved -- both for the meaning and for the physical appearance of lettering on a background.
The progression of time intrigued him and he had a particular interest in his own mortality. In "16 Dicembre 2040-11 Luglio 2023" (December 16, 2040-July 11, 2023) Boetti has embroidered two dates: one foreshadowing his 100th birthday and the other his death date. Macabre, yes, but also indicative of his wicked sense of humor.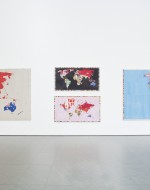 Installation view showing maps
My favorite work in the show is on the second floor, which holds the embroidered maps and the stunning array of square rugs that play with numbers 1-100. As lovely as those are, each lit from above with a single naked bulb, I was most drawn to "The Thousand Longest Rivers of the World," a tapestry embroidered with the names of the world's 1,000 longest rivers. The concept alone is intriguing, especially since it was created before the Internet simplified such research. There is something sublime in the succession of exotic proper names, stitched on a neutral background. Global in reach and minimalist in style, it spoke to me.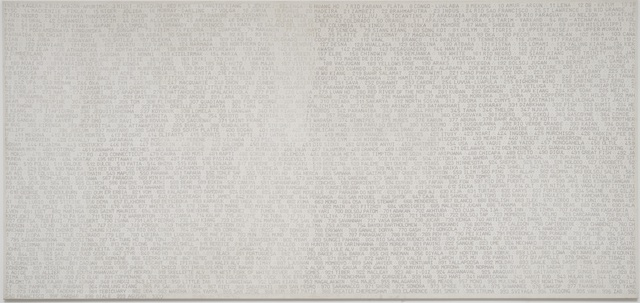 "Tapestry of the Thousand Longest Rivers of the World" (1976-82), embroidery on cotton and linen
Leaving the exhibition, I felt that my head could use some cooling off. There was so much to see by this enigmatic Italian artist, impossible to classify in his all too brief 54 years. Fitting then to end the exhibit with a visit to the sculpture garden with Boetti's self portrait in bronze, made a year before he died. The figure holds a hose with running water above his head. As the water hits the head -- engineered to run hot during museum hours -- a cloud of steam is released.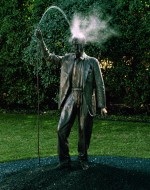 "Self-Portrait" (1993), bronze and electrical and hydraulic components
All photos are courtesy of the Museum of Modern Art, NYC