I discovered Marin County-based Branch Handmade while perusing Etsy shops. Ashley Redmond is an interior designer and co-owner of the hand-screen housewares and apparel textile business. It has been going strong since launching in 2008. (The textile line is sold in over 40 boutiques nationally and abroad.)
Among the nature and retro-inspired gift-giving items, you'll find whale throw pillows, bicycle, typewriter and biplane pillowcases. In the clothing department, owl and zebra lounge pants are must-have items. Everything has easy-on-the-wallet price tags.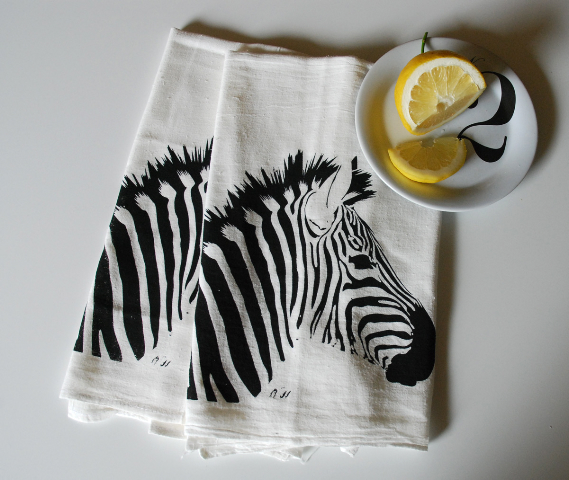 Zebra Towels ($18). Photo: Branch Handmade
I asked Ashley for the inside scoop on where she goes in San Francisco for dining, views, tea and vintage finds and, of course, about her creations.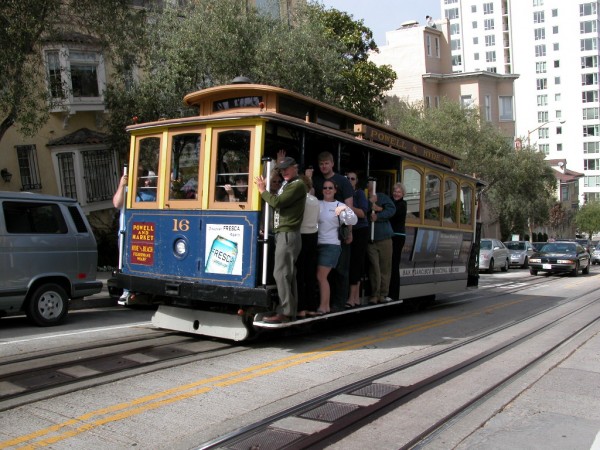 Find out cable car routes at www.sfcablecar.com.
Photo: © Susan Fogwell
SF: Best spot for Breakfast?
Ashley: My fave spot for breakfast is the Half Day Café in Kentfield in Marin. They have the most delicious pancakes and a great garden to sit in on sunny mornings. It's the perfect spot to hit after a long morning hike.
SF: Best spot for a romantic dinner?
Ashley: Hands down best spot for dinner is The Slanted Door. It's located in the restored Ferry Building at the Embarcadero, and you have the most amazing view of the Bay Bridge and the water. We love to stroll through the Ferry Building before dinner. The food is incredible; I'm pretty sure we could live on the spring rolls and the tofu. The cocktails are great too: My favorite is the Ginger Limeade, which is refreshing and light and perfectly compliments the food!
SF: Best spot for a view of San Francisco Bay?
Ashley: There are so many places to get a great view of the Bay. There is an overlook right after you cross the Golden Gate Bridge into Marin, it's a huge cliff that is above the bridge and you can see everything. On a clear day it's the perfect spot to see the city, the water and the Golden Gate -- and free too! A ferry ride from the Embarcadero to Sausalito is another great way to see the bay; its fun to be out on the water and you can grab lunch and walk around Sausalito before heading back to the city.
SF: Best place for a cappacino?
Ashley: I'm not much of a coffee or cappuccino drinker during the day, but I love a good chai or cup of tea and my favorite spot to get that is Samovar Tea Lounge. They have three locations in the city, but I like the location at Yerba Buena Gardens. It feels like your sitting in a cozy glass tree house with tons of pillows and a relaxing vibe. The view is incredible overlooking the gardens and St Patrick's Church. It's a good spot to stop after visiting the SF MoMA and they also have an outside area for warmer San Francisco days.
SF: Best spot to buy vintage?
Ashley: Sad to say that my very favorite spot for vintage, American Rag Co., has closed but Wasteland in the Haight is still a good spot to check out when you're in the mood for the hunt! You never know what you will find there; the selection is varied and constantly changing so you can stop in pretty frequently as they are always getting new stuff.

SF: Tell us about your retro silkscreens.
Ashley: Branch Handmade is our line of hand screen printed housewares and apparel. We create the designs from our own original drawings or photographs. Weekend road trips along the California coast and perusing antique shops are a source of great inspiration for our designs. Nature, architecture, nautical designs, cityscapes, vintage knick knacks and toys are all things that we are inspired by and usually make their way into our designs. Our collection is currently comprised of clothing for men and women as well as pillowcases, tea towels, throw pillows, blankets and duvet sets.
SF: What is your latest design inspired by living in the Bay Area?
Ashley: We recently took a weekend trip to Napa and were completely taken by everything related to the culinary arts. We visited an organic co-op garden used and maintained by local chefs and of course enjoyed lots of delicious wines! We are creating some fun food and wine related designs from all of the photos that we took from our trip.
Branch Handmade can be found in San Francisco at Urban Bazaar and Park and Pond as well as online.