When I chatted with Belgian floral artist Francoise Weeks, the 62-year-old botanical extraordinaire had just returned home from teaching a two-day floral design conference at Sunstone Vineyards and Winery in Santa Ynez, CA. The event included three other floral designers, each teaching and demonstrating their individual floral techniques to a group of 53 floral designers from the USA and England.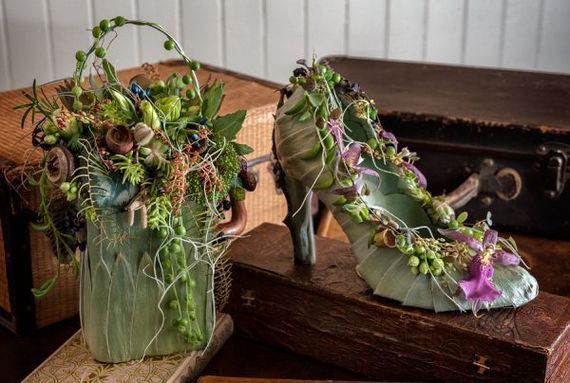 Botanical Shoe & Purse-Photo Credit: Jamie Bosworth
Francoise instructed on how to create smashing head pieces in a hands-on workshop. Flowers were incorporated into each individual design including anemones, poppies and lisianthus. For texture, privet berries, pieris japonica, succulents and foliage cut from begonias were added, along with a variety of other houseplants.
Weeks will be conducting solo seminars and workshops during the year in Austin, Ann Arbor, San Francisco, Chicago, New York, Pittsburgh, Palm Springs and Hawaii.
"This is a busy year for me," explained Weeks. "I am now booking workshops and seminars in 2015."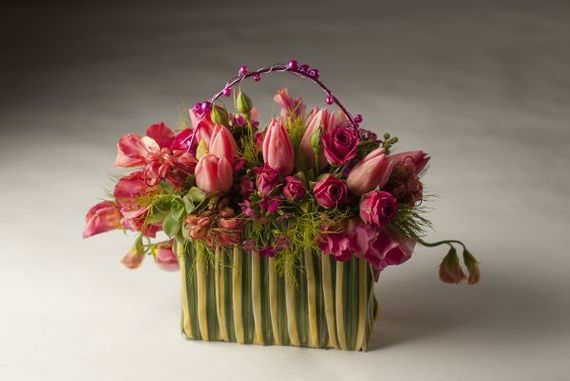 Botanical Purse-Photo Credit: Joni Shimabukuro
In 1996, Weeks opened her custom floral design studio, which is located in her Portland, Oregon backyard. Initially, she focused on weddings. Always working solo, she created floral décor for 50 to 60 weddings annually. With her husband's assistance in all things mechanical, Weeks unusual couture designs were high in demand.
"Some of my woodland designs can take up to three hours to create," Weeks explained. "I never know starting out on a design how it will turn out... I have an idea in mind and it develops into something unique."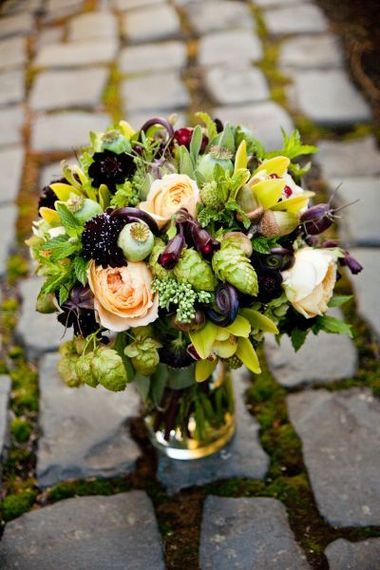 Bridal Bouquet-Photo Credit: Rob Augspurger
"It's not so much about flowers in my woodland designs, but more about utilizing wood, bark or a log and then building upon it with succulents, moss, berries and herbs," explained Weeks. "When a bride comments that there aren't that many flowers in a particular design, I explain that I work with a variety of herbs, fruits, foliage and vegetables ... It's all about putting trust in my ability to create the designs they envision for their wedding."
Now with most of her time dedicated to conducting seminars and workshops on the road, Weeks has just two weddings planned for this year.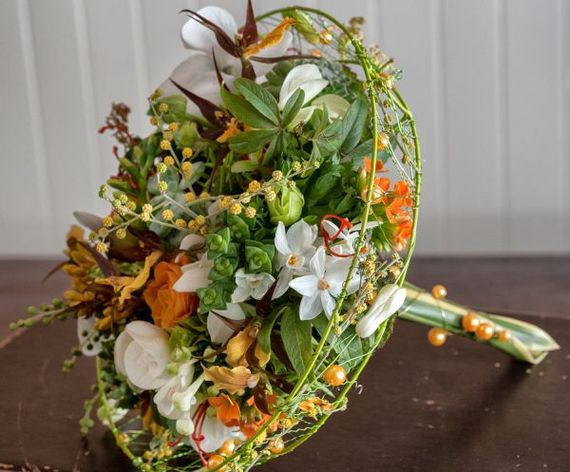 Whimsical Bridal Bouquet-Photo Credit: Jamie Bosworth
When Weeks perused the list of flowers from a local floral wholesaler at a recent seminar, she saw a long list of mainstream flowers, hundreds of different roses, and nothing too unusual. Fortunately, for Weeks, living in Portland, allows her access to a variety of unique plant material not found in other parts of the country.
"When I started doing woodland designs, I began observing nature in a new light," explained Weeks. "I had a new perspective on nature in general. I started to observe so much more on walks. After a windstorm, I love to go on a walk which always results in bringing home lichen covered branches, ferns and bark that I find on the street."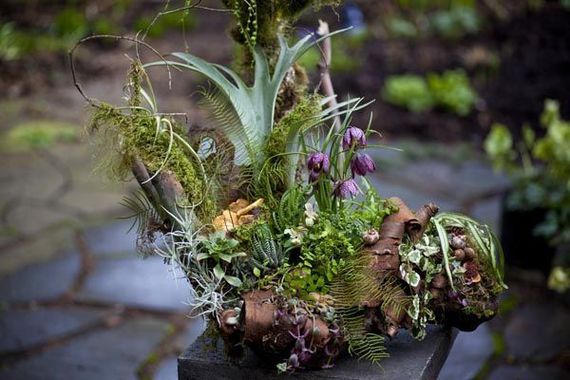 Woodland Centerpiece with Staghorn Fern-Photo Credit: Ted Mishima
In 2003, Weeks, who is formerly a math teacher, started teaching classes once a month in her studio. She taught everything from Christmas wreaths bedecked with dried orange slices and cinnamon sticks to bouquets for brides. In 2008, she started to teach three-day wedding workshops.
"It was always a dream of mine to teach more workshops," said Weeks. "People in the industry told me that in order for me to expand, I should teach workshops in different locations around the county ... It took a lot for me to take the leap, and I am so grateful that I did ... Last year, I cut down my weddings to 25 and started teaching more."
This year, Weeks has 12 Woodland and botanical couture design workshops scheduled in the States. In Sydney, Australia, an intensive three-day wedding workshop is scheduled. In June, she's headed to Wellington, New Zealand, to teach another three-day wedding and event workshop. In 2015, Weeks is already booked to conduct two seminars in England, where she will have the opportunity visit the renowned Chelsea Garden Show.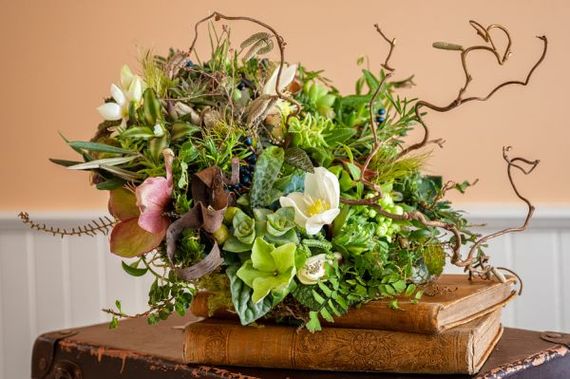 Woodland Bridal Bouquet-Photo Credit: Jamie Bosworth
Each one of the seminars and traveling workshops is geared toward designers in the floral trade with businesses. However, students not in the floral trade are more than welcome to attend. Weeks still conducts workshops at her Portland-based studio as well.
"Many people who come to my Portland studio are inspired to learn floral design and it's always fun introducing them to the creative process," said Weeks.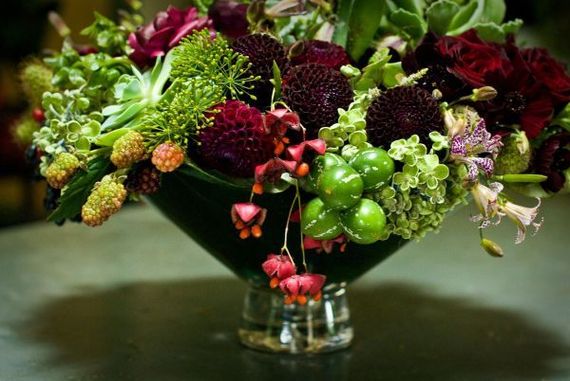 Burgundy Flowers & Succulents-Photo Credit: Joni Shimabukuro
To get a taste of Weeks exceptional design skills, she will be conducting a one-day workshop on March 21, 2014 at the San Francisco Flower & Garden Show. Choose between Urban Woodlands Workshop which is limited to 20 participants, where Weeks will create unique structures using driftwood, branches and bark, and then adding interest and texture with berries, seedpods, mushrooms and twigs. In the second Botanical Couture Workshop, Weeks will create a unique wearable headpiece using flowers that will undoubtedly turn a few heads.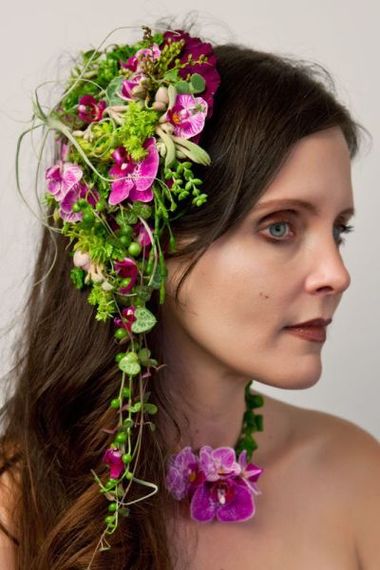 Botanical Headpiece & Floral Necklace-Photo Credit: Ted Mishima