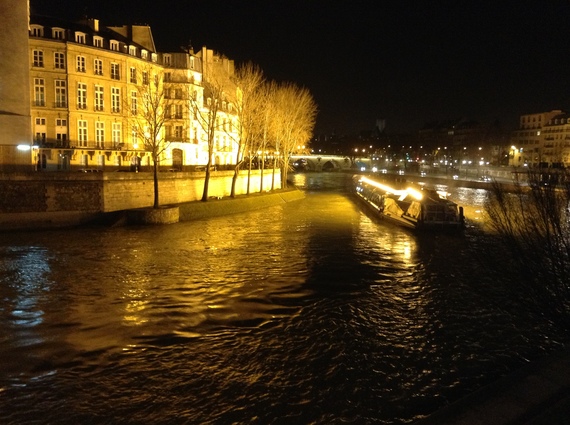 Photo Credit: Carol Gillott
There is only one blog I subscribe to and it's Paris Breakfasts by watercolor artist Carol Gillott. Gillott, a Francophile at heart, moved to Paris over a year ago, where she opens the door to her daily quintessential Parisian experience. Each photo-laden post instantly transports readers to the City of Love and is accompanied by musings, sketches, watercolors and insider tips.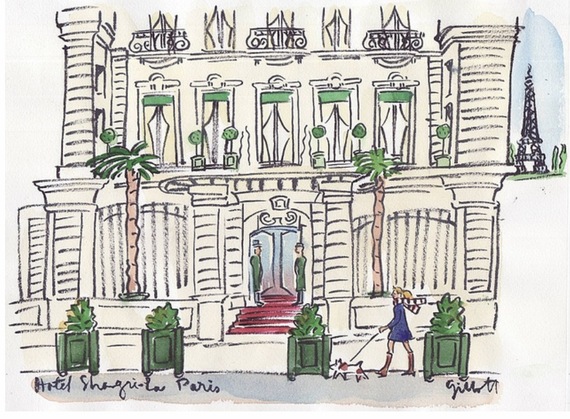 SF: Tell us about your photo driven blog on Paris and your predilection for macarons?
CG: Paris Breakfasts was started in 2006 when the shelves started sagging with petit dejeuner watercolors. Plus a friend dared me to start a blog. My predilection for macarons has expanded considerably living in Paris. Getting to know the 12+ local Paris specialties like Opera cake, Mille feuille, chouquette, Paris-Brest, to name just a few is a huge undertaking and requires lots of research plus heaps of resistance.
Q: How long have you been a watercolor artist?
CG: Since day 1 or 2. Whenever I could hold a crayon in my paw and wreck walls with abandon...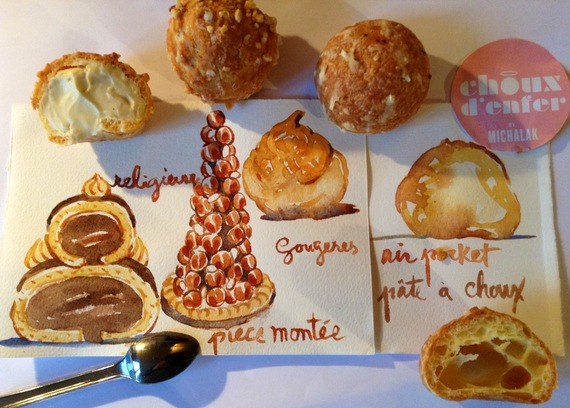 SF: How many watercolors do you typically do per day?
CG: Nothing like that but I try to doodle with paint and paper daily. It doesn't always happen. It's like doing your scales on the piano -- a must do with no objective in mind. Just free-flowing.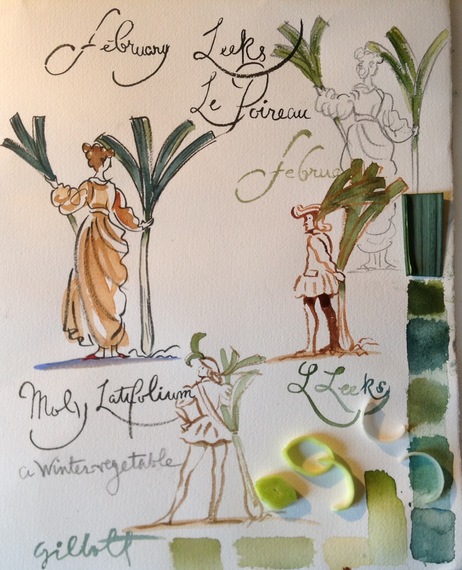 SF: I read on your blog that you moved four times in one year in Paris. Which arrondissement are you in now?
CG: Now I'm in the 4th arrondissement, on heavenly Ile Saint Louis, a dream I never imagined. Basically luck and pluck saved the day. When you don't have all the essential papers here or a proper job you're always winging it. A lot of prayer is essential for finding roof over your head and good friends in the know.
SF: Where is your favorite spot for people watching and sketching in Paris?
CG:I love people watching at the marchés... Bastille or Raspail or Grenelle all on Sundays. But it's impossible to sketch onsite (so far) or even to just watch so I shoot and draw later.

SF: Where is your favorite place in Paris for great inexpensive food?
CG: The crepe stand at Avant Comptoir though they stopped the 'crepe du jour' for a fiver unfortunately. Still it's the best made combo-crepe in town IMHO (Address: 3 Carrefour de l'Odeon 75006). Otherwise, I love to eat and browse at the seasonal fairs that take place monthly like the Coquille fete in Montmartre in January or the Perpingnon fair in March at Sacre Coeur. I'd rather buy directly from the farmers/producteurs than sit down in a resto.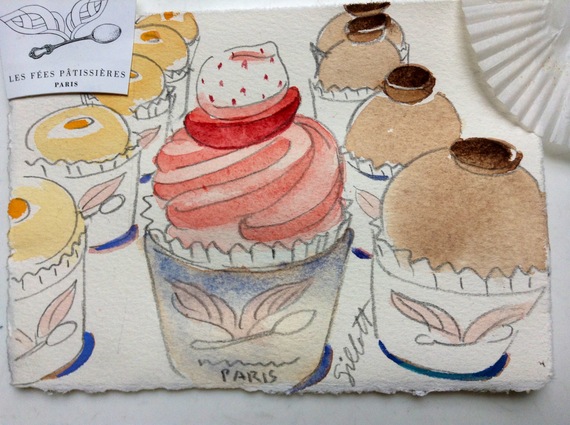 SF: What are some of your favorite shops and markets?
CG: Again, I wait for the Pari Fermier and Regional Producteur weekend marchés. I love the atmosphere and freshness of the produce. You're buying from the people who grew the food and made it into whatever, chevre, honey, walnut cake, eau de prune.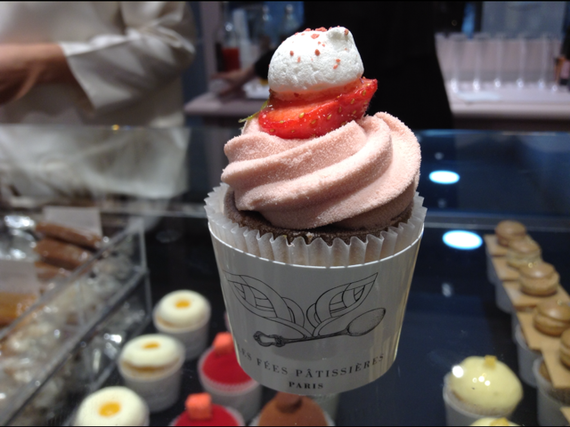 Photo: Carol Gillott
SF: Where are some of your favorite Paris haunts?
CG: Best loved haunt is the man-made waterfall at la Butte Chaumont parc in the 19th, where I make all my Paris wishes. I love haunting the pastry counter at Angelina rue de Rivoli. They let you browse and even take pictures of their exquisite pastries. It's not crowded like the tea salon and completely stress-free. Then I pop next door at Galigneni to browse art and fashion books. I love just looking out my window now that I have a view of Paris. It's addictive.
SF: Do you speak French?
CG: I took the requisite classes like everyone else but mainly learned by listening non-stop to French radio both here and in the U.S. Also listening to French pop (cherie FM) then looking up the lyrics and attempting to sing along (Ha Ha). Movies or TV game and cooking shows with French subtitles are helpful. It seems to have worked. French people insist on responding to me in French. Sometimes I wish they wouldn't. My comprehension is not as good as my accent.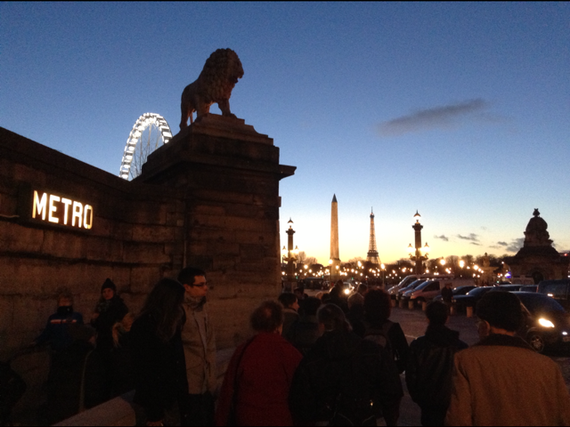 Photo: Carol Gillott

SF: Is there a must-go-to spot where you take guests visiting you from the states?
CG: I suggest going out of town to chateau Vaux le Vicomte near Melun (a 20 minute train ride from Gare de Lyon) for a unique experience -- much less crowded than Versailles and just as elegant. Otherwise there are the secret passages tucked away all over town like Panoramas, Vivienne, Jouffroy etc.
SF: Which museum is your favorite?
CG: Musee des Arts Decoratifs always has terrific shows covering fashion, crafts etc. and I love browsing their gift shop. I'll go to the Grand Palais for anything. The space is spectacular.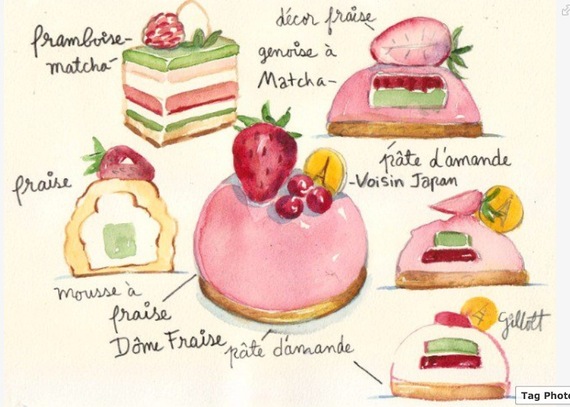 SF: What are a few money-saving tips that you can suggest to travelers visiting Paris?
CG: Shop and eat at the marchés. Especially any regional events on the weekends are loads of fun and very cheap. A plate of charcuterie or cheese is usually 5€. Get a weekly carte Navigot instead of buying carnets of tickets. It's worth it's weight in gold. Then get a 5€ bus guide at any kiosk. Buses #80 and 96 will give you views of all of Paris.
SF: And lastly, how long do you plan to live in Paris?
CG: Forever if they'll have me. I'm happy as a clam here.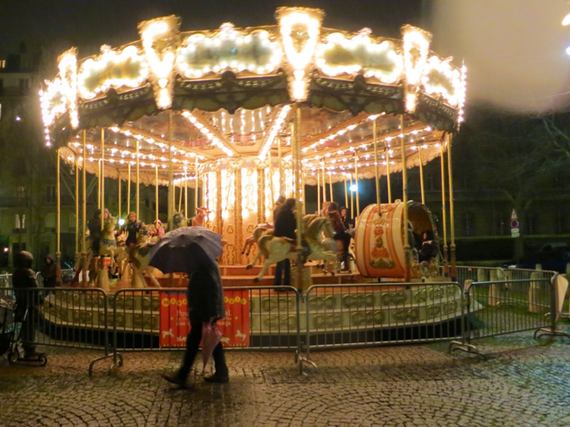 Photo Credit: Carol Gillott
Watercolors by Carol Gillott