With NYFW just wrapping up, the fashion world is aflutter with talk of runway trends for A/W 2014, but I just can't help anxiously await the arrival of spring! Today, I'm sharing a few of my favorite trends that were forecasted for spring 2014, and how we here at ModCloth are interpreting the looks.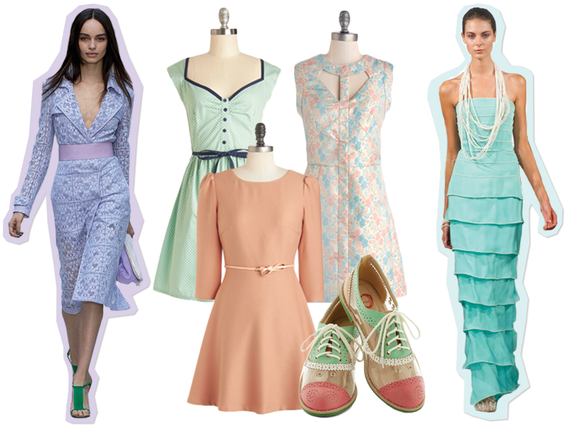 Runway Images via Fashion Gone Rogue and Harper"s Bazaar
Country Crooning Dress, Sparkling Cocktails Dress,
Apricot Your Attention Dress, and Clear Agenda Flat, all available from ModCloth.
Pastels are a pretty way to infuse your wardrobe with a burst of color come springtime. If you're not quite ready to wear head-to-toe robin's egg blue, or a suit of lavender lace -- as pictured in the runway shots above -- try adding just a touch of a sweet shade to your outfit. A peachy-pink dress paired with lacy tights and contrasting brogues speaks to spring without being over the top, or try an aqua-hued dress lined with navy piping for a subtle nod towards the trend.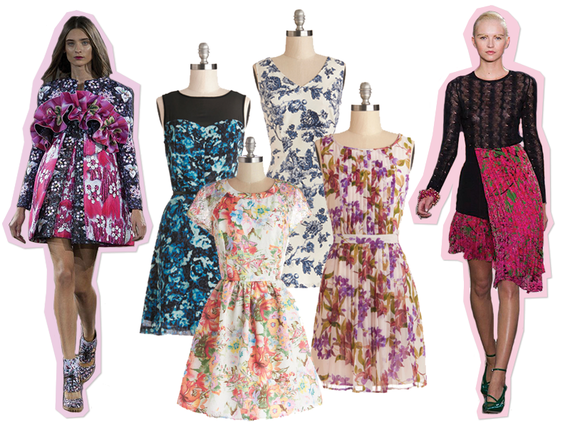 Runway Images via WWD and Harper's Bazaar
Ring in Spring Dress, Avid Antiquer Dress,
Exhilarating Embrace Dress, and Gifted Gardener Dress, all available from ModCloth.
I know, I know: Florals for spring? Groundbreaking. But, there's something to be said for this perennial trend, especially if you live on the cold East Coast! When warm weather finally hits, it's so refreshing to shed those winter tights and sweaters in favor of dresses adorned with big, bright florals. Keep it light and airy by choosing a dress with an all-over print, and pairing it with solid accessories, like a classic moto jacket and walkable wedges.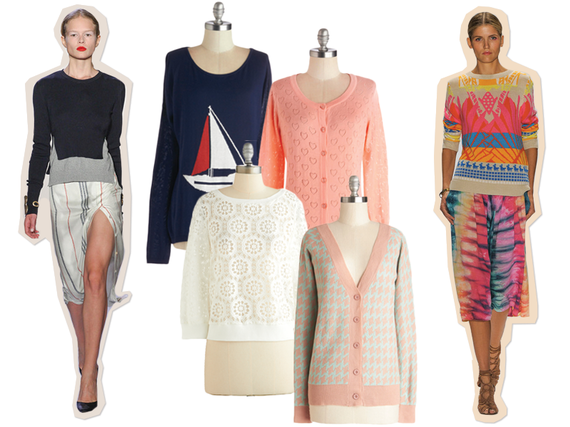 Gotta Flurry Sweater, Less is Amour Cardigan in Peach, Goin' to Georgia Cardigan, all available from ModCloth
After months of scratchy sweaters, there's no better feeling than forgoing those heavy layers in favor of something lighter. While spring weather often requires a light coat or cardigan, the options this season are seemingly endless. If the combination of neon and tie-dye is a little too much for you, try adding a pastel knit atop a collared shirt, or drape a nautical sweater over your shoulders to have on hand if the wind kicks up.
While I love following along with the trends coming down the runway, here at ModCloth we prefer to take a more personal approach to style and fashion. Be sure to check out the full post on our blog, Story By ModCloth, to see how our community interpreted these trends, while you're there, pay a visit to our Style Gallery for even more spring styling inspiration!