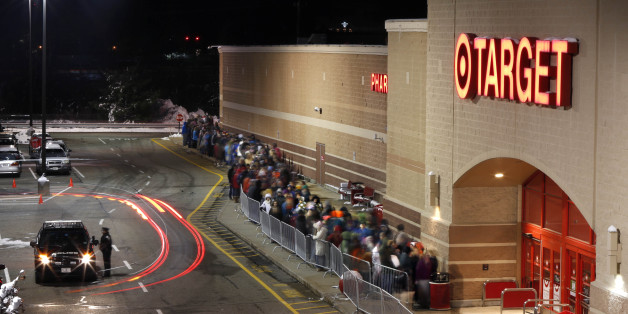 Emily had come by automobile, up the expansive thoroughfare lined with signs for Pier One Imports, HomeGoods and Costco that gleamed in the soft, pale light. The SUVs inched forward along this majestic street, past David's Bridal, positioned like chariots preparing for a race. She surveyed all that surrounded her: the throngs of minivans with white stick-figure families pasted in their rear windows, and the vast strip malls that seemed to her to be splendid, shimmering palaces, promising a world of luxury and pleasure. It was the grandest day of shopping: January 1. A divine day.
When she finally arrived at her destination, she stopped dead in surprise. The bold, red sign on the putty-colored building -- TARGET -- hovered over the jet black parking lot, a paradise of concrete, its stateliness heightened by manicured patches of grass. By the main doors, two shop girls picked up garbage and deposited it in an overflowing bin, an avalanche of trash. The store was still empty of customers, but it was buzzing inside like an awakening beehive. Emily glanced through the crystal clear glass doors and saw more assistants rushing around, their arms filled with Dawn of the Planet of the Apes DVDs and bright pink molded cup brassieres. There was a general unpacking amid an apparent confusion of materials being scrutinized, turned over and marked in the midst of a glorious universe.
"Oh!" she exclaimed. "Take a look at that!"
Signs announced "Your One Stop for Flu Shots," holiday store hours and "We're Hiring!" Red shopping carts adorned with bulls-eyes formed triumphal lines, waiting for eager hands to clasp their handlebars and lead them forward, through the automatic doors and across the threshold into a new world. The Target was so exquisite that it brought a lump to Emily's throat, and she was left standing, shaking, engrossed, forgetting everything else. The most delicate colors radiated from all around her. At once enchanted and disturbed by this loveliness, she stood and admired it, rooted to the spot, waiting.
More automobiles arrived, hordes of them, pulling into parking spots, and out of these automobiles poured middle-aged blonde ladies in slacks and patterned blouses, carrying sensible handbags. Although there was no church clock in this parking lot, if there had been, it would have sounded eight for the office workers on their way to work and the housewives shopping. And then suddenly, the spotless glass doors were unlocked, like opening the gates to a heavenly kingdom of delight, and Emily walked inside, passing over the slightly dirty carpet, passing the Starbucks and its advertisements for spiced holiday coffee drinks. She looked over the departments and let out a sigh, wondering where to begin and how to conquer this wondrous expanse of sales. Next to her, red baskets with gray handles were nestled in stacks, their gaping voids gasping to be filled with objects.
It was a temple to the extravagant follies of Fashion. Signs hung from the ceiling, pointing her in every direction. HOUSEWARES. COSMETICS. HOSIERY. ACTIVEWEAR. In the ladies' wear department, Mossimo cardigans were folded neatly on shelves, and puffer jackets lined the walls, price tags hanging from their cuffs. Headless white mannequins displayed graphic tees, blazers, wrap dresses and casual button-ups. And then there were the rows of shoes, black and brown, symmetrically arranged and smelling vaguely of plastic, next to a display of gloves, with their long, outstretched fingers and narrow palms of a Byzantine Madonna, adorned with Hello Kitty and Despicable Me characters. Gloves in camouflage and houndstooth, knit flip-top gloves, Smart Touch gloves, fingerless gloves and knitted mittens. Thinsulate, Champion and Isotoner. They had the stiff, almost pubescent grace of women's accessories when they have never been worn.
Emily moved forward as if propelled by a mysterious force of desire. The lingerie department impressed her with its sublimity and grace. She swept past the Gilligan & O'Malley camisoles, robes and nightgowns in pinks and purples, past plush house slippers printed like cows, nude Spanx shorts and bins of panties in variegated colors, some striped and some polka-dotted. She ran her delicate fingers over the red lace Santa teddy trimmed with white feathers like the driven snow. She saw yoga pants for $19.99 and yoga mats for $29.99. New Year's Specials! Everything seemed to mingle, so she could no longer distinguish one department from another. Ladies crowded around her, a multitude entirely absorbed by what surrounded them. A lady with the round face of a merry person paused, as if intoxicated by the lace that engulfed her, and held up a nightgown.
"Do you like this?" she asked.
"Yes. It's nice," Emily replied, awed by the extraordinary sheen of the polyester printed with rosebuds.
The store was alive. A tight surge of heads was flowing through the aisles, expanding into a flood in the seasonal Christmas section. Thanks to the vigorous use of their elbows, ladies pushed past one another, destined for the walls adorned with colorful ornaments, tinsel and artificial wreaths. Above, a lurid green sign in the shape of an arrow proclaimed: HOLIDAY SHOP NOW ALL ON SALE. Mechanically, Emily walked up the aisles, staring wide-eyed at a light-up pink flamingo wearing a winter scarf and pausing afresh at each new display of Star Wars ornaments, mass-produced old-fashioned-looking knit ornaments and A Christmas Story ornaments. Buy Two, Get One Free*. MUST GO!!!! 50% off! A vast display of The Muppet Christmas Carol DVDs unfolded in front of her. Rolls of patterned wrapping paper, spools of ribbon and bags of bows, as well as reindeer antlers for automobiles, leopard-print Santa hats, Josh Groban CDs, gingerbread houses, boxes of Christmas lights and a 10-foot pre-lit tree decorated with snowflakes hovering over this bucolic winter world like a watchful god. The bright displays made her blush with pleasure. So many things, all marked down.
A commercial battle was underway around her, and ladies gasped approvingly at decorative bells and candles scented of cinnamon, overwhelmed by the sheer ecstasy of seeing and touching these things they would buy for the next holiday season. The moment had come for the fearsome morning rush, when the super-heated machine led the customers round the floor, squeezing the money from their very flesh. Emily gasped for breath, as if exhausted. All she could hear, above the great hum of the shoppers, was a medley of Christmas songs proclaiming Joy to the world. She scrambled toward the overflowing checkout lines, where customers were placing their precious goods on conveyor belts, the shop girls scanning each treasure taken from the carts. The lady in front of Emily produced two boxes of Giada De Laurentiis minestrone soup mix, four light blue Threshold bath towels with matching hand towels and washcloths, a red KitchenAid mixer, a large bag of Purina One dog food and a box of Glad ForceFlex tall kitchen garbage bags, and the shop girl gently nestled this precious cargo into white plastic bags. A compound of noise: the constant padding of feet, the same phrases repeated a hundred times across the counters -- "Do you have a card with us? No? Would you like to get one?" -- and debit cards swiping.
"This is a cute sweater," the shop girl said to Emily, as she rang up her goods. "I haven't seen this one."
"It's from the Merona collection," she responded, eyeing the black turtleneck, dark like a raven, its fabric soft to the touch and promising a world of supreme joys. "Or maybe it was Mossimo. Anyway, you also have it in gray. It's on sale."
"These thank you cards are pretty, too," said the shop girl, eyeing a small and elegant box of stationery. "I never get the chance to look around and see any of this stuff. Well, Happy New Year!"
It was indeed a world of happiness. Shoppers dashed out into the parking lot, their glistening silver carts teeming with white plastic bags. The bags were of a dazzling whiteness, as was the fluorescently-lit store the shoppers left behind, a boreal vista, a whole landscape of artificial snow, extending to infinity in steppes hung with faux fur like glaciers heaped and shining under the sun. The whiteness of the outside windows was repeated, but here rekindled, colossal, blazing from one end of the huge taupe building to the other with the white intensity of a burning fire. There was nothing but white: all the white plastic bags heaped into automobiles, a riot of white, a white star that at first blinded one with its fixed radiance, so that the details were indistinguishable in this unrelieved white, and all eyes dazzled with such suburban splendor.