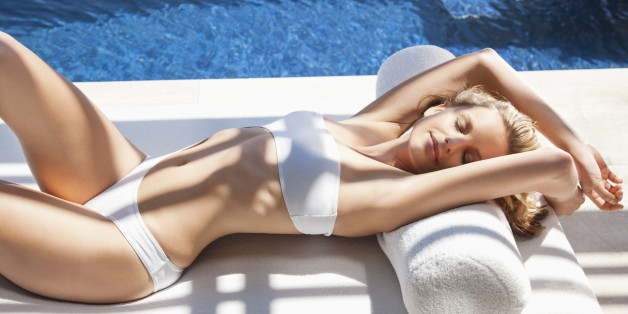 It's that time of year again. You may find yourself embracing some vitamin D and laying out in what may feel like a few sewn bits of stretchy string and nothingness. As always, someone in your party, reaches for their phone and starts snapping some holiday pictures, and before you know it, you're left feeling a little less charmed and dare I say even "unattractive."
I'm blessed to have learned, from my experience as the designer of my own brand, Susan Holmes Swimwear, (donning on the likes of Kate Upton to Heidi Klum, for the infamous Sport's Illustrated swimsuit editions for over a decade now), to modeling in some exquisite high-end designer bikinis myself, for the likes of Vogue to Victoria's Secret ads... I have been lucky enough, to have learned a thing or two, regarding "tricks of the trade" when it comes to maximizing your best assets in swimsuit photos. Trust me, we all have issues and anxiety (yes, even those seemingly flawless supermodels), being photographed for that epic Instagram, Twitter or Facebook shot. I've assembled a few pointers, that I've learned through the years, how to get that great shot.
The Sure Bet Stance: stand with your hips and waistline, facing sideways to the camera, and gently twist your shoulders and head more square to the camera. This will give the illusion of narrower hips, thighs waist and fuller broader shoulders (which slenderizes the proportion of the waist and hips in the photo).
Time of Day: When the picture is taken is everything! Of all the Glamour and ELLE magazine trips I've taken as a model, very rarely did we ever shoot in the hours of 12-2pm. This is typically the harshest, least-flattering light, of the day. It is directly overhead therefore, creating strong abrasive light, that makes any wrinkles or creases, more prominent. It also makes your nose look twice as big. Always the best light is early morning and late afternoon/early evening.
For the Stomach-Weary: I like to drape an arm across my mid region. This naturally masks that abdominal area. Also very important: Accessorize smartly. To cover flabby underarms, roll a button down blouses' sleeves ¾ of the way up and leave open with a bikini, so you look bikini cute, but camouflage the upper arms. Layer pretty beach chic jewelry (my personal favorites are by gorgeous brands such as Chrome Hearts, to the fun, chic and inexpensive Asos online shop) for the eye to go to all things sexy and pretty in your picture. Props are even fun too (ice cream, a colorful tropical drink, a colossal hat, major sunnies, etc).
If You're Seated in Your Photo: You don't really want to actually "sit" as this pushes everything (aka all and any fat to be only exaggerated and pushed out) in the most unflattering way. You should gently and lightly, rest the very edge of your bum, on the extreme tail end of your tush, versus on the full back of your legs and rear, as you normally do in life. This definitely is an "old standby model pose 101" that works every time.
Stand Up Straight: Elongated posture is optimum! Chest up, stomach in and stick your butt out and towards the back -- sounds weird, but really works. The best bet is to stand in front of your mirror at home, and see for yourself, the difference in how you distribute your weight on both legs evenly, and pushing your bottom back and up disguises any unattractiveness with a not-so-perky perfect behind.
Or Press Your Hip Out: Swing a hip out dominantly to one side, to give the illusion of more curves and smaller waist. You could also put your hands on both your hips, so as to frame the other person's gaze, focusing on your hourglass shape, to make you appear less hip- heavy as well.
Smile: Seriously always the best move -- whether it's a big toothy grin or sexy, cute smirk, looking content with yourself and your surroundings always make any shot look amazing.