As the State Hermitage Museum in St. Petersburg, Russia nears its 250th anniversary in 2014, its celebrated founder takes center stage in a new exhibition at the Georgia Museum of Art. "Exuberance of Meaning: the Art Patronage of Catherine the Great" features imperial portraits, liturgical vessels, icons and porcelain that Russia's empress commissioned both for herself and her "favorites" and courtiers (September 21, 2013 to January 5, 2014).
With deep pockets, Catherine the Great lured some of Europe's most talented architects and artists to St. Petersburg to produce everything from elegant palaces and interiors to a monumental tribute to Peter the Great. Focusing on decorative arts, "Exuberance of Meaning" explores how Russia's empress blended traditions of Byzantine art with the trendy neoclassical style of the Enlightenment. The takeaway of this thoughtful show is that Catherine II's dazzling commissions were not just imperial eye candy, but expressions of rich, symbolic cultural meaning.
"An intellectual at heart, Catherine the Great had an amazing talent for creating visual programs to express important ideas that conveyed her values," says exhibition curator Dr. Asen Kirin, associate professor of art history and associate director of the Lamar Dodd School of Art. "The way Catherine was able to generate a complex, sophisticated program had to do with knowledge she gained as an art collector and from books and carved stones, medals and coins."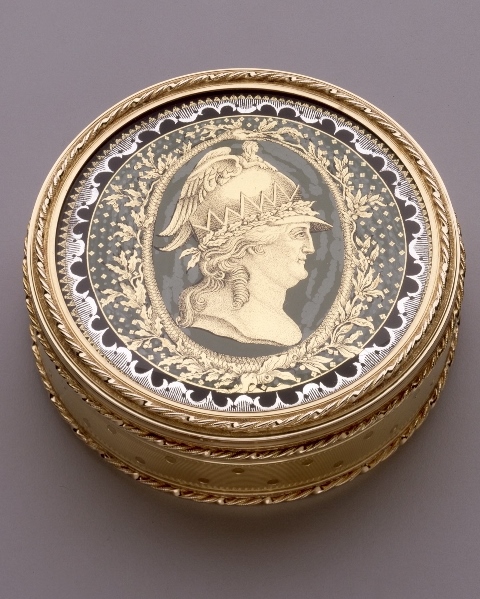 Round box with Catherine II as Minerva, Paris, 1781-82, gold and verre églomisé, Hillwood Museum and Gardens, Bequest of Marjorie Merriweather Post, 1973
The first gallery introduces the German-born empress as an enlightened arts patron -- an image she cultivated through numerous portrait commissions in sculpture, painting, engraved gems and medals. In Minerva, Catherine found the model prototype of a powerful feminine figure and there are splendid examples of medals, cameos and stylish boxes starring the empress as the warrior goddess of wisdom and the arts. We also get a sense of the wealth and opulence of Catherine's court -- an exquisite diamond pendant watch features her monogram, EII for Ekaterina the second, topped by the imperial crown, all in rubies.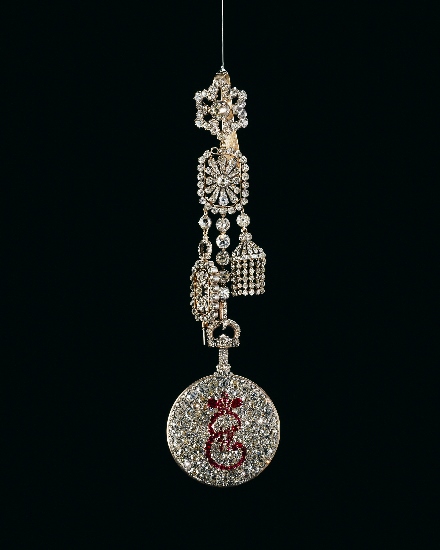 Pendant watch with cipher of Catherine II, D. T. Mussard, Saint Petersburg, 1786-96, gold, diamonds, & rubies, Hillwood Museum and Gardens, Bequest of Marjorie Merriweather Post, 1973
Early in her 34-year reign, Catherine the Great became smitten with Neoclassicism, the design style inspired by excavations at the ancient cities of Herculaneum and Pompeii. Antiquity fit neatly with Catherine's politics, reflecting Russia's shared heritage with Europe through ancient Greek colonies on the Black Sea and her "Greek Plan" to resurrect a Christian Byzantine empire in Turkish Constantinople. Of her many collecting areas, Catherine was most passionate about engraved gems, especially from antiquity, which she saw as an endless source of knowledge about art and history. Carved gems appear in the majority of the show's objects -- everything from chalices to dinnerware.

The showstoppers here are a pair of gold vessels -- highly symbolic statements of Catherine's commitment to two important men in her life. Among the gifts Catherine lavished on Grigory Orlov, her lover of 13 years, was a gold potpourri vase in the shape of an ancient urn. Below a lid with two putti holding a shield with Orlov's monogram, Swiss-born French goldsmith Jean Piere Ador painted miniature oval enamels to look like cameos. The scenes include pagan goddesses Flora and Ceres, ancient superheroes Hercules and wrestling champion Milon of Croton and biblical king David.

Catherine was devoted to Orlov's successor, Grigory Potemkin. The year before his death, she honored his military victories against the Turks with a spectacular chalice for the Alexander Nevskii Monastery in St. Petersburg. For the chalice, Catherine gave Norwegian jeweler Iver Windfeldt Buch gold and diamonds from the State Treasury along with eight cameos from her prized gem collection, including a 13th century Byzantine cameo of the archangel Michael. "Even the way the carved stones are positioned on the chalice are very deliberate and thoughtful, conveying Russia reclaiming its heritage of Byzantium and ancient Greece," adds Kirin. Nearby, a cameo-filled cabinet drawer lets us experience how 18th century collectors arranged their precious gems by size, subject and material.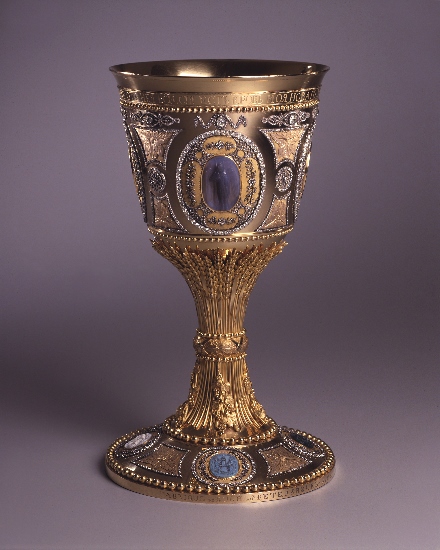 Chalice, Iver Windfeldt Buch (1749-1811), Saint Petersburg, 1791, gold, diamonds, chalcedony, bloodstone, nephrite, carnelian, and cast glass, Hillwood Museum and Gardens, Bequest of Marjorie Merriweather Post, 1973
Catherine the Great was an influential tastemaker and in the final gallery we see her impact on religious and secular art. Neoclassical urns, swags and ribbons appear in a gilded icon; a silver teapot takes the form of a Roman fountain. Several of Catherine II's most famous dinnerware commissions are represented, including an ice cup from the extravagant turquoise Sevres Cameo Service she gave Potemkin. The lavish decoration includes images of antique cameos from Louis XV's collection as well as Catherine's floral monogram. Two plates from the delicate Green Frog Service by Britain's Josiah Wedgwood are also on display. Even the amphibian crest Catherine ordered for each of the 944 pieces of creamware turns out to have been inspired by an ancient intaglio or coin.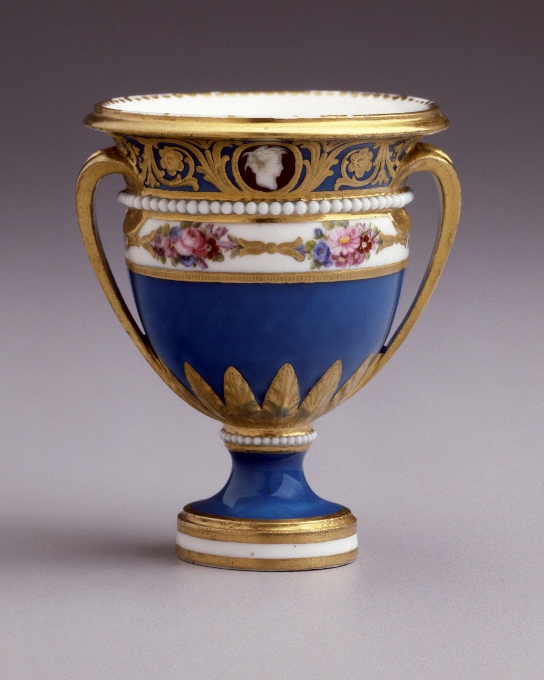 Ice cup from the Cameo Service of Empress Catherine the Great, Sèvres Porcelain Manufactory, 1778-79, Soft-paste porcelain, Hillwood Museum and Gardens
After its run at the Georgia Museum of Art at the University of Georgia in Athens, the exhibition travels to Hillwood Museum and Gardens in Washington, D.C., home of heiress Marjorie Merriweather Post who collected many of the featured objects (February 15 through June 8, 2014). Other lenders include Dumbarton Oaks, Metropolitan Museum of Art, Walters Art Museum, Michael C. Carlos Museum and Birmingham Museum of Art. For more information, visit http://georgiamuseum.org/
Susan Jaques is the author of "A Love for the Beautiful: Discovering America's Hidden Art Museums" (Globe Pequot Press, November, 2012).