Giovanni Benedetto Castiglione (1609-64) is probably the most innovative and technically brilliant Italian artist you've never heard of. Though he practiced as a painter, it's his remarkable drawings and prints that won him a century of posthumous fame, after which he fell off the map. "Castliglione: Lost Genius" on view at The Queen's Gallery, London aims to change that by showcasing 90 of the artist's best works from the Royal Library at Windsor Castle (November 1, 2013 to March 16, 2014).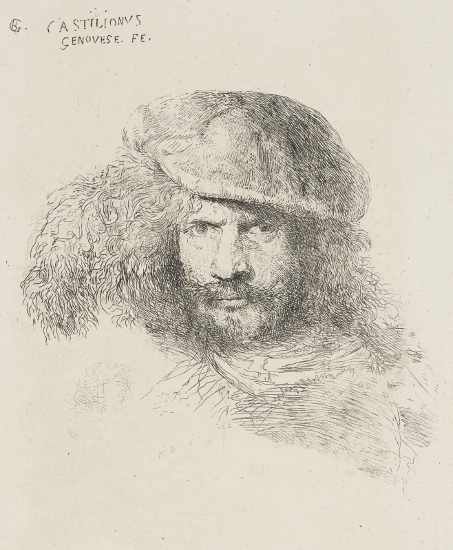 presumed self-portrait by Giovanni Benedetto Castiglione, Royal Collection Trust/ © Her Majesty Queen Elizabeth II 2013
Castiglione was his own worst enemy. Like Caravaggio before him, the irascible artist spent years on the run with a long rap sheet that included trying to throw his own sister off a roof and shooting a fellow artist who ridiculed his drawings. In 1646, upon hearing that the Doge of Genoa had rejected his painting, Castiglione slashed the work to shreds and fled the city in disguise. "Caravaggio and Castiglione were both bad boys with very little self-control and parallel life stories," says exhibition co-curator Martin Clayton, Head of Prints and Drawings at the Royal Collection Trust.
The show is organized chronologically, starting with the artist's early pastoral scenes created in Genoa. It's here, thanks in part to the influence of visiting Flemish artists Peter Paul Rubens and Anthony van Dyck, that Castiglione developed a highly unusual technique that became his hallmark -- large oil sketches on paper. Castiglione conceived these compositions as finished works of art rather than studies, working from his head straight onto paper in a distinctive palette of red-brown and blue-grey. He outlined with long rapid strokes of diluted pigment and used shorter strokes of denser, drier color for the details. Because the oil soaked through the paper, there was no room for hesitation.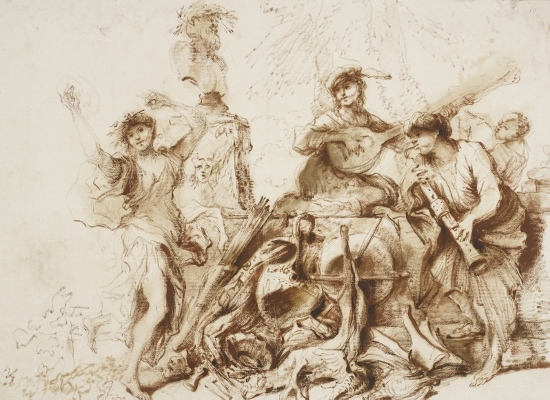 Omnia vanitas, Royal Collection Trust/ © Her Majesty Queen Elizabeth II 2013
Among the finest of these ambitious works is the drybrush oil drawing on unprimed paper, "Omnia vanitas" of the late 1640s/early 1650s in which the artist deals with the existential theme of transience. "It's by far one of his supreme achievements for his ability to temper the different viscosities of oil with a few pigments and the surety of his brilliant handling," shares Castiglione scholar and co-curator Timothy Standring, Gates Curator of Painting and Sculpture at the Denver Art Museum. "Remember he is drawing with pointed boar bristle brushes with oil pigments on unprimed paper."
Castiglione arrived at his inventive techniques by experimentation, absorbing numerous and varied sources along the way. In his early 20's, the young artist left Genoa for the intensely competitive environment of Rome. To separate himself from the crowd, he set out to reinvent himself, consciously emulating successes like Titian, Claude and Poussin to arrive at his own style. Later in Naples, Castiglione was influenced by the naturalism of Ribera. Inspired by the engravings of Rembrandt, a few years his senior, Castiglione became one of Italy's most important printmakers. The resemblance between Rembrandt's and Castiglione's self-portraits is unmistakable, from the confident expressions to their long hair and velvet caps.
Among some five dozen etchings by Castiglione, "Diogenes Searching for an Honest Man" is one of his most compelling. "In his search for honesty and integrity among humanity, the light of his lamp shines only on the exotic looking philosopher," says Standring. "What an imagination to pull off such a rustic setting with the detritus and ruins of former civilizations overrun with vegetation."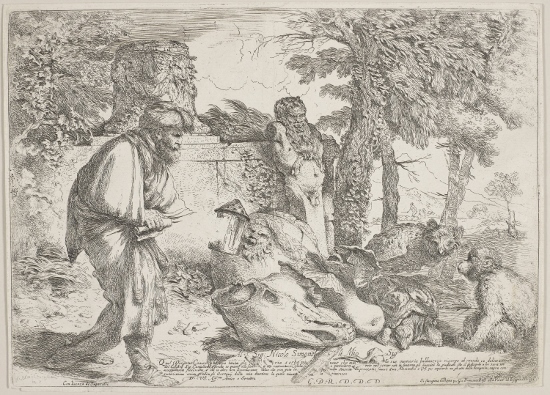 Diogenes Searching for an Honest Man, Royal Collection Trust / © Her Majesty Queen Elizabeth II 2013
Castiglione is also credited with inventing the monotype, a hybrid of drawing and printmaking used by Degas and Gauguin. The technique involved drawing in ink onto a copper plate, scraping with sticks, rags or the finger to bring out the image, and taking a single impression on a sheet of paper. In some instances, Castiglione created a "ghost" version, as with the striking "Nativity with Angels and God the Father." "Seeing that a great deal of ink remained on the plate, he decided to pull another image on another piece of paper...which he made by dredging away the ink from the surface using different pressure with a blunt instrument to create lines with a variety of values from light to dark," says Standring.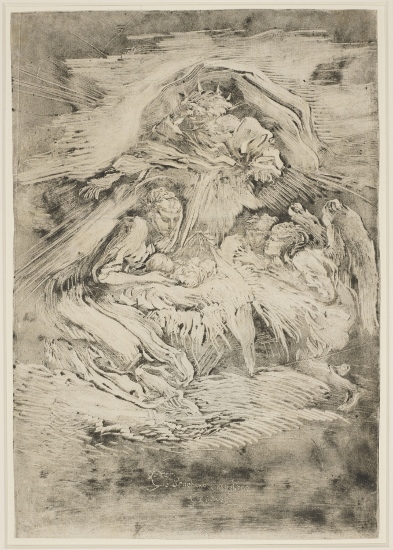 Nativity with Angels and God the Father, Royal Collection Trust/ © Her Majesty Queen Elizabeth II 2013
The show ends with smaller oil sketches from Castiglione's last years in Mantua where he made up for his loss of mobility (possibly caused by a stroke) by adding more color. A century after his death at age 55, Castiglione's spontaneous drawings were rediscovered by artists like Tiepolo, Piranesi, Fragonard and Boucher; collectors like England's George III competed for his works. By blurring the lines of artistic media, Castiglione seems strikingly modern. "We have in Castiglione an artist who painted when he drew and drew when he painted," adds Timothy Standring. "How closer can we come to the core of artistic process revealing his true artistic spirit?"
"Castiglione: Lost Genius" travels to the Queen's Gallery, Edinburgh next fall and the Denver Art Museum in 2015. For more information, visit http://www.royalcollection.org.uk/
Susan Jaques is the author of a "Love for the Beautiful: Discovering America's Hidden Art Museums" (Globe Pequot Press, November 2012).