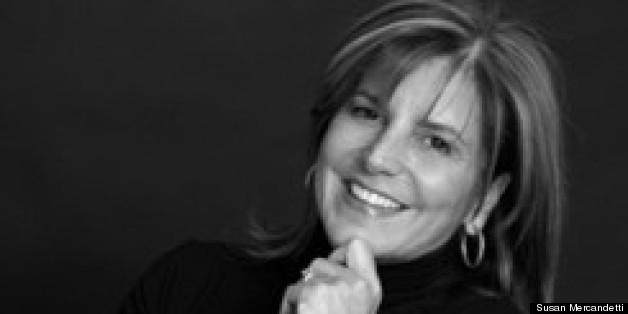 I have suffered whiplash over the decades, having changed so sharply my definition of success. But, if I know anything, I know that success -- along with life -- is sequential.
In my 20's, so consumed with ambition and possibility, success, to me, meant a salary. It meant not relying on my cash-strapped parents for help. And, if I just worked harder than everyone else, I deduced, sheer drive would trump the Ivy League degrees with which I competed -- an ideal which sometimes had its shortcomings.
Success also meant landing the "it" job of college dreams. So, in those two regards, I was successful. After a stint in the Ford White House as an editor of the news summary, then as a press aide for a U.S. senator, I landed my "it" job: I was hired as an associate producer for ABC News. I found success at the intersection of Ambition and Luck Streets.
In my 30's, the same success metric applied from the prior decade, but simply gained cyclonic momentum and a frenzied intensity well-known, fueled and even expected in TV land. As a "Nightline" producer, I traveled all over the world covering interesting stories, leaving unused theater tickets and broken dates behind. There was always tomorrow.
Just as I was feeling very A-game and cocky, a wise and accomplished woman doused me with ice-cold reality: "Don't make the same mistake I did," she warned. "Your job is far more interesting than any man could ever be," she said with her professionally-manicured finger wagging. "One day, you will wake up and it will be just you and a bunch of Christmas packages under a tree. You will be all alone." Ugh. Stab. I loved my job. I worked hard to get there, but did not feel very successful any longer.
When I turned 39, newly married and pregnant, I forced myself to revisit and, indeed, redefine all prior definitions. No longer did success mean moving up to the next big professional thing. Nor did it mean wanting to be sprinkled with the fairy dust that always surrounded the famous people with whom I worked. I no longer cared about securing the best assignments or even making more money. While I was happy to enjoy all those things, if it didn't come with flexibility, it was a non-starter.
In this decade, a flexible schedule was, to me, the new metric by which I measured success. Of course, the fact that our family was not dependent on my salary alone was not lost on me. I was extremely cognizant of my situation, knowing so many did not have that choice. We lived modestly, though very nicely, because I did not want to be forced into a full-time salary to support a lifestyle and house.
Fortuitously, I met then-Vanity Fair editor Tina Brown who, to her credit and my everlasting gratitude, didn't care where I parked myself. She knew that, as a former television producer, I was a "get shit done" person, so I was afforded time and geographic flexibility (sadly, a rare situation these days). So, with two small children, I worked while they slept and made calls while they played under my home office desk and from outside the birthday party room at Chuck E. Cheese. I had the ultimate luxury -- indeed, flexibility -- of kissing their pink cheeks when they awoke from their naps, organizing May Day Parades and picking soggy Cheerios out of their hair. I was a huge success, the biggest... at least, in my own mind. That ability to make the choice to work at home was my nirvana. My version of success.
Now, this world of "part-time" work is an anomaly. It generally means one gets paid a part-time salary, but rarely does one actually works "part-time." As a so-called "part-time" magazine and book editor, I could work when it was more convenient or when the house was quiet. But, in those 12 years, I don't believe there were many actual part-time days. There was, however, a slower track, a track on which I was happy to walk -- temporarily.
Did I care that my peers were climbing up the career ladder? Sure, I watched their advancements with pleasure and pride. And sometimes, I felt a little jealous. But it was time to make my own fairy dust -- which came in for form of cupcake sprinkles.
Eventually, I ramped up. Now that my children have left the nest (at least until they return from college to begin the quest for their own dream job), my success metric has, yet again, changed along with the daily ebbs and flows of family life. I left book publishing and headed back to TV with a full-time career and a demanding schedule. Once again, I find myself exploring another definition. In part, success in my 50's means looking at the rhythms and totality of my life's choices and being accepting of all of it. There are no what-ifs. It is about seeing the open road ahead and knowing that all the wisdom amassed, mistakes recognized and lessons learned over the decades will be put to good use, no matter if my choice is career, school or pulling weeds out of my garden. I forge ahead with absolute certainty and clarity that, whatever former metric of success that I once applied to myself, it applies no longer.
We owe it to ourselves to continually redefine those definitions of success as we barrel through each phase -- and to live embracing the framework of a sequential life.
This post is part of a series produced by The Huffington Post in conjunction with our women's conference, "The Third Metric: Redefining Success Beyond Money & Power" which will take place in New York on June 6, 2013. To read all of the posts in the series and learn more about the conference, click here. Join the conversation on Twitter #ThirdMetric.
This story appears in the Issue 51 of our weekly iPad magazine, Huffington, in the iTunes App store, available Friday, May 31.