Luke Chueh's work could initially be misconstrued as 'cute.' Cuddly animals -- sweet and innocent bears and bunnies -- are frequently at the epicenter of his work. Sure, it sounds all happy happy joy joy...in theory. Until you look a little closer. The LA based Chueh turns the nursery rhyming world of cute on its head, with his wry, introspective characters, who live in a world of sex, murder and mutilation. Many times his blood red backgrounds serve as warnings that all is not what it seems or alternatively as an emotional guide to the levels of our subconscious purgatory. Chueh talked briefly after the opening of his new show, "Self-ish" which will be on display at CHG Circa Gallery in Culver City through November 1st.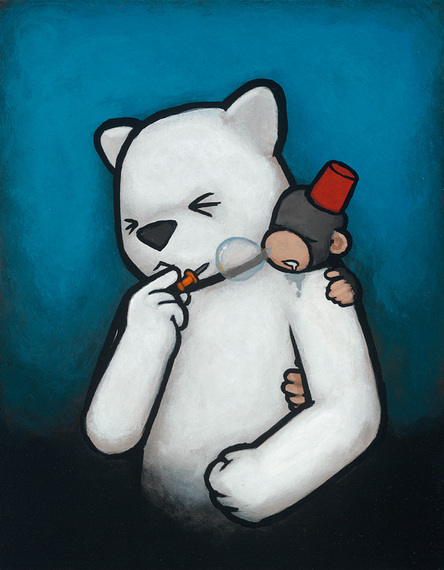 ("Monkey On My Back (Sleeping Burden)" courtesy of Luke Chueh/CHG Circa Gallery)
What was the impetus for this particular round of work?
Luke Chueh: My current show, "Self-ish" is a play on the word. Most of the show is basically a self portraits where I illustrate myself physically, and also metaphorically. In it, I explore a variety of aspects of my being, from my relationship with my characters, my feeling for my artwork, my struggles with substance abuse and my love for popular culture.But asides the self portrait work, there is also a "selfish" side to the show. For that, I chose to create a body of work where I stepped away from the style that I'm best known for, and I simply let loose with the paint. The end result is a loose/frenetic take on my characters, that might also be a new direction I'll be going with my work.
Can you talk about the frustrations of creating this exhibition?
Luke Chueh: I've been developing my painting style for over ten years, playing mostly the same characters and working around a simple formula of light characters and dark narratives. To be honest, I'm a little worn out, and I've been wanting to find a new avenue to explore artistically. The other half of the show (the aforementioned "selfish" half) is the answer I've been looking for. For the first time in a long time, I've been excited to create, and I plan on further exploring myself with this new technique.
Do you have a favorite piece in this show?
Luke Chueh: My favorite painting from my show is probably the painting "Some Trends Make Me Want To Puke". (See image at top of this article). In it, I have my rabbit character vomiting a colorful cubist style texture. It's a response to the new cubist style imagery I've seen popping up over the last 5 years. Though there are some artists who do it amazing well (specifically Tim Biskup), there a slews of artists out there who employ this new cubism style in a manner I simply find unpleasant. This painting is a reaction to those artists and their work.