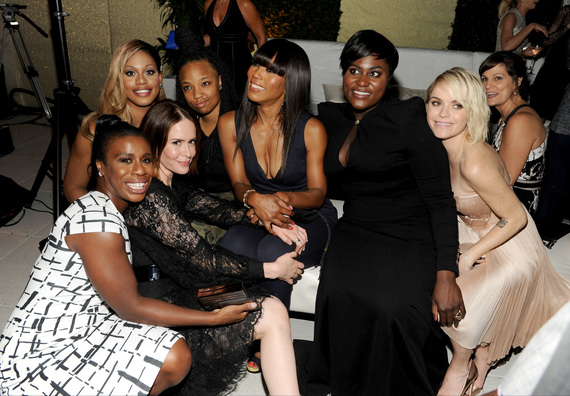 ("Orange is the New Black" cast members enjoy the moment with Angela Bassett and Sarah Paulson/Credit: Invision for the Television Academy/AP Images​)
Saturday night saw yet another in a string of Emmy bashes. There was the Women in Film soiree going on at Gracias Madre, and the Entertainment Tonight party over at Fig and Olive. Then over at the Pacific Design Center, the Television Academy celebration of the 66th Emmy Award Nominees for Outstanding Performances, sponsored by Audi.
("Downton Abbey" babes Joanne Froggatt and Michelle Dockery/Credit: Invision for the Television Academy/AP Images)
The cast of Orange is the New Black held court throughout the evening, and had a fab time doing it. Udo Aduba in particular was having the time of her life, talking to fellow thespians like Angela Bassett, Sarah Paulson and Jesse Tyler Ferguson. Billy Bob Thornton also showed up, in his apparent uniform for the weekend, a well-worn jean jacket and a weathered frown to match. Laverne Cox was resplendent in a tulle overlay number as she talked design with fashion designer Johanna Johnson, and Angela Bassett looked like she could kick ass and take names -- not to mention give Michelle Obama a run for the money with her well-toned arms.
(Actresses Angela Bassett, Danielle Brooks, and Laverne Cox/Credit: Invision for the Television Academy/AP Images)