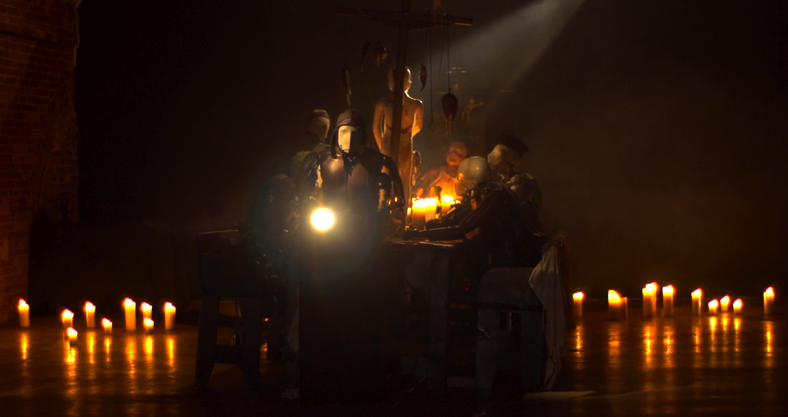 "The Last Supper" by Giles Walker (Image courtesy Ian Cox)
Leonardo da Vinci's "The Last Supper" is certainly one of the most beloved -- if not one of the most replicated -- works of art of all time.
Over the years, fellow artists (and the occasional spoon craftsman) have created their own interpretations; "The Sacrament of the Last Supper" was painted by Salvador Dali in the 1950s, while Andy Warhol was commissioned to produce a series of paintings based on da Vinci's masterpiece; it was his last series before his death in 1987.
Now, another artist is taking on the renowned "Jerusalem 12" -- British artist Giles Walker, a member of U.K. guerrilla art group Mutoid Waste Company. Debuting Saturday September 8th, Walker will unveil his take on "The Last Supper" courtesy of Corey Helford Gallery in Los Angeles. Conquering one of the most controversial religious painting/subject matter of all time, (thanks, Dan "da Vinci Code" Brown) Walker's "Last Supper" is a fully animated sculpture consisting of 13 mechanical figures interacting around a table.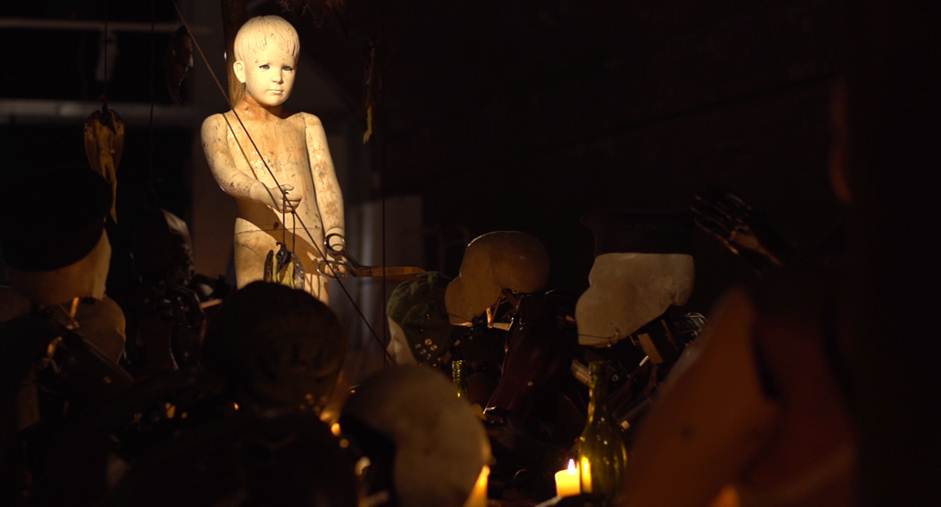 "The Last Supper" (Image courtesy Ian Cox)
Walker has been working with robots for nearly twenty years and was the man behind the 2008 London exhibition, "Peep Show," where gyrating robots, (made from 12V motors found in cars including windshield wiper motors, etc) embarked on a dance-a-thon of sorts... all for your viewing pleasure.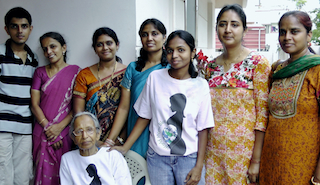 "The Last Supper" (Image courtesy Ian Cox)
"The Last Supper" explores the recurrent cycle of guilt, violence and pain, which Walker sees as inherent within religious doctrine. He has recast his Judas as a 'guilty' child, highlighting his concern with the indoctrination of children in a destructive religious morality. The artist was first drawn to this plight while nursing his terminally ill mother who continually pleaded, "What have I done to deserve this?" Walker perceived this as the vestiges of unwanted -- and perhaps unwarranted -- religious childhood teachings, which suggested that the individual is subject to greater, judgmental influences of good and evil.
Some may say Walker's "Last Supper" is an act of heresy; or perhaps, sacrilegious. But isn't that the goal of artistic expression -- pushing boundaries, evoking emotion (positive and negative), starting a dialogue and inciting different points of view? I guess we'll see what L.A. has to say, come September 8, but in the meantime, here is a sample:
Domo Arigato Mr. Roboto, indeed.
Giles Walker's The Last Supper, Courtesy of Corey Helford Gallery
On View September 8 September 22, 2012
Special Location: 3521 Helms Avenue, Culver City, CA 90232
PLEASE NOTE: The exhibition will have special viewing times each half hour, limited to 30 guests only. No speaking or photographs will be allowed during these performances. For ticketing information and the viewing time schedule, please go here: http://www.brownpapertickets.com/event/272499