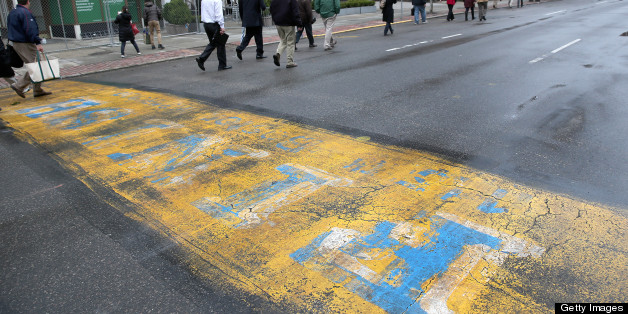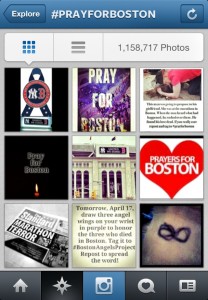 The Boston bombing is my students' 9/11. For most, it is their personal introduction as adults to terrorism.
My college students were in second or third or fourth grade in September 2001, and most of them remember little. They told me -- in an assignment that asked them to reflect on how they heard of the marathon bombing -- that Boston hit them hard because they learned of the news by themselves, and often when they were alone, away from family. "This is one of the first events of this nature that I was old enough to really understand," said one student.
"Boston was almost worse than 9/11," said another, "since no one was there to sugarcoat the events for me." "It was a very surreal feeling seeing the bombs explode, the people screaming and the blood on the ground," recalled a third. "It was a different feeling than I felt when 9/11 happened because I was so young, only in the third grade when that happened. Now I am a 20 year old who can use television and the Internet to get more information of what occurs."
"As I look back," said a fourth, "I think about how uneventful I thought that Monday was going to be and how everything changed in an instant. I think about the runners who trained long and hard to be prepared to power through the 26-mile trial. But even they were not prepared when their already extraordinary day took a turn for the worst."

A week after the bombing, I asked my class of 200 students at the University of Maryland, College Park, to write 300 words about the events of the previous eight days. I told them I would gather their thoughts together in a website called "Remember Boston," so they could read what their peers had written too. (You can read their stories here.) I shared with them how I learned about John Kennedy's assassination, about Robert Kennedy and Martin Luther King, Jr.'s assassinations, and about where I was and what I thought about when I heard about 9/11. While Boston is immediately in all our minds, I told them, consider how you discovered the news, consider what you thought was important, consider what the impact on you is.
So my class of 200 students wrote for an hour. Often restless when they listen to me lecture, they weren't that day. They all had a story to share.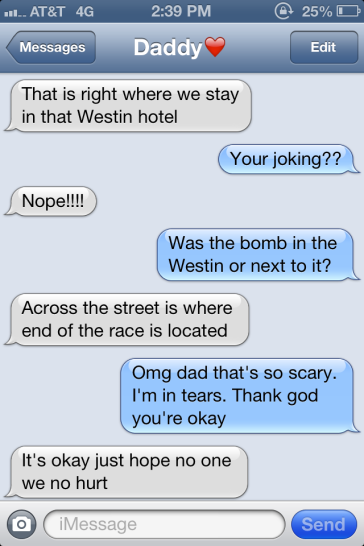 Student after student wrote of hearing the news on Twitter, on Instagram, via a CNN news app on their mobile phone, on TV as they walked into the student union or the gym or their dorm room. Student after student said that their first reaction was to make sure that their friends at school in Boston, people they knew who were volunteering at the marathon, their relatives running in the race were safe. And student after student said that their second reaction was to call their family members and tell them that they loved them. "I immediately called my mom and told her that I love her and that I was so glad that she was safe even though the bombings were very far from where she lived," said Kevin from Potomac, Maryland.
"I sent messages out to my family members telling them how much I loved and appreciated them," said Gerald from Baltimore. Dimitri from Darien, Connecticut, told of waiting hours for news about his best friend's sister who was at the finish line, to finally learn that she missed getting hurt only because she had stepped into a bar to use the bathroom: "As she walked out of the bathroom the explosion had gone off and had blown out the windows of the bar." Said Dimitri, "The first thing I did after finding out she was okay was call my own sister. I followed this by calling my mom and dad and making sure that everyone in my family knew how much I loved them."
My international students also struggled with the story. A student from China received a call from her parents overseas. "Although my place is far away from Boston, I can understand their worries because this is my first time to leave my hometown alone and study somewhere far away from my country." "Sometime life is more delicate than we think," she said.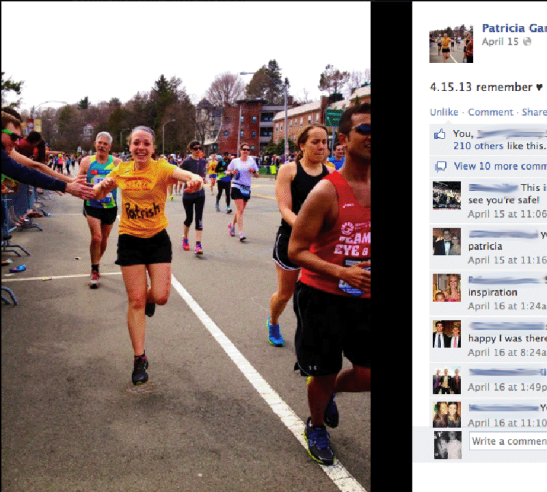 Finally students recorded what they learned, what they were going to take away from the tragedy, the terror and the shock.
What they repeatedly spoke about was hope and faith and good works. "I also will remember this day for the good things that happened afterward," said one student, "ordinary citizens running toward the explosions to help the injured, a city coming together in remembrance and a country unifying in support for a broken area. I will remember an ordinary day turned extraordinary. I will remember #BostonStrong."
And said another: "The best thing we can do now is have faith in humanity, have faith in the police, and have faith in the people affected to come back stronger. Overall, this is an event that I will never forget in my life. It has changed me as a person and it will stay in my memory forever."
Visit the class 'Remember Boston' website, and add your own comments to my students' stories.
---
Note that all the photos above are screen shots from the students' mobile phones or laptops.
---