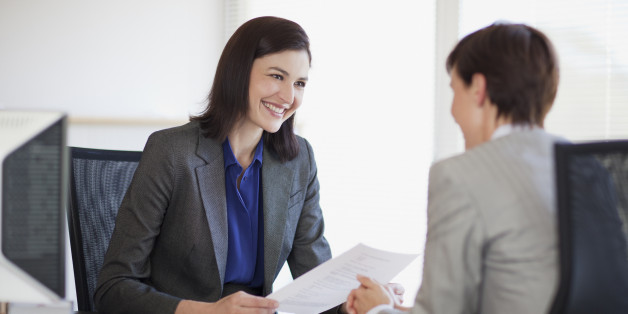 If you walk into a job interview without a good answer to the question, "What do you know about us?" you are dead in the water. As far as most employers are concerned, if you don't impress them with your answer that question, the interview is over, and the opportunity is gone.
Many employers have shared with me how that one thing -- being obviously well-prepared can make or break a job seeker's chances at a landing a new job. Being prepared for the job interview demonstrates to the employer that the job seeker is genuinely interested in the job. And, that preparation is often viewed by the employer as an example of the job seeker's work.
Be Well-Prepared for a Job Interview
Hopefully, you already know to arrive a few minutes ahead of time, dressed appropriately, with good questions ready for the interviewers, your cell phone turned off, and copies of your resume available to hand to the interviewers.
Also, prepare for the standard interview questions and types of interviews you might have. Practice with a friend or your mirror. Learn about answering job interview questions and other strategies for job interviewing success in Job-Hunt.org's Guide to Successful Job Interviews (free!).
But wait! There's more you can do, and it will help you succeed at that interview...
7 Kinds of Critical Pre-interview Research -- The Winning Difference
Prepare by knowing as much as you can about the organization, the competition, the location, and the industry. Prepare for the interview by researching the organization and, if possible and without "stalking" them, researching the people, too.
The Internet provides a wealth of information for job seekers. These are 7 (or more) places where you can start your research. If you have time, keep looking. The more you know, the better off you will be. Not only will you be in knock-their-socks-off mode for the interview, your research could help you determine that the employer might not be a good place for you to work.
Throughout this preparation process, keep notes on questions that are raised. At the end of your research, you should have a good idea of what to say when they ask, "Do you have any questions for us?"
1. Visit the organization's website.
This is "the party line" about the organization - what they tell the world, and potential customers/clients, about themselves. Study the home page, but don't stop there. Read the "About Us" and "Contact Us" sections. Then, look around at the other pages.
Know the industry or purpose of the organization. Be sure that is what you expect and want to be involved in.
Become familiar with the products or services. Know the brand names, if any, or at least the purpose or function.
Check for press releases or the latest news about the organization.
Look for names of the officers or founders. Are they familiar to you, perhaps, known to you?
Where are they located?
Does the information on the website raise any questions for you? Any concerns raised? Do you see any opportunities for you?
2. Put Google, Bing, and YouTube to work gathering important information.
This is where you see how well "the party line" relates to what the rest of the world thinks. Reality about an employer could be quite different than what the website tells you, depending on the quality of the website and/or the quality of the organization.
If you have product or service names, use a search engine (or two) to see what is being written, said, and videoed about the products or services. Dig in past the first couple of pages of results.
Look for reviews. Look for happy and unhappy customers and the reasons for both. Look for the names of competing organizations and competing products or services.
3. Check the LinkedIn Company Profile.
The name "Company Profile" extends to school districts, non-profits, and other non-corporate entities. To find them, select "Companies" from the drop-down menu beside the search box at the top of your LinkedIn home page, and type in the organization's name.
For many organizations from Fortune 500 to local small nonprofits, LinkedIn will often have information about the people who work there (and how you are "connected" to them in LinkedIn) as well as the organization itself plus job openings. "Follow" the company to see updates and news they post.
4. Check the LinkedIn Profiles of the interviewers.
Hopefully, you know the names of the people who will be interviewing you. If they aren't offered when the interview is scheduled, ask. You want the names and the job titles. Then, head for LinkedIn to see what you can discover about them - how long they've been with the employer, where they've worked in the past, where they went to school.
Try to get a sense of the kind of people who work there -- all holders of advanced Ivy League degrees, several veterans of the USMC, mostly twenty-somethings, a mixture of ages and races, or anything else that catches your eye.
5. Use Google/Bing/YouTube to research any names you have (e.g., executives and the people who will be interviewing you).
Have some of the executives been taped giving talks at conferences? Watch a video or two, and know the conference dates and names. Again, does this research raise any questions or show you any opportunities? What are their reputations? Experience and education?
You may find that you have some "connections" with someone interviewing you. Perhaps you attended the same college or have the same former employer.
6. If the organization is a publicly-traded company, check what the stock is doing on Yahoo! Finance.
Particularly if you are interested in a role in finance or accounting -- or simply interested in avoiding an employer heading for a bad future -- it is a very good idea to become familiar with how well the company is doing, financially. In addition, look over the balance sheet, the short-term and long-term stock performance (if any), the latest news and press releases, and the other information available.
7. Check out what Glassdoor.com shows about the employer.
Glassdoor.com collects and makes reviews of different employers available. They also often have collections of job interview questions that specific employers seem to use. In both cases, the information is provided by people who visit the website and who may, or may not, be providing good information, current, reliable, and/or well-articulated. So, use the information with that in mind.
Before you head out the door for the interview...
Do this last bit of research. Check Google News for the latest news from -- and about -- the organization. You don't want to be surprised, or look clueless, if they have very recent BIG news -- like a new product or service recently launched, a new plant opened (or an old one closed), a new CEO/COO/CFO hired, etc. It would also be good to know if the stock price just took a big jump (or drop), and, perhaps, why that big change may have happened.
Bottom Line
Hopefully, you've already done at least some of this research when you selected this employer as one of your target employers, when you networked (even informational interviews, maybe?), and when you prepared your resume and cover letter. So, you will hopefully NOT be starting at ground zero.
But, the Boy Scouts are right -- be prepared to be successful in your job interviews.
For more detailed information on how to be very impressive in a job interview, read How to Knock Their Socks Off in a Job Interview. And, to avoid heading for an employer which may be laying off employees in the future, read 50 Google Searches to Avoid a Layoff or Bad Employer.
Follow me on Google Plus for more job search tips!
Susan P. Joyce is president of NETability, Inc. and the editor and chief technology writer for Job-Hunt.org and WorkCoachCafe.com. This article was first published on Job-Hunt.org. Susan is also a Visiting Scholar at the MIT Sloan School of Management.