My mom died in 2010 at 82. While many moms are honored for their selfless pursuit of perfection, I choose to think of all the ways my mom proved that her foibles were what I loved the most.
Mom would bring home a birthday cake on occasion when left by a customer at our favorite bakery - complete with a stranger's name written on it.
Shit was her favorite word.
Mom let me smoke a few cigarettes at an early age, but told me I had to do it in the car when my grandma was visiting. I never smoked as an adult.
Mom didn't like my grandma (her mother-in-law).
Mom's hastily cutout sugar cookies always looked more like road kill when out of the oven.
Mom loved her nightly martini that my dad would fix.
Mom sewed felt finger puppets for our Brownie troop.
Mom politely told Ruth, the zealot Brownie leader, where she could shove the finger puppets when asked to re-sew them because they were falling apart.
I never made it to girl scouts.
Mom used great phrases - she doesn't know whether to shit or wind her watch, whatever works, his eyes went out on stems, this too shall pass, bull shit.
Mom ended every phone call with love you lots.
Mom referred to my dad as the old man.
Mom let the old man take and develop naked photos of her in the mid sixties. I stumbled upon them while cleaning out their house ten years ago.
Mom was a secret bad ass.
Mom would give me a quarter for a pack of Nabs and a Sundrop out of the motel vending machine while down at the beach so she wouldn't have to make me lunch.
Mom wrote the book on self-deprecation.
Mom loved animals. We had a cat that lived on our roof. Mom threw a daily handful of cat chow up there for kitty to eat.
Mom dumped the clean cutlery from the dishwasher into a drawer without sorting it.
Mom lived in the moment.
Mom was my best friend.
Mom had Alzheimer's for the last nine years of her life and called me Mary Anne. It was hard to like mom very much during that time.
Mom made me feel special every single day until she no longer could.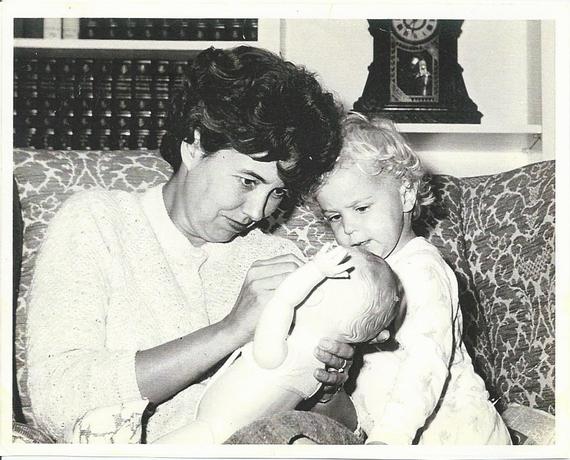 I tried perfection when it was my turn at motherhood, especially when my kids were young. Cookies, PTA, birthday parties, Brownie leader, cutlery organization - I wore myself out bathing in sublimity. I didn't exactly have a role model where that was concerned.
What a waste of time and energy. I should have been more like mom.
Living in each moment constantly put mom at odds with perfection.
That's what made her so splendid.
Love you lots mom.