Apparently I am an odd bird -- at least that's how I feel every time I tell my friends I hate shopping. Note that I didn't say I hate new things; I just hate the process of shopping. I used to like to shop, but over the years I've become frustrated by the crazy crowds, the tiresome searching through a sea of products and, in many (too many) stores, crappy customer service. Add the holiday crush and I want to stick a fork in my eye. As much as I can, I shop online. So if I am going to venture into the fray, I make sure to choose my destinations carefully.
With that in mind, one store at the top of my holiday shopping list is Park Avenue Garage (PAG). Nestled in midtown Manhattan, this luxury pop-up store will hold court on November 20-23 (11am-6pm) in the former West 56th Street townhouse shared by Elizabeth Taylor and Michael Todd -- sweeping staircases and sky-high ceilings included. Gently used and new fashion, beauty and home merchandise will take over four floors and will include jewelry from Janis by Janis Savitt, fashion from Shoshanna and, for the kids, Sharon Bush's Teddy Share Bears.
And although finding a wonderfully civilized shopping experience is enough to make me smile, a portion of all the proceeds from PAG will benefit The Society of Memorial Sloan-Kettering Cancer Center.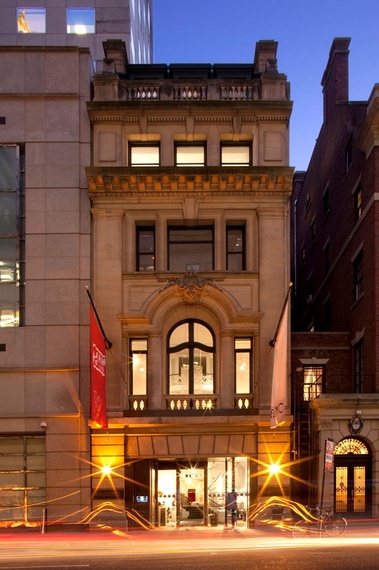 (Photo courtesy of Park Avenue Garage)
My first experience with Park Avenue Garage was this June for its summer sale. The minute I walked through the door, I knew I was going to like it. The merchandise was beautifully curated and styled, complementing the elegance of the architecture. There was a wonderful mixture of items to choose from, but not so much that I felt overwhelmed. I snagged a classic white, three-piece pajama set piped in periwinkle blue by Marigot Collection. The cotton was deliciously soft and light, and it was the perfect loungewear for the heat wave that was gripping the city at the time -- plus, it cost me only $20. Score!
New to PAG this season, the home design and remodeling site Remodelista.com will bring its coveted Remodelista Market to the East Coast for the first time. For people who love home furnishings, prepare yourselves: You may not want to leave. The site will take over an entire floor and feature 15 favorite New York artisans. Look for pillows from Rebecca Atwood, handmade lamps from Ryden Rizzo of Allied Maker and ceramic plant hangers from Farrah Sit. Online store Kaufmann Mercantile, known for its carefully selected, long-lasting and well-designed goods, will also be on hand.
In addition, The Society of Memorial Sloan-Kettering Cancer Center and Supporters' Society Boutique will feature top designer fashions, accessories and home products. And to kick everything off, a cocktail celebration benefiting the charity will be held on November 19, from 6 p.m. to 9 p.m. It'll be a terrific opportunity to hobnob with New York's social elite -- such as Muffie Potter Aston, Jennifer Creel, Carol Alt, Allison Aston, Beth DeWoody and Gillian Hearst Simonds -- while engaging in some charitable retail therapy.
Park Avenue Garage
10 West 56th Street, between 5th and 6th Avenues
Open to the public November 20-23, 11 a.m. to 6 p.m.
For a complete list of brands you'll find at Park Avenue Garage, visit http://parkavenuegarage.com/vendors.