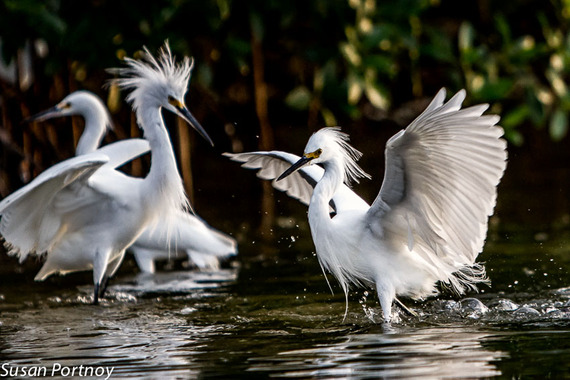 (Two snowy egrets challenge each other in a show
of dominance, or they're dancing. Not sure. )
After weeks fighting the cold, grey blech that is New York City in January, I couldn't take anymore and jumped on a flight to visit family in Fort Myers, Florida. I was looking forward to a little sun, heat and getting my nature on and take a few photos.
I got two out of three: There's an abundance of sun and nature -- the heat, not so much. Thank you polar vortex for screwing that up.
The good news: I spent a few days photographing pelicans, egrets, roseate spoonbills, and a whole lot of other birds I don't know the name of at the J.N. "Ding" Darling National Wildlife Refuge on Sanibel Island in Southwest Florida. I didn't see much of the alligators, sea turtles and manatees that can be found there, but that's mostly due to the chill in the air.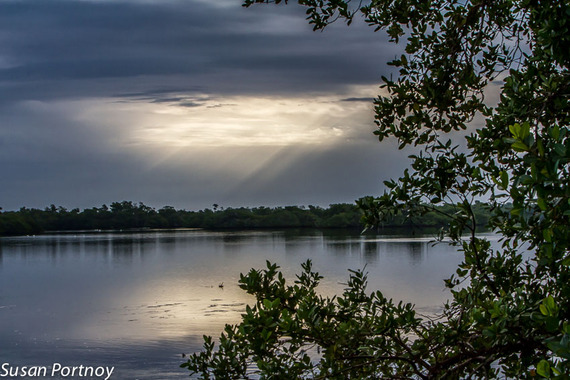 (I love it when light peeks through rain clouds, it's so dramatic. )
If you're heading south and Sanibel is on your itinerary I highly recommend that you visit the refuge -- it's a gem. Here are six tips for getting the most out of your visit.
1. Stop at the visitor's information center.
I'm not typically a big fan of info centers, but the one on Sanibel is worth a few minutes of your time -- the people there are awesome. Instead of shoving brochures in your direction without so much as an upward glance, (don't worry pamphlet junkies, they have them there too), they take the time talk to you about your plans, offer suggestions, and provide personalized directions on a map.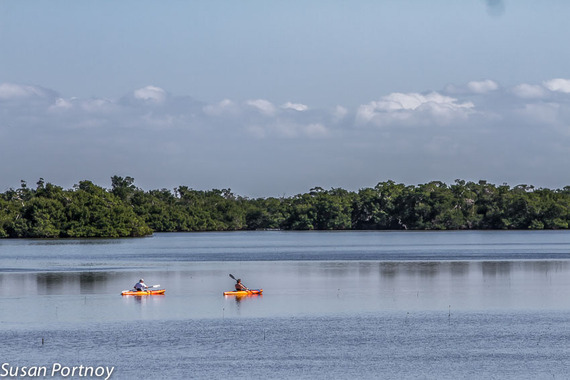 (Rental canoes and kayaks enable visitors to explore the refuge by water. This is definitely on my list of to-dos during my next visit.)
I told the woman with the bobbed hair and nice smile behind the counter that I wanted to take pictures and she made a real effort to point out spots along the route where I was most likely to see wildlife.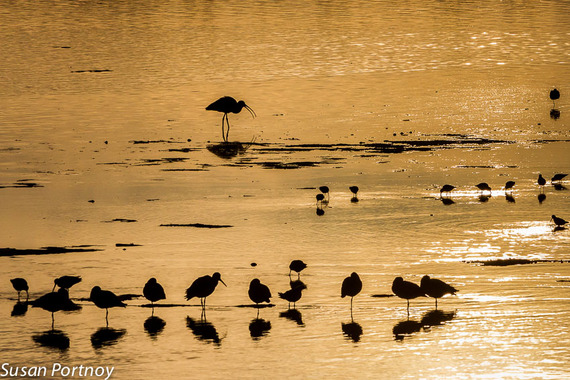 (An ibis silhouetted against the light of the setting sun)
2. You can take more, not less.
Unlike many wildlife sanctuaries in the area, Ding Darling is a drive-thru. You can walk and bike too, but the majority of folks drive its one-way road. When you see a place you like you can pull over, get out, and commune with whatever nature happens to be in your vicinity.
You might think this would be a pain in the tuckus, I did at first, but it's really kind of great. Here's why:
You can move quickly (in comparison to walking the four miles of the refuge) from one area to another.
You don't have to carry all your crap. For me that meant my purse, camera, tripod and multiple lenses. I just figured out what I needed at each stop, and left the rest in the car.
For seniors and people with mobility issues, it minimizes the effort while maximizing the pleasure.
You can wait out bad weather without having to leave the park. I sat for 15 minutes listening to the radio during a brief rain shower and went back to shooting as soon as it was over.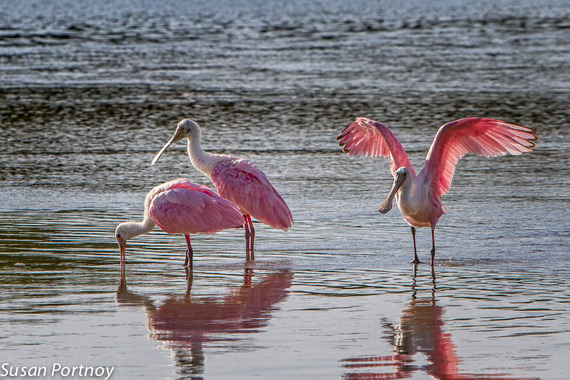 (Roseate spoonbills. I was never able to get very close to these shy birds)
3. You'll need binoculars and a long lens.
There are no guarantees with wildlife -- that's part of the fun. Every trip is a treasure hunt. But that also means you might see the jewels from a distance. I had a few snowy egrets and a small blue heron come close enough for a point and shoot, but overall they were pretty far away. Binoculars and camera lenses that can bring the animals to you will serve you best.
4. Viewing is better at low tide, early in the morning, and just before sunset
At low tide, large birds such as roseate spoonbills, egrets and pelicans, among a bevy of smaller birds, can be seen on the sandbars created by the receding water. A few of them are near the road, making it easier to see them without the use of binoculars. You can reference this handy-dandy tide chart for times.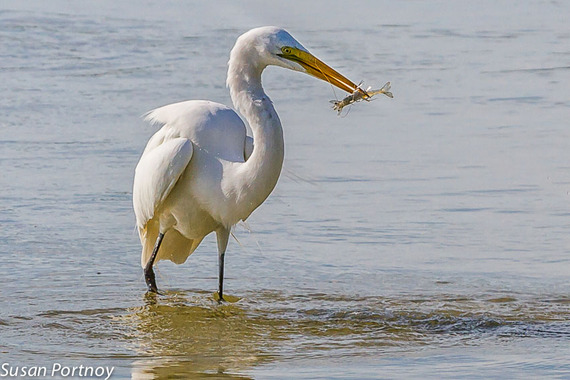 (A great egret moments after snatching up a tasty crawfish. A second later he swallowed it whole.)

Birds and other wildlife are more active in the early morning and just before sunset, which is perfect since the light is beautiful. If you want to take photos, you're more likely to capture images at this time that you'll want to hang on your wall not hide.
5. Learn from the locals.
As I mentioned above, the end of the day has some of the best light and that's when the big guns come out -- no, it's not what you're thinking. I'm talking about the hard core photographers, not professionals necessarily, but the locals. They sport cameras and lenses that would make National Geographic envious -- the kind that resemble megaphones and can shoot up the nostril of an animal 100 feet away.
I bring this up because avid enthusiasts know a lot, and more often than not, they like to share. If you're a budding photographer like me, it's like manna from heaven. Nothing beats help in the field, chat them up.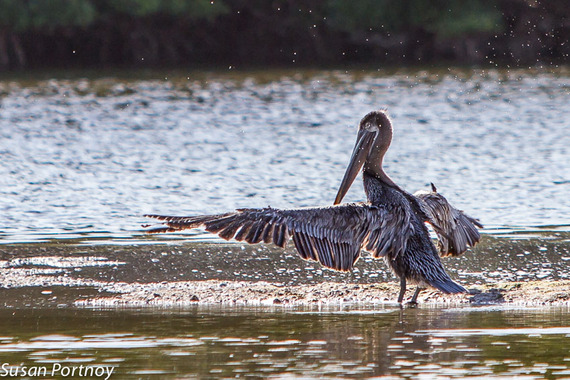 (A gangly brown pelican looks rather dapper with his wings outstretched)
6. Avoid holidays and weekends.
Sanibel is a small island with two-lane roads and a lot of traffic on the weekends and even more on a holiday. Though the refuge during my visits -- which included the Martin Luther King Jr. holiday -- wasn't pull-your-hair-out busy, compared to a week day, there is a huge difference in the amount of traffic and people exploring Ding Darling.
To see more of my photos from the refuge, visit The Insatiable Traveler or follow me on Facebook.