Whether you're a seasoned traveler looking for something new, or you just want a grand adventure, Myanmar (a/k/a Burma) should be high on your short list.
Here are 6 reasons why...
Because now you can
For over 5 decades Myanmar's government -- a military junta that seized power in the early 1960's -- made tourism nearly impossible. But in the last two years democracy has made gains, and in 2011, the proverbial tourism doors flew open. So don't walk, run to book a trip. Trust me, everyone else is.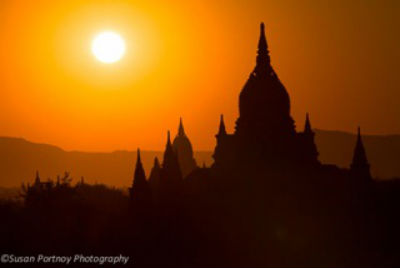 (Sunset over the pagodas of Old Bagan)
Myanmar hasn't been spoiled -- yet
According to the Daily Telegraph, tourism in 2013 reached a historic 1 million visitors. The country's Ministry of Tourism is estimating that that will increase to 1.5 million in 2013. But for now, the breathtaking 10th century pagoda, its ornately carved exterior a tribute to the master sculptors that created it, is still relatively free of the turnstiles and camera toting, Nike wearing tourists that have already spoiled so many other places. So go now.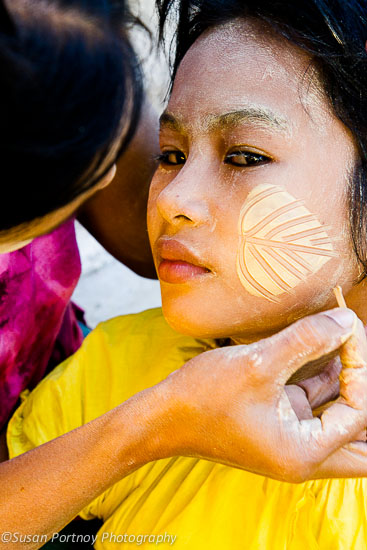 (A mother paints her daughter's face with Thanaka, a homemade sunscreen made from bark)
Daily Life in Myanmar is transporting
There's no historical reenactment here; what you see in many places is life as it's been lived for centuries. Locals still wrap Longyi, a saron-like cotton tube around their waists. Applying Thanaka paste (an emulsified bark concoction), for sunscreen, is as it was last century and the century before. Local economies still rely on craftsmen that in this country haven't been seen since the days of Little House on the Prairie. Monks in crimson robes with shaved heads and bare feet, walk the streets no differently than their ancestors before them. And don't be surprised when you see ox-driven carts labeled "taxi" in the smaller villages.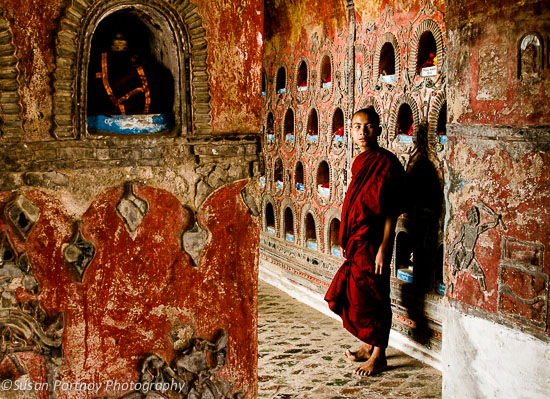 (A novice monk at the Shwe Yaungwhe Monastery)
You can indulge your inner Indiana Jones
If you love exploring archeological ruins, like I do, Myanmar has them in spades. Scattered throughout the country you'll find golden Stupas, spectacular frescos and finely detailed carvings. Buddhas can be found in countless sizes -- standing, sitting or reclining. The country has thousands of pagodas, temples and monasteries dating back two millennia, and many you can explore at your leisure. You can float over them at sunrise in a balloon over Old Bagan, or hike through the brush near Inle Lake, and find hidden relics beneath the leaves. You can spend hours roaming the landscape and not even begin to scratch the surface of all there is to see.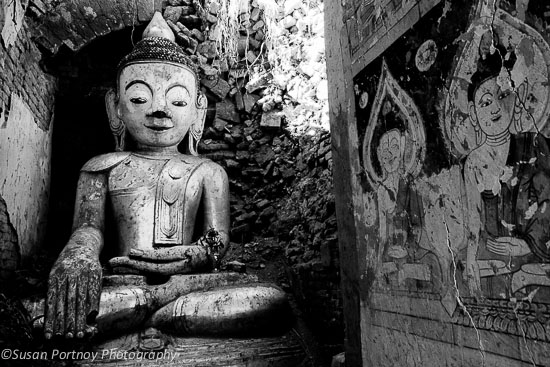 (A large Buddha sits as its temple crumbles around it)
There are really cool markets
Myanmar's daily markets are a must see. Vendors display their goods on the ground under makeshift tents, so everything tends to take place at shin level in an exciting atmosphere of controlled chaos. People scramble this way and that, and the air is thick with dust and spices. Colors are muddled together like an Impressionist painting. There are fruits and vegetables of every kind. Chickens for sale, sold alive in roughly fastened bamboo cages. Handmade textiles and tools, and in some cases electronics, are sold next to makeshift food courts where various curries and rice can be bought by the bowl. Fishermen create a fish pack of sorts by stringing fish like popcorn on a cord, and then tying the ends together to create a handle. It's a constant assault -- in a good way -- on your senses, and it's not to be missed.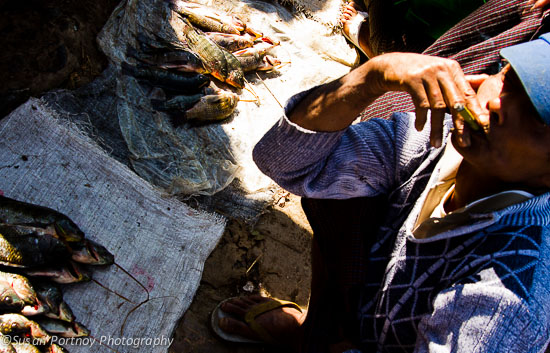 (A vendor displays his fish at a local morning market)
You'll want to see Inle Lake
An oddly familiar yet otherworldly experience, Inle Lake is one of my all-time favorite destinations. Like in the states, the villages have orderly little homes, with laundry hanging on the line and porches for kids to play on, except here the majority of people live on the water, in stilt houses with thatched roofs and woven walls. Floating vegetable and fruit gardens, anchored by long bamboo poles, create channels, like roads to guide traffic. Fishing is a big part of the economy, and you'll see fisherman dot the lake throwing out nets or slapping the water with their oars to frighten the fish into cages under the surface - it might look a little silly, but apparently it works. Inle Lake is also known for a rare fabric woven from lotus flower silk. Yep, lotus-flower silk. It's a painstaking process but fascinating to watch.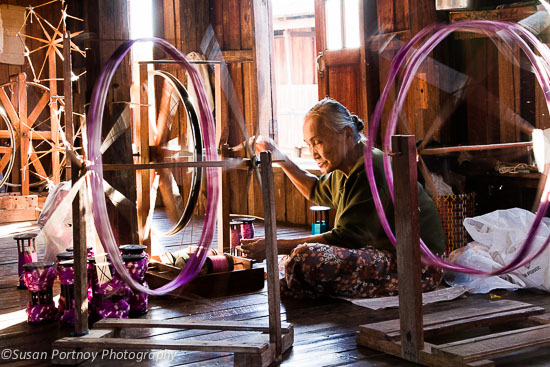 (Lotus flower silk being spun at a weaving house)
Ways to get there
Many companies have added Myanmar to the list of countries they service. I joined a great photography tour led by David Samuel Robbins, a professional whose photos have appeared in the New York Times Magazine and National Geographic Traveler. His boutique company, Himalayan Odyssey, shepherds travelers to Nepal, Bhutan, India and now Burma. I'm not a huge fan of group travel, but David keeps his numbers small (we were 6), and along with a dry wit and a ton of personal attention, crafts itineraries that are visually exciting and culturally rich.
Condé Nast Traveler recommends Good News Travels to plan a trip on the more luxurious side. Trip Advisor is also good for getting another traveler's perspective since many of the hotels don't have their own websites yet. Some great information and photos can also be found on Myanmar's Board of Tourism site.
Helpful hints
Travel cash
Credit cards are rarely accepted. You'll need to bring pristine -- with a capital P -- dollars to buy anything in Myanmar. They'll reject any bill with the slightest imperfection. Bigger cities like Yangon prefer U.S. currency, but if you are in a small village you'll need the local currency called Kyat (pronounced Chat).
Weather report
Most of Myanmar is pretty toasty, but Inle Lake is especially cool (when I was there in December it was around 44 degrees Fahrenheit) when the sun goes down. Be sure to bring a sweater if you include it in your itinerary.
Morning ride
Inle Lake is wonderful any time of day, but if you want to see something really special ask your hotel for a boat ride just as the sun rises. The morning fog is wonderfully dramatic and when the light lifts, the view is spectacular.
Market strategy
While I highly recommend that you visit the daily markets in Myanmar, vendors in touristy/souvenir sections that sell scarves and carvings can get pushy and aggressive. If you feel overwhelmed, head over to produce sections. Locals know that foreigners, afraid of intestinal challenges, are unlikely to purchase anything and will leave you alone
PHOTO GALLERY
Myanmar Bound