Alexander Graham Bell once said, "Before anything else, preparation is the key to success." I'm pretty sure he wasn't talking about travel but it's apropos nonetheless. It's the little things that you do up front that pave the way to a stress-free experience. While I can't guarantee you won't hit bumps along the way, it's likely your efforts will make it easier if you do. Here are some of my favorite tips for kicking off your own pre-trip prep.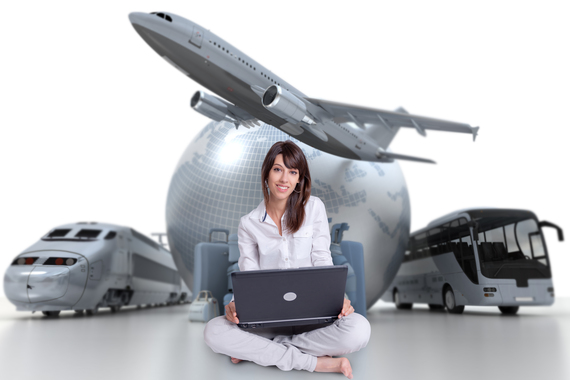 Research your destination
I'm all about serendipity and exploration, but nothing is worse than returning home to find that just two miles from where you were staying there was something amazing that you missed. A little research is the best way to hedge your bets. Start with the classics: word of mouth and a straightforward Google search. Then take that list and dig a little deeper: use terms like "Most unusual experiences in [name of place]", "Most photogenic", "Must-see" or "Best," and you'll find a list of articles that will likely give you wonderful nuggets of information.
If you're visually motivated, check out National Geographic's "Your Shot" images, Flickr, or 500px, for inspiration on locations both on and off the beaten path.
For more practical info, search local tourism board websites for city or regional facts, local apps (see below), and don't forget to peruse the sites of any tourist attractions you plan to visit. In addition to information on hours and location, you'll discover whether there are special events, lectures, or VIP tours available.
Another tip. Search for 4-5 star hotels in the area and look at their sites under "activities", "around town" or "things to do". Many times I'll find great ideas for restaurants or non-touristy experiences I don't find anywhere else.
Download local apps
Modern technology puts the world at your feet. Why not make it work for you? I search the mobile app store and download and review the most relevant local apps based on my itinerary. Look for subway apps, stores maps, museum or airport layouts, travel guides, you name it. It takes very little time, most cost are free, and you'll love having the information at your fingertips when you reach your destination.
Confirm that your hotel has WiFi
Sometimes the realities of work and life don't allow me to be off the grid when I travel. Therefore, when I know I'll need to connect, I double-check that my hotel has WiFi before I walk out your door. It may be the 21st century but I can't assume that my accommodation lives in it, especially if I'm traveling to a developing country. Even if it does, access could be limited, or cost extra. If everything else is pretty much equal, I'll choose one hotel over another if the WiFi is free.
Double-check your mobile carrier's international plans
I came home after a trip to Kenya with a $675 mobile phone bill. I wanted to throw up. I didn't research how Verizon would calculate my data plan and while I assumed it would be pricey, I was blown away by the fact that 20 minutes of 3G at the Nairobi airport netted out to almost $700. Every carrier has different rates for different countries and its best to assess what your costs could be at the get-go. I currently manage my fees by fanatically engaging airplane mode which only lets me access the web via WiFi. But now and then I have to venture into the great data plan vortex and knowing what I'm in for keeps me on the straight and narrow.
(An example of the local apps I downloaded for my trip to South Africa)

Assess your needs two weeks before you leave
When I started to travel I would pack the day before I went on a holiday and invariably realize that I'd forgotten something I needed to buy. I spent the few hours I had left squeezing in a last-minute shopping trip. Finally, after years of making myself crazy, I started a new tradition. Fourteen days before any major trip I go through my belongings and put aside the items I'll pack for my journey. If there's something I need, the two-week window gives me plenty of time to order it online and have it shipped directly. With Amazon Prime I don't even pay for shipping. I'm not saying this doesn't require extra effort, it does, but when the time comes to walk out the door, it's smooth sailing.
Determine whether there are any vaccinations required or health alerts associated with your destination
As a precaution, check to see if there are any vaccinations or medications required or suggested for your destination. The Centers for Disease Control and Prevention has an easy-to-use Traveler's Health webpage to help you out. It provides recommendations and requirements of the destination country. You can also filter your results based on whether you're traveling with children, living with a chronic disease, immune compromised or participating in mission/disaster relief, among other options.

Stock up on basic medications
There's nothing worse than feeling ill on the road. Don't make things worse by running around for meds while you're sick. Pack a small Ziploc bag with the following over-the-counter medications.
Products to relieve stomach upset/diarrhea/ constipation
Aspirin or Ibuprofen for headaches and small aches and pains
Antibacterial ointment for scrapes and cuts
Antihistamine ointment for insect bites
Eye drops for dry, dusty climates
As an extra precaution, speak to your doctor about prescribing an antibiotic you can take with you "just-in-case." I spent an awful two days in Lima with a nasty something on my way to Machu Picchu, but it would have been so much longer if I hadn't had antibiotics with me for just such an emergency.

Let your bank know where you'll be
A couple of years ago, I walked into a store in Cambodia to buy knickknacks and my debit card was declined. I didn't have another credit card with me (Tip: always bring at least two credit cards with you), and I didn't have enough cash for the rest of my trip. Ouch. It turns out that a scarf I'd bought the day before raised a red flag with the bank. Assuming I was at home in New York City, the purchase in Cambodia appeared like fraud and the bank froze my account. It took me three hours I could have sightseen to get it sorted out. Now I send an email via my online banking portal before every trip outlining the dates, countries and cities--including any layover city--I plan to visit. I haven't had a problem since.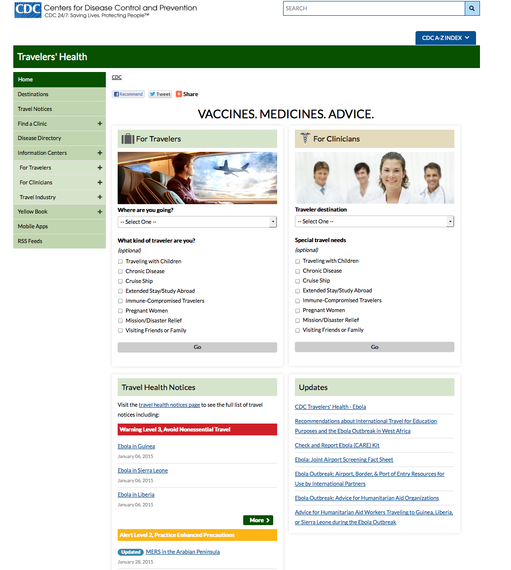 (A shot of the CDC's Traveler's Health webpage)

Organize your gear
I am a technology freak but even I get overwhelmed sometimes by the number adapters and plugs needed to keep them going on the road. More than once I've looked at a pile of cords thinking I had everything only to learn too late that I didn't.
In an effort to consolidate and gauge my needs, I like to lay out all my gadgets--cameras, iPhone, external hard drives, etc--on my table with their associated plugs and accessories. Then I figure what I need to take on the plane and what I will check, and place them into two piles. Next, I figure out my adapter needs for my destination and any layover countries I'll be flying through. (Hint: if you buy a travel outlet strip, it makes things so much easier. You only need one adapter to charge 3 devices!). I separate cords that I will use more often (ie. my iPhone charger) and place them in a separate bag so they're easier to find. I carry ALL my cords with me in my carry on bag
Photography enthusiasts: I bring at least two extra batteries per camera body and a lot of memory cards because I shoot RAW files. So that I'm not photographing something wonderful only to have my card run out unexpectedly, I reformat the cards before the trip. I remember being in the middle of shooting a wildebeest crossing in Kenya when my card ran out; I thought it was fresh. NOPE. It was half wildebeest and half Myanmar--the trip before Kenya. I lost some great photo opportunities as I scrambled to change cards in the middle of the action. Never again.

Leave a detailed itinerary with a friend or family member
If you're going some place remote this is a must, especially when you can't count on cell reception, and doubly so if you're traveling solo. You want people to know where to find you if for some reason you go MIA or, God forbid, you're sick or injured and cannot speak on your own behalf. It's also critical if there's a crisis back home and someone needs to reach you.
I give family members the following information broken down chronologically.
Flight information
Hotel information including dates and website addresses
Local/emergency contacts if available
My travel insurance policy number and contact information
Make copies of your most important information
Always take printed copies of your passport, credit card account numbers/emergency call numbers, itinerary and travel insurance details. My smartphone is my go-to device when I travel and where I store most of my information, but I always pack a printed backup. Why? Because why risk being up poop's creek if I lose my bag? Or, as I've done on several occasions, realized that I accidentally let the charge run out at the worst possible moment.
What's your favorite pre-trip prep advice ? I'd love to hear your thoughts in the comments.
This article originally appeared on The Insatiable Traveler