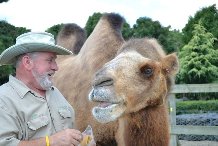 Labor Day Weekend 20 years ago, Ambassador Mo and I were headed to Long Island in a new Bronco II SUV. For those unfamiliar with New York roadways, the Belt Parkway is one of the busiest - four lanes each direction -- JFK Airport travelers in taxis along with a sea of cars beach-bound.
Suddenly, traffic slowed, and we espied an akita down on the road presumably dead with another akita hovering over it. We had a large rope in the truck for our planned waterski weekend which could serve as a makeshift lasso to rescue the frightened standing canine from oncoming traffic. To our surprise, the downed akita was still alive albeit stunned and bleeding slightly from the mouth. Tempting fate, Ambassador Mo managed to lift the injured male dog into the truck. Guess he learned at an early age that you don't bit the hand that feeds you. Fur-matted and in dire need of a bath, these valuable dogs were obviously lost.
An officer stopped but told us that injured dogs on a holiday weekend would more than likely be put down in a shelter. We couldn't stomach that, and although we couldn't take them home to an apartment with two cats, we came to a solution when remembering the Popcorn Park Animal Refuge.
We U-turned to a different getaway three hours distant in the scenic Pine Barrens of southern Jersey and home to Popcorn Park. The saga has a good ending. The two bonded akitas had escaped their owner. Each had health issues -- cancer and epilepsy. The friendship the dogs expressed to each other and the female who watched over her fallen comrade with so much concern made our decision to forgo a weekend and fork over a donation to Popcorn Park located in Forked River for their care worth it. Happily, we managed to locate the owner the following week whose dogs were partaking Popcorn Park's hospitality until he could pick them up.
Labor Day Weekend 2013, we decided to re-visit Popcorn Park Animal Refuge. Over the years, Popcorn Park has greatly expanded to now include over 200 animals and birds, exotic wildlife, farm animals, and domestics. Under the auspices of the Associated Humane Societies, Inc., Popcorn Park is a non-profit (501) (c) 3 that relies on donations for care. Its mission is to provide a refuge for wildlife that can't survive in its natural environment due to exploitation, illegal ownership, abandonment, and death. http://www.ahscares.org/

General Manager, John Bergmann fielded our questions much like a proud parent with bragging rights to their kid's antics and talents. He's partial to Princess a celebrity doyenne in her own right. Princess is a two-humped bactrian camel with impressive lineage. She and sister Babe were beloved family pets raised as youngsters by Doris Duke, the American philanthropist and heiress whose 1994 biography by Stephanie Mansfield entitled her "The Richest Girl in the World." Travel, jazz piano, historic preservation, wildlife conservation, and prevention of cruelty to children and animals were her passions. Ms. Duke was also a Jersey Girl spending her early childhood at Duke Farms in Hillsborough Township, but Princess and Babe spent pampered summer vacations with her at her estate in Rhode Island. Following Ms. Duke's death, a welcome mat fit for a princess was rolled out by Popcorn Park for The Princess.
She has arthritis but receives Tellington (TTouch) circular-motion massage, Reiki treatments to reduce stress, increase wellbeing and behavior, and enhance energy. These methods have produced something of a sixth sense with her animal communicator. Princess is a camel's version of the late-Edgar Cayce, the American psychic whose followers included presidents, stock-market speculators, and health gurus. http://en.wikipedia.org/wiki/Edgar_Cayce

During Football Sundays and Super Bowl, Princess is Popcorn Park's wizard mascot as she selects NFL team winners. Her odds-picking clairvoyance is established by her record 5 out of 6 Super Bowl winners. Is something added to those graham cracker treats John feeds her? Appears to be a camel on steroids. http://www.ahscares.org/showarchive.asp?id=5138

Park beauty envelops the seven acres of indigenous Scrub Oak and Scrub Pine. However, what transcends is the familial devotion and care exhibited by staff and volunteers. Sadly, many of Popcorn Park's animals were rescued from horrendous conditions -- exploited in traveling circuses, canned-hunt, or illegal betting operations like cock fighting. Each animal is unique with its own personal bio and story providing opportunities for visitor bonding, sponsorship, and education.
A friend who works for Henry Hudson Regional School in the Highlands, New Jersey http://www.henryhudsonreg.k12.nj.us/hhrs/_top has told me about her 7th grade class who adopted Princess and Dante, a Bengal tiger. They collect money for dues and enjoy the newsletters written from the animal's viewpoint learning empathy and earth's stewardship in the experience.

We spoke to Bob Sinawa, an enthusiastic volunteer as we meandered animal kingdom. When asked if he had a personal favorite, he smiled when responding "Lance" a cougar, and "Dante" a Bengal Tiger. Lance is the sole male cougar of the Texas 7. No, not a poker game or new version of Atlantic City craps further down the Garden State Parkway, but seven lucky big cats that included Porthos, an African lion, Taj, a tigress, and five cougars: Camille, Fiona, Lance, and Gwen. Kept as pets by a woman with 40 big cats, each suffered from deplorable conditions and health issues when she died unexpectedly. Popcorn Park rescued the fortunate seven providing needed veterinary care, security, and hope. Despite missing and deformed toes and two broken back legs that improperly healed, Lance has a bonded mate, Gwen, and is now at full weight. Queen Guinevere has supplemented Sir Lancelot's nutrition with even more TLC - tender, loving, care.
Dante and Caesar are tigers also claiming rescue from the "Lone Star State" to the "Garden State." Scheduled to be part of a "canned hunt" on a Texas game ranch, luckily Dante's head will not be a trophy on someone's wall but instead a poster portrait or tee shirt as he and companions frolic in Popcorn's waterfalls and pools.
Popcorn Park hosts a number of animal species that may not be household names like the African Serval, Coatimundi, Tufted Capuchin, Pigtailed Macaque, and Binturongs, also known as "bearcat." Member to the viverrid, a small family including civets, they are from southeast Asia, have 5-toed-clawed feet and a prehensile tail for seizing, grasping and communicating through sensory glands which exude a popcorn-like odor. Due to deforestation and logging, they are now listed as vulnerable. Although curious and intelligent by nature, they are not ideal pets.
Among the more familiar animals and birds are llama, donkey, black bear, alligator, tortoise, goat, miniature horse, macaw, peacock, and pigeon. No trip to Popcorn Park would have been complete without visiting the many cats, dogs, and rabbits up for adoption. Also, separate from the adoption area is the exclusive Kitty City section -- a real cathouse for feline lovers. This special "assisted living" facility was bequeathed by human family who could no longer care for their pets. They will live the remainder of life in an eco-friendly environment, equipped with a tri-level communal living area, bay windows, central vacuum system, recessed litter boxes, TV, and secure outdoor patio.
In the allegedly attributed words of President Abraham Lincoln: "I am in favor of animal rights as well as human rights. That is the way of a whole human being." -- All in another Compelling Journey for Ambassador Mo and me.
@DiplomaticallyX
PHOTO: General Manager John Bergmann and Princess, Courtesy of Popcorn Park Animal Refuge