For as long as he can remember, Cameron Sinclair liked to rebuild neighborhoods. Sinclair, the 34-year old altruist behind Architecture for Humanity (AFH), grew up in South London erecting toy communities with Legos. When he was nine, his family moved to New Jersey, but after a few years he returned to Britain to live with his set/costume designer grandmother in the historic English spa town of Bath. He trained as an architect at the University of Westminster and at the Bartlett School of Architecture in London, where he explored the meaning of design and began to develop a belief that architecture could improve lives. For a while he considered going into local politics, but was disillusioned by what he saw as the status quo of government work - he wanted to see real change, not change that was tied to getting elected or re-elected. Ultimately, he decided to stick with architecture as it was less about building political connections and more about literal bricks and mortar building. His postgraduate thesis focused on providing shelter to New York's homeless through sustainable, transitional housing. Shortly thereafter, Sinclair bought a one-way ticket to New York and never looked back.
As a self-proclaimed "eternal optimist" and the co-founder of Architecture for Humanity, a non-profit organization which brings professional architectural and design services to communities around the world, Sinclair and the AFH team have initiated and implemented more than 100 projects including housing ideas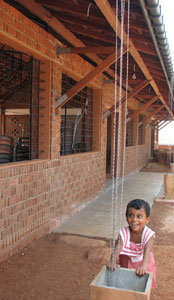 for returning refugees in Kosovo; mobile health clinics to combat HIV/AIDS in sub-Saharan Africa; disaster recovery and assistance in India and Sri Lanka after the tsunami; and recovery for the Gulf Coast following Hurricane Katrina.
Sinclair is motivated by the belief that it costs no more to create a well-built and soul-inspiring space for those in need than it would to build one for those with excess wealth. "If anything," he says, "with limited budget, limited choice in materials and a focus on access to basic human rights, a designer has the opportunity for a much more challenging and life affirming experience." It is this holistic and collaborative approach to sustainable development, he allows, that makes it "incredibly" rewarding for all parties involved.

This year, Sinclair was selected as one of 285 World Economic Forum Young Global Leaders, culled from a pool of almost 5,000 candidates on the basis of professional accomplishments, commitment to society and potential to contribute to shaping the future of the world. Sinclair was also named one of three CNN Principal Voices for Design. In 2006, Sinclair received a TED (Technology, Entertainment and Design) Prize and was granted a wish and $100,000. In collaboration with TED partners including Sun Microsystems, Creative Commons and Advanced Micro Designs (AMD), Sinclair used his "wish" prize money to create the Open Architecture Network (OAN), a web-based exchange and project management system for low-cost, sustainable architectural solutions.
Since the inception of OAN in March 2007, over 10,000 members and nearly 1,500 projects (500 are public) in 47 countries have been uploaded under Creative Commons licenses, which allow design ideas to be shared and used free of charge. This means that there's a fundamental shift in the way architects are thinking about intellectual property. Katy Frankel, who's worked extensively with Creative Commons and Architecture for Humanity, explains "Architects don't immediately come to mind when considering copyright protection, because it's a new category of protection." Frankel adds "the Open Architecture Network has had a clear and positive effect on Creative Commons because it expands the use of the licenses into this category."
The Network is hosting the AMD Open Architecture Challenge, designers develop a plan for one of three communities in Ecuador, Kenya or Nepal, each posing a unique set of design constraints and opportunities. In Nepal designers have to deal with working in a mountainous remote region where there is only one doctor for 250,000 people, while in Nairobi, Kenya designers are constrained by extreme density issues and lack of basic sanitation and infrastructure. "While the needs of each client are unique," says Sinclair, "the hurdles they face in embracing technology in order to offer access to education, healthcare and the global marketplace are shared by millions of people in communities all over the world." The competition is currently being juried and once completed in early May, all entries will be viewable by the public. Additionally, the overall winning solution will be built and one years' operating costs will be given to the community partner with funds provided by AMD. Centers will be constructed for the other two sites and replicated for additional community partners as funding becomes available. All the entries will be 'open sourced' allowing other needy communities to benefit from these design solutions.
Sinclair's new status as a World Economic Forum Young Global Leader - a position which might afford him the opportunity to influence global thought and policy - may pave the way for his childhood political aspirations to come to fruition. Up next for Cameron and his AFH team is an initiative to develop a sustainable alternative to the portable classrooms (of which many in current use have high formaldehyde related health risk issues similar to FEMA trailers. Through competitions, workshops, educational forums, exhibitions, and other activities, Sinclair has parlayed his design acumen and skill into his role as international community developer and micro-financier. Cameron Sinclair is not only trying to make this a better world, he and the Architecture for Humanity team are building it, one sustainable structure at a time.
Click here for more on Cameron.