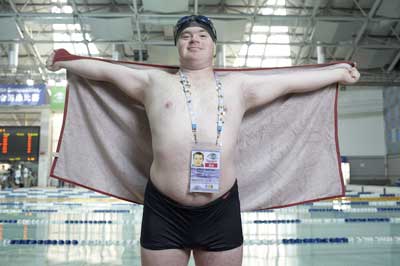 A lifelong New Yorker, Richard Corman has photographed many a luminary including Mohammed Ali, Nelson Mandela, and Bill Clinton. His images have appeared in Vanity Fair, Vogue, Town & Country, Sports Illustrated, Rolling Stone and Architectural Digest. Yet the work for which he is unabashedly most grateful is documented in his book: I Am Proud: The Athletes of Special Olympics. Since 1991, Corman has contributed his talent to the Special Olympics, documenting the passion and potential of the athletes. We spoke recently about what inspires him to capture these remarkable athletes through his compelling photographic portraiture.
How did you establish a connection with the Special Olympics?
I was photographing Patti Austin, one of the great [R&B and jazz] voices. She told me she'd be singing at an upcoming Special Olympics opening ceremony. I thought, I'd love to be there too. She called Timmy Shriver [who is now Special Olympics Chairman] and I was in his office the next day.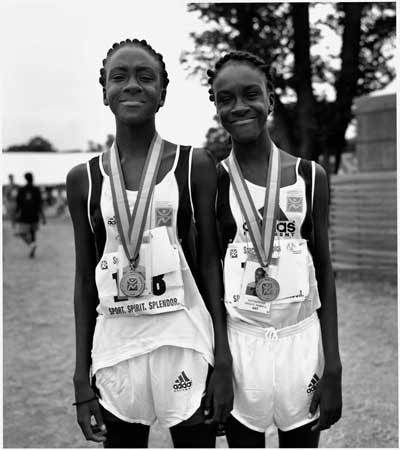 Why the Special Olympics?
I haven't shared this with many, but I have two older brothers who are intellectually disabled. When the potential to get involved with the Special Olympics came up, it was important for me personally to give something back.
What excites you about this work?
Just before I left for the Special Olympics in China in October of this year, I photographed the New York Public Library's Literary Lions for the December 2007 issue of Vanity Fair. [This year's honorees are the James B. Duke Professor Emeritus of History John Hope Franklin; Pulitzer Prize winning-author Jhumpa Lahiri; Academy Award-winning director Martin Scorsese; and acclaimed playwright Sir Tom Stoppard.] Can you imagine, I shot, among others, molecular biologist James Watson and author Orhan Pamuk, both of whom are Nobel Laureates, in the Shelley Room [The Carl H. Pforzheimer Collection], a room which is usually off-limits. And a week later, I was in Shanghai photographing the uninhibited joy of a kid with Down's Syndrome on a playing field. The irony involved in photographing 15 of the greatest minds one week at the New York Public Library and then traveling to China to capture the spirit of athletes with intellectual disabilities was profound.
Many of us have preconceptions about people who are intellectually disabled.
Your images do much to dispel these misunderstandings. They are really no different from the rest of us. They want to be loved, have friends and to succeed. They are spirited, courageous and full of hope. And this, I think, is what the Shriver Family has been able to foster and promote through the Special Olympics.

How does photographing the Special Olympic Athletes impact your own life?
The reason I love photography is that it documents history. When people see these pictures, you'd hope it puts a smile in their heart. My big thing is how can I get people to see these pictures? I want our children to see them and to understand that the people in the pictures are strong, not weak. They are my role models and represent hope. As a dad, I want my school-aged son to understand who these athletes are, how similar we all are. I think it's important for our kids to recognize that there are differences. I want my son to be a citizen of the world and be able to embrace differences with humility.
Is it scary for your son to engage with these kids?
I guess it could be a little frightening at first. But he sees that they hug each other, they coach each other; it really isn't any different from his own team experiences. By involving him along the way, my son has learned to be comfortable with differences. I quote Kofi Annan in my book. He said, "Disabilities are yet another manifestation of global diversity. Let us always be committed to the fundamental principles of dignity and equality for all human beings."

What do you take away from your outings with the athletes?
I guess I feel like I am potentially doing something that can make a difference. A lot of what I do has to do with glitz and image. It's all great fun but in photographing the athletes, it becomes my diary. My experience. The way I experience the world is through my pictures. It's the best thing I do. I feel extremely fortunate and thankful to the Shrivers for their belief in my ability to capture the spirit of the Special Olympics.

What do you hope your pictures convey?
For 16 years now I've traveled the world for the Special Olympics. What I'm able to capture is so much more than an image of an athlete. When you hear them talk, their words are so moving. Most importantly, I think that the pictures spread the word that these subjects are far from disabled. The athletes are abled. They compete every day. They are an inspiration and in many ways, we should all live our lives with the purity in which these people [the athletes] live their lives. I think, I hope, that my photographs convey that resonance and power.
Special Olympics is committed to empowering people with intellectual disabilities on and off the playing field. By working to remove obstacles, change attitudes and open minds, Special Olympics provides opportunities for its athletes to demonstrate courage, experience joy and share their gifts, skills and friendship with the world. Click here to BE A FAN of Special Olympics in your area or make a donation.
For more on the Special Olympics see here.