Now that New York Fashion Week is over, the question still on insiders' minds is the one that was whispered repeatedly between shows: Is the industry over Fashion Week?
That is, will NYFW continue in its current form, with a primary location under the tents at Lincoln Center or elsewhere and additional shows all over Manhattan -- and should it? As we pass the twentieth anniversary of the launch of the Fashion Week tents, the future is unclear. The American fashion industry is no longer in need of a high-profile, centralized event to establish its prominence in the fashion world, and advances in technology have even led some to wonder whether a physical gathering of the tribe is necessary. As iconic designer Diane von Furstenberg speculated, one alternative possibility is that streaming video will allow Fashion Week to move online, a venue with infinite front-row seating and no city traffic. After all, half of the guests at any given show already watch the runway through the lenses of their iPhones.
It's tempting to conclude that NYFW is on its way out, in no small part because the experience of going to nine days of shows can quickly turn from fabulous to frantic. Nonetheless, this season's topic du jour -- lamenting Fashion Week fatigue and the increasing number of shows -- provides a telling clue as to why the event will adapt and endure.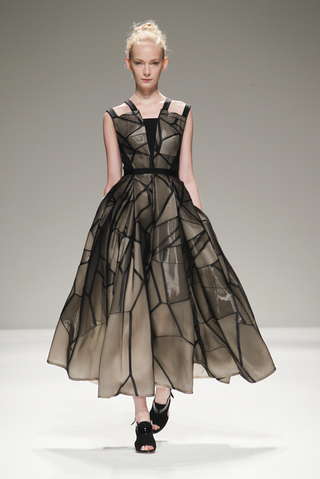 Each season, new designers continue to flock to both the tents and offsite venues, and they're not just coming from 7th Avenue anymore. International designers who could easily post their new collections on the web or participate in local fashion weeks are instead traveling to New York to show alongside American fashion greats like Michael Kors and Ralph Lauren. Last week's New York runway shows and presentations in the tents at the Lincoln Center included designers from upwards of 30 countries, a number that does not account for the many independent shows concurrently held in galleries, museums, event spaces and even consulates throughout the city.
The internationalization of NYFW is the vibrant yang to the cloudy yin of concern over whether it is losing its luster. For countless designers around the world, New York is the only place to be. To explain why, one could point to the city's emergence as a global business hub -- just as it is de rigeur for international commercial contracts to follow the law of New York State, the fashion business itself is having a Manhattan moment. The city's powerful fashion media is also a factor. New York is the Silicon Valley of fashion reporting, with outlets ranging from established powerhouses to emerging online influencers.
The greatest attraction, however, is the symbolic value of NYFW itself. Just as a century ago millions of immigrants came to the city and built a better life by working in the garment trade, designers from around the world are coming to New York to create a brand identity that transcends the boundaries of geography and the local market. New York, like its best fashion, is fundamentally transformative, a place defined by the potential to create something more.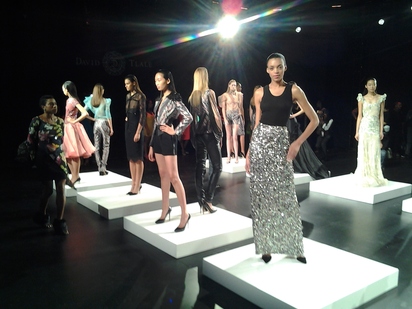 In this regard, Fashion Week's emergence as the United Nations of the fashion world reflects the global soul of New York's own fashion community. Von Furstenberg, the current president of the Council of Fashion Designers of America and creator of the wrap dress, was born in Belgium to a survivor of Auschwitz and learned her craft in Switzerland, Paris and Italy before moving to Manhattan in the early 1970s. And she is not alone. Former CFDA president Oscar de la Renta is from the Dominican Republic, and Francisco Costa, the current designer for Calvin Klein, came to New York from Brazil.
With New York's rise to prominence as a fashion design center, the Fashion Week tents and the whirl of indie shows around them have become home to a host of international designers celebrated for their innovative style. For example, NYFW regularly includes shows by foreign-born fixtures on the American fashion scene like the award-winning designers Maria Cornejo, originally from Chile; Yeohlee Teng, born in Malaysia; Prabal Gurung, hailing from Nepal; and Bibhu Mohapatra, who came here from India. The ongoing ascent of Asian designers in American fashion, currently being celebrated in an exhibit at SoHo's Museum of the Chinese in America, is most famously typified by the stellar success of Jason Wu, who came to the United States from Taiwan via Vancouver and designed Michelle Obama's gowns for both inaugural balls.
Not surprisingly, the appeal of New York as a global melting pot has expressed itself in style terms as well. On the first day of this September's shows at Lincoln Center, South African designer David Tlale debuted a collection that integrates traditional Ndebele geometric patterns into cutting-edge ready-to-wear clothes, reflecting his intent to globalize African fashion. The NYC-based international design collective threeASFOUR, whose members come from Israel, Lebanon and Tajikistan, took this synthesizing impulse in an even more expansive direction, offering designs with geometric patterns shared by the world's major religious faiths.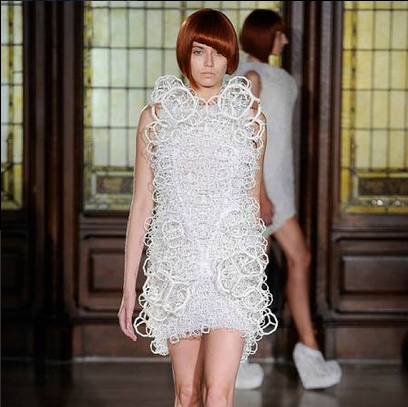 Fashion Week's international character is also apparent in shows organized by design schools, with multiple students originating from such countries as China, Taiwan, Korea and the Dominican Republic. What is particularly striking about these young designers is their awareness of their place in New York's fashion history. In the words of Diana Sanchez, a Columbian student who participated in the Art Institute's show, they're just "the latest generation" that has come to the city "in pursuit of the 'American Dream."
Perhaps the most conspicuous international presence in recent seasons has been group shows sponsored by governments, trade associations and other international initiatives. Among the shows last February was a presentation with Russian designers at the Russian Consulate, an event co-sponsored with the Russian-American magazine Depesha. The tents in last week's shows at Lincoln Center included several high-profile international group shows, as well. In addition to Fashion Week regular Concept Korea, there were first-time appearances by the government-sponsored Argentine Designers and Fashion Shenzhen, New York's first fashion show featuring mainland Chinese labels.

While the Internet and regional fashion shows may claim their fair share of international designers in the years to come, they will be hard-pressed to rival New York's iconic power as the visible expression of the global village. When New York's fashion community banded together to establish the tents back in 1993, Donna Karan observed that while there had been talk of American designers gaining exposure by showing in Paris, their sense was that New York had its own je ne sais quoi. "Most people want to come here to see the collections," she noted, "because they can feel New York, breathe it, and get the energy of the city." This remains true today, even -- or especially -- if a growing number of designers join us from out of town.
With contributions by Jeff Trexler, attorney and professor of Fashion Ethics, Sustainability, and Development for the nonprofit Fashion Law Institute, located at Fordham Law School.