So you're dating a guy and thinking about your fabulous future together, right? Have you taken the time to ponder about your decision to the big question? I know, crazy question, right? I mean, if you're thinking about marrying the guy you're dating, then why do you have to ponder about saying yes to his proposal?
To be frank, some of you will know right off the bat with no question in mind, and some of you will take the time to reflect on how healthy your relationship is before making the commitment. And NO, that's not a sign of "it's not meant to be" if you need to reflect. It's smart to take your time and not rush into a life-changing decision.
I've been married just over a year now and recently delivered twins. I'm excited to say that so far everything is going well. The two little bundles of joys are healthy and the communication in my marriage has gotten even better than it was with just the two of us.
There is one major piece to my marriage that was completely different from all the other relationships I had -- respect. In the 5+ years we have been together, we have not once cursed at one another or shown any signs of verbal abuse, which can be as basic as name calling. We of course argue and have our differences, but we hash out our issues and differences with normal conversation.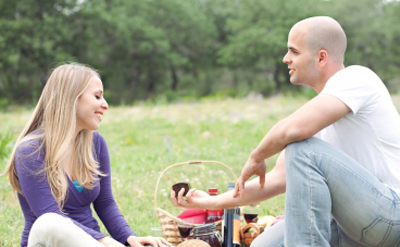 I'm sure many of us have our own reasons for saying YES. Here are just a few reasons I think you should say YES to the wedding proposal:
1. There is trust and respect between the two of you
2. You feel your partners unconditional love and give unconditional love
3. You both make one another feel empowered
4. You both support each other's Identity -- flaws and all
Below is a list of over 20 reasons, from those I surveyed, to say YES to the wedding proposal:
1. "He makes me laugh. Really...it all comes back to that..." - Lindsay Vastola
2. "It's not something I can put into words. It's a feeling of complete and unconditional acceptance." - Aileen Martucci

3. "I couldn't imagine my life without him!!!! And 33 years later, we have cleaved and are one! And happier than I could have ever imagined!" - Ann Rommel
4. "We always had a lot of fun together -- went on lots of adventures and knew that life would continue to be one great adventure." - Diana Polack
5. "The thought of marriage with him is summed up in these words: 'It's like mid-week fun with your best friend!'" - Samantha Gibson
6. "Married my best friend...it's the only way to do it!" - Jennifer Strole
7. "When I met Joe 18 years ago in Wildwood at the Firemen's Convention, by mutual friends introducing us, I never thought it possible you could fall in love at first sight. Boy was I wrong." - Terry Aguanno
8. "This is probably the most unromantic answer you are going to get. I knew I wanted to spend my life with him but I didn't really want to get married until I knew I wanted to have kids. We were high school sweethearts and always knew he was it for me." - Monique Ramos Canale
9. "Have you seen my wife? Easy. Just not sure why she said it." - Mark Odian
10. "I couldn't imagine spending my life with anyone else! He was my best friend and I was in love. Our marriage works because it is a partnership. We respect one another and make big decisions together." - Jessica Carder Dinbokowitz

11. "Saturday will be our 18th anniversary! He just looked so cute down on one knee at my sorority formal! We were so young!!!" - Kimberlea Klem Chabot
12. "I couldn't imagine my world without him." - Susan Ramirez
13. "He triggers the right buttons for me. You know the ones that irk you so much you are forced to go within to find out why and then grow intellectually so deep you are grateful for the experience. He is my soul teacher, my partner, my lover and my friend. I laugh a lot with him and have found the humor in most things I once worried about because he showed me how." - Rita Chmiel
14. "I said yes because when I saw John for the first time, very first thought that went through my head was, 'that is the man I am going to marry.' Not sure how I knew before I ever said one word to him, but I knew and I was right because this year we celebrate 25 years of marriage. John and I had an interesting courtship, through letters for less than a year before we got married. We only knew each other two days before he proposed, so I am going to say that I said yes because I am intuitively blessed to have experienced truly love at first sight." - Anna Vernicek

15. "He is honest, intelligent, generous, and kind. Protective, full of integrity, and humble. We believe in the same God, have similar attitudes about child rearing, money, and other cultural items. We have certainly had some opportunities to gut check our relationship, we nearly divorced four years ago. When we realized a psychological disorder was at play, and that our foundation was still strong and all of the above was still true, we were able to fix it and move forward with the help of professional counselors. We needed more than 'you complete me' (at least for now) emotional connections. I know this sounds clinical but it's something I have put A LOT of thought into over the years and as a result have been able to put words to the emotions that made it 'just feel right' in the beginning." - Lisa Villont
16. "I said yes because I couldn't imagine a life without my husband. He is my best friend, soul mate, love of my life...he showed me what love truly is and how a man is supposed to treat a woman. He's funny, supportive, strong, extremely caring, thinks and puts his family above himself, very hard working and truthful. Plus he was easy on the eyes lol. He's a great dad (had kids before we met) and loves his kids to the moon and back! I just knew he was the one I was supposed to be with from the moment I saw him." - Kimberly Canlas
17. "He is sweet, like a teddy bear, honest, cute and makes me laugh. I knew he would always be there to protect me and keep me safe, I also knew he would be a great dad, like his dad was. He is a lot like my own dad, calm and cool." - MaryAnn Staufenberger-Joyce
18. "I said 'YES' because of his attention to the details. He notices the little things that make me SMILE." - Priscilla Harris
19. "Because he liked me back!" - Nancy Witters
20. "I wanted to make babies with him! And we both said yes at the same time, equals-like" - Gay Norton Edelman
21. "I knew that I was meant to be his partner in life." - Krista Hinkley Stanzione
22. "Knew right away when I met my future husband that he was the one for me. I just knew it in my heart. We both had some similar interests, and opposites on some things, but that's okay. And now we've been married for just about 16 years!" - Jennifer Bauer Dionne
23. "Timing is everything. Tomorrow I celebrate 26 years being married. Crazy! I couldn't imagine my life without Marco. Funny, smart, good-looking, family man, loving, generous and a drive to challenge himself. I knew he was going places and I wanted to be by his side. I'm so happy when I asked him out on our first date that he said YES!" - Carol Gonzalez
24. "He made me feel special, and 35 years later he still makes me laugh!" - Margie Cooke Corbett
"=
This was originally posted on IdentityMagazine.net