"This is my kind of heaven: beautiful women coming together to make a beautiful difference in our world."
The words above were eloquently expressed by Arianna Huffington at the 2012 L'Oreal Paris Women of Worth Awards. I was invited to event as a part of GenerationOn, the youth enterprise of L'Oreal's partner, Points of Light. I attended with generationOn's Rebecca Kraus, director of youth programs, Elizabeth Kaeser, manager of youth leadership and recognition, and a few other youth supporters. GenerationOn helps kids get involved with service and helps them make their mark on the world, enveloping a mission of youth empowerment.
This night was about empowering women of all ages through service and advocacy, and an overwhelming feeling of compassion surrounded the environment as I walked in to the Hearst Tower last Thursday. The night was an emotional one (individual tissue packets were supplied in anticipation of tears), which sought to celebrate ten unique women of worth. Though we were all given five-star treatment, the message wasn't about luxuries or hair products. It was about coming together to celebrate making a difference, urging young people all over to aspire to become like these incredible women.
Ten equally amazing women of worth were honored, all with different stories but with a shared goal of making the world a better place. Famous faces came as genuine ambassadors of service, each with her own story of service. Presenters of the night included Sade Baderinwa, Arianna Huffington, Andie Macdowell, Julianna Margulies, Aimee Mullins, Solded O'Brien, Jessica Seinfeld, Allison Williams, Trisha Yearwood and Randi Zuckerberg.
The actions of these 10 worthy women are adding to unique efforts that spark global change. Who could put their own missions and desires into words better than the women themselves? Here's what they had to say.
Kate Bialo, 57: "We're offering people the ability to live in a home and not an empty apartment. We are giving families a place to sleep, a place to eat and a place to visit."
Sarah Cronk, 19: "I just image the opportunity of transformation being given to the girls involved and how good it makes people feel. I want to give that same feeling to kids with disabilities forever."
Ida Johnson, 75: "I am inspired by the changes I see in people and the difference one person can make every day. I am always looking for children in need and my passion for helping them keeps me continuing to volunteer."
Lorraine Kerwood, 51: "I know how powerful it is when a person realizes that they aren't a danger to themselves and society as they've always been told, but that they have the power to participate, contribute, and have a meaningful life."
Catherine Meek, 66: "At a time when everything can feel impossible, School on Wheels provides hope to the most vulnerable and forgotten children in our society."
Amy Paterson, 40: "My hope is that someday each and every hospital will have a My Little Waiting Room so the stress of hospital visits in manageable."
Sandy Puck, 42: "My motivation is working with families facing the loss of a newborn, helping to ease some of their pain and giving them a way to heal."
Sue Runsvold, 62: "The realization that I had so much to give made me understand my place in the world and that the joy I felt while serving others was the greatest gift I could get."
Olivia Stinson, 19: "You don't appreciate how great you have it until you look at the person beside you and understand what they're going through, specifically with things that we take for granted."
Risa Vetri Ferman, 45: "While my job as a prosecutor was one of service, it wasn't enough. I formed the Montgomery Child Advocacy Project first so that kids could get free legal service when they oftentimes sat by themselves in the courtroom while their parents and family sat on the defense side."
Throughout breaks, I was also lucky enough to meet almost every honoree and some presenters. Arianna Huffington urged me to continue my work with the Huffington Post, stressing the importance of the youth voice. Upon telling her what I personally do in terms of service, Sue Runsvold encouraged, "At your age, this kind of work is incredible. Get all your friends involved, and stick with it. It's so easy to get distracted by a million other things, and the fact that service is a priority speaks volumes."
One honoree stood out to me. Lorraine Kerwood contributes to making a beautiful difference through technology, one of my passions. Her organization, Next Step Recycling, teaches disabled kids through recycled technology. She told me about empowering women in her life: "I was incredibly fortunate to have been mentored by women who saw my brilliance and believed I could positively impact my community with my thinking. I value their time, focus and energy to this day. Understanding how impactful their mentoring of me was, I offer the same support to young women in my community."
From the night, I took away important lessons of persistent determination, regardless of things like age and gender. The L'Oreal Paris 2012 Awards Ceremony opened my eyes to everyday women working tirelessly to help others. It serves as part of a greater movement of empowering women and shows just how significant acts of service can be -- and it made for a truly unforgettable experience.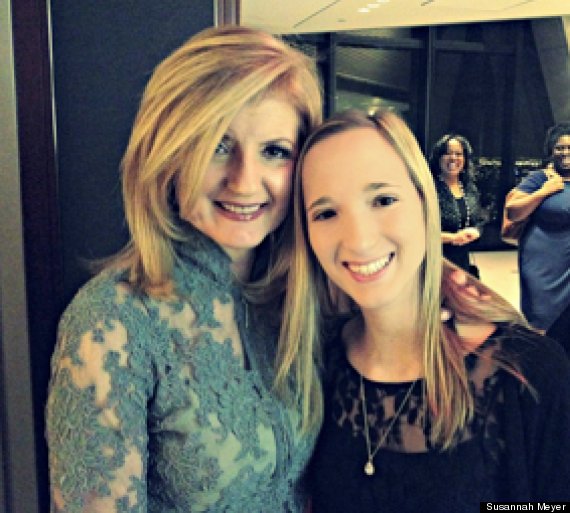 Me with Arianna Huffington at the Women of Worth Awards.