"The future is not a story of inevitability with us as passive participants in its unfolding. The future is a story that is actively written with us as engineers and architects in its building." This statement, made by the Senior Vice President of Advanced Technology and Projects at Motorola Mobility, Regina E. Dugan, marked the purpose and aspirations of the Clinton Global Initiative 2013 annual meeting.
This past week, I have attended the meeting as a teen reporter for Girl Up, a campaign of the UN Foundation focusing on girls all over the world. As one of the only teens of the thousands of people who attended, I now feel as though it is my responsibility to share with the rest of my generation all that I've been able to learn and take part in. We are the ones who are inheriting the world, and it's not only our duty but our unique opportunity to make it a better place. We are the generation whose job it will be to imagine, inspire, and innovate to solve the world's current problems.
What makes the Clinton Global Initiative so incredible is the diversity of issues and topics that it presents, from technology and making to food security to gender equity. More unique, though, is how the conference uses those issues in dialogues that work toward solutions. Here are some of the most important lessons that I took away as teen reporter.
Embrace Technology. New technology and trends in technology like making, 3D printing, and big data, are transforming how societies communicate and the ways in which problems are solved.
Online platforms like social media websites not only galvanize important conversations but more importantly they level the playing field for billions of people around the world in terms of accessibility and voice. A great example of this is MY World, an options survey that allows people across the world to voice their opinions on which of the world's issues they prioritize. Users give their gender, age, and country to allow for the disaggregation of data, demonstrating what types of things are important to what types of people. Through the online survey, immediately after you submit your results, you can see what other people with similar demographical information said, a collection of the world's data so far, and are prompted to continue the conversation.
Cell phones are also a key technology that has incredible power worth harnessing. In fact, as Co-Chief Executive Officer of SAP Bill McDermott mentioned on a panel discussing vital resources, there are more cellphones in the world than there are toothbrushes. That statistic speaks volumes to the current day. Basic functions like calling are allowing women and children in the developing world to live more safely day-to-day, and apps are being created for social betterment no matter where you're located.
Work Together, Not Against Each Other. As President Clinton said, "The potential of getting people together to have a terrific impact is enormous."
This is what CGI is all about. Unfortunately today, many companies and organizations seem obsessed with having their individual logos at the front of global movements and campaigns. But doesn't that defeat the purpose? It's vital to remember that no one can solve such pressing problems on their own; large-scale solutions are about combining individual efforts and strategies toward one common goal.
As the 42nd president said, "I've long believed that building networks of creative cooperation among governments, the private sector, and nonprofits is the key to overcoming the challenges, both great and small, of our newly interdependent world. And it works. 'We are all in this together' beats 'You're on your own' every time."
Invest in a Girl, Change the World. This logic was brought up time and time again throughout almost each plenary session I attended. Giving women all over the world equal access to important resources and opportunities has been shown to benefit both the women themselves and their communities financially.
Education of girls is one of the most powerful tools for women's empowerment, and girls who are educated have better economic prospects and are more likely to ensure that their own children go to school.
Through investing in girls and women, we show them that they matter and give them the confidence they need to care more about themselves and make better decisions. As former Secretary of State Hilary Clinton remarked:
When we're talking about empowering and connecting women, it all comes back to a question of the full and equal participation of women versus their marginalization. When women have opportunities, entire economies expand. This is a call to action to the global community to ensure that girls and women everywhere finally have the chances they deserve to live up to their full potential. For all the progress we've made, we are still a long way from the ultimate goal; today the situation remains a bare scaffold without the bricks and mortar needed to turn a dream into reality.
Act in the Present, But Think of the Future. We have to take action now. If we don't, the world that future generations inherit will be filled with lingering tensions and inequity across multiple levels. Informing yourself and engaging in conversation is just the first step.
However, keeping the future in mind is necessary. We must collaboratively imagine a future that eradicates poverty, hunger, instability, and inequality, and then we must act to make that figment of our imaginations something tangible, something accessible.
Although the 2015 deadline of the Millennium Deadline Goals (MDGs) is rapidly approaching, and although they have made a huge impact on the lives of billions, there is still much more work to be done. That's where we have to plan for the post-2015 world with the next development agenda.
Attending the Clinton Global Initiative has allowed me to see that we all have significant influence to make a difference. As teens, we don't have to wait to make an impact until tomorrow. We can be tomorrow's generation of leaders today.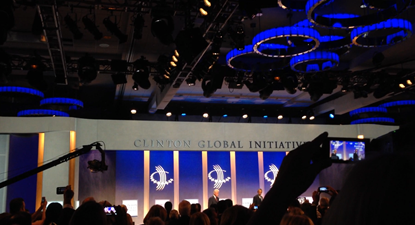 This post was originally published here.