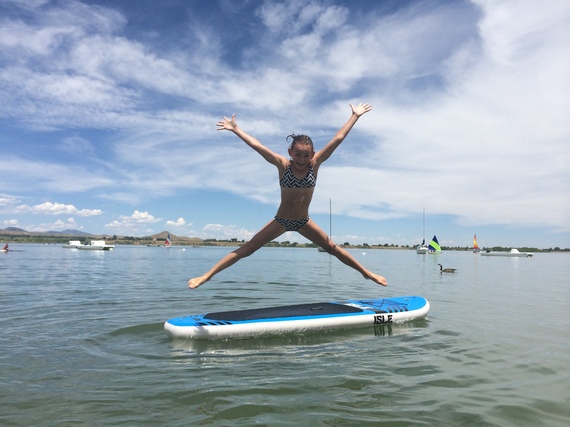 photo credit Susanne Menge
Early last year I watched Arianna Huffington on stage in San Francisco, cried through her entire talk and said inside, "I want to write for the Huffington Post."
Everything she spoke rang through my body like someone was finally saying exactly what I knew: The body, mind and spirit must be tended to for any real success. Everything suffers when we are not aligned from the inside out. Her book, Thrive: The Third Metric to Redefining Success and Creating a Life of Well-Being, Wisdom and Wonder, was on the cusp of publication, and she was speaking to thriving in all of life, telling her story of success as the culture defines it followed by a huge breakdown and then redefining the whole thing!
"I have to be a part of that conversation," I said to myself.
330 days later I sent her an email. I asked if I could join the conversation, throw in my two cents, my stories and my journey from having the American Dream to losing it all and then stepping back in to the fullness of life with a whole new strength, flexibility and endurance for it all.
I asked and she said YES!
Ecstatic at this opportunity and terrified of taking the leap, here I am!
I'm breathing deeply as I write this. It's coming out chunky and sideways. I know what I want to say but is it clear enough for you to hear? I don't know for certain, none of us do.
What I do know beyond a shadow of a doubt is this:
Every time we step out into something new, the first step can be really hard. It can be daunting, paralyzing even, but each step after that gets easier and easier and all we have to do is take the next step. Then all of a sudden we realize we did it. We bust out of our box, our prison of safe, the comfort zone and jumped into what we really want, to be all of who we are!
I'll share now the original writing I submitted to Arianna... it came though me with great ease and clarity. I got to re-read it many times as I created this post!
How to Jump Into YOUR Life...
Go. It's time. No more waiting, wanting, wishing. No figuring it out. The time is now and the job is to leap. Now.
Not for others, for you, for this life, for your truth. Go.
"I can't, I don't know enough, have enough together, I've failed so many times before. I'm not thin enough, rich enough. I can't do it."
Go.
You will never be ready.
Never know enough.
Never.
You will learn by doing.
You will learn by walking straight into what you don't know.
You will learn.
You can learn anything.

You learned to walk before your mind could tell you "it's not safe to fall." Can you imagine if all of those falls stopped you from getting up and trying again?
The time is now. You are the one you have been waiting for.
The one that knows from the center of who you are what to do.
Go.
Now.
Stop.
Waiting.
FLY!