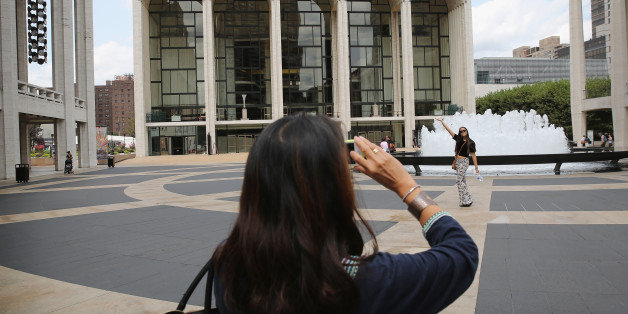 In the early 1970's, when I was in my tweens and early teens, my father, who was the Superintendent of Catoctin Mountain Park in central Maryland, created a type of living history center. He located craftsmen from the area who could demonstrate domestic arts that were quickly disappearing: blacksmithing, broom making, shingle shaving, spinning, weaving, candle making... you get the point. Many of these craftspeople lived on the mountain. They had never thought of their work as anything but their trade. Some were quite elderly. I and a couple other area girls worked as apprentices of a sort. The craft center was open to the public and for a number of years would have thousands of visitors per year.

Fast forward to today. I now live and work in the field of opera. Opera has been in the news a lot lately. At the beginning of the summer there was much coverage about a female singer's weight and the importance of physically believable singers. Also in the news was the possible closing of San Diego Opera when their general director and the board made a proclamation that he would close the company with little warning to his employees. Fortunately, the public and the profession came to the front and helped to keep the company open by restructuring and install a new board of directors.

Now the Metropolitan Opera, my home for over 20 years of my 34-year career, is in the final hours of labor negotiations. We have been told there will be a lockout starting at midnight Thursday evening when the fiscal year closes. That is when the contracts for at least 14 unions representing everyone from security guards, custodial staff, to artists and stage technicians, the costume shop, chorus, orchestra and others will expire. Those who are full-time will no longer be paid, their benefits will stop and they must find their own health insurance.

This situation is quite sad for many of us who have worked there. It is the largest performing arts organization in the U.S. The Met has existed since 1880. For many in our country and throughout the world it is known for the Saturday afternoon live radio broadcasts that started on Christmas Day 1941 and has continued. At one time there were only a few opera companies in our country and the Met would tour to major cities.

Things have changed. There are numerous smaller and excellent opera companies in our country. There is innovation, performance spaces that are appealing, opera education and experimental new works and productions. Opera is alive a well.

The Met is unique in that it is the standard bearer for great "Grand Opera" in the truest form. No theater has produced as many operas (over 300 since its inception) or has as many performances per year. The place employs over 3000 people; a proportionately small, talented and experienced administrative staff, and the remaining majority comprised of artists and craftspeople who practice their trade at the highest level in the world.

Well, in this age of virtual reality and greedy corporations, the Metropolitan Opera remains a non-profit organization that exists only to perfect, produce and promote an art form that is over 400-years old and that is unique and grand in every way. It is a living museum. Live performance is hard to quantify because it is so ephemeral. This does not make it less important than, say, a great Picasso. The Met facility allows for the Cecil B. DeMille-type of spectacle that one can see in only a few places. Moreover, there is pure, unadulterated sound produced by the finest chorus, orchestra and soloists in the world.

Sure you can go to a pop/rock concert and see spectacle but you will not hear a pure audio experience, and you certainly will not see a great story line. The Met has a combination of the human voice at its most refined and vulnerable in a live performance, and an entire company of people uniting in teamwork to present a theatrically moving experience that exists on that scale no where else.
I have worked in many theaters in many countries. Never have I worked at a place with a consistently high level of artists and craft, and a place that has so many aspects that all come together thanks to an incredible staff. People who work in the arts do it because they love it. The long hours are a given.

(Side note: Much has been made of the "average" salary for a chorus member being $200,000. Let me point out that average means that half make more than and half make less than this amount. This is not the case. I can assure every donor and every member of the paying public that every person who works in this place earns their wages. The expensive poppy field also is an absurd thing to focus on. Scenic elements are costly, that is just a fact.)

Apparently one of the extreme labor costs that the Met administration finds itself with is overtime pay for union workers. My son's father was a technical director for the time I was married to him (at Houston Grand Opera and the Lyric Opera of Chicago -- both presenters of large scale operatic productions). I knew first-hand of the rules governing employment of the stagehands. I saw him working hard to keep productions under budget. (That is the point of a budget, no?) The benefit of union labor for a company is that it is a known cost. The unions do not ask for overtime. An administration chooses to run up that cost. The union employees expect their base income and reasonable benefits. Anything else is fluff. Such cost has to be taken into consideration by those making budgetary and artistic decisions.

I am not part of the current Met negotiations and I certainly do not know the whole story. What I do know is that in the years I performed there from 1989 to the mid 2000's, someone was watching the clock meticulously so as to not activate overtime costs. Stage rehearsals would stop even if the act was not finished. It was a tight ship. In 2007, I was at the Met for a new work called the First Emperor by composer Tan Dun. It was a fabulous experience working with a Chinese production staff and the renowned film director Zhang Yimou. However, I noticed that set pieces that were elaborately decorated were changed or discarded, and we did work on a Sunday (overtime). I remember wondering how they could spend the extra money. I guess it stuck out to me from years of it being otherwise.

I sure wish more people could see and or understand and appreciate opera. I don't like it that tickets are expensive. I don't like it that opera is seen as an elitist art form. If there was better funding this might not be the case. Our society does not seem to value craft and tradition. Our society seems to value innovation, technical prowess and an increasing dependence on virtual reality for our entertainment. We are a community of short attention spans. Our society seems to value hyped-up PR machine events.
Most people will not bat an eye though at spending good money to see a current pop performer. Many value the talent and tradition of sporting events and will also pay through the nose for the opportunity to observe millionaires play games. No one balks at the fact that although the NFL is a non-profit, the players make a fortune. One might say, "Well, they have a short career." How about dancers? They cannot have a career much past the age of 40. Singers start their careers late and also one have a relatively short window of time to perform optimally in a highly competitive environment. Instrumentalists spend their entire lives -- often from the age of three or four -- practicing hours a day to reach the level to compete for a place in the Metropolitan Opera orchestra.

I do not have any answers but I do know that I do not want to see the art form of grand opera go extinct like the craft and skill of the past. I want it to be accessible. I want the public and the audiences and donors to know that the people who work to perform, create, maintain what you see at the Metropolitan Opera are well worth it.

I am due back at the Met this fall. I want the season to happen as I have been waiting to go back into my "family" fold of artists. (Read my previous entry from a few weeks ago). In writing about the situation I may be putting my employment at risk but I cannot just sit by and watch this happen to my friends, colleagues and the hard working staff of the Metropolitan Opera. Moreover, I cannot abide the art form at this level not being available to the public. If you have attended the Met in the past or would like to in the future, even once, please let the company know your thoughts.