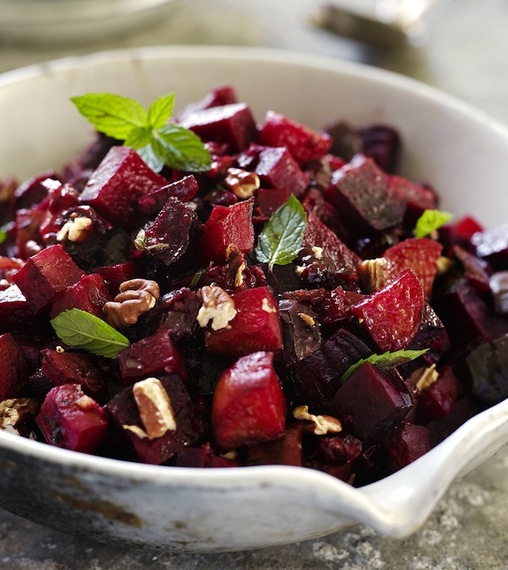 I had a pretty simple mission when I wrote my first cookbook -- to help people learn to cook vegetables so that they could really and truly enjoy them. I wanted to inspire people with the versatility of vegetables; I wanted to share cooking techniques I had learned over the years that I knew would turn out delicious results. And I wanted people to have fun cooking vegetables.
It worked. I was focused, my message was clear -- and Fast, Fresh & Greenfound an eager audience. Whew! That's about all a cookbook author can ask for.
Or is it?
I wasn't quite ready to shake anyone's world up when I wrote my second book, The Fresh & Green Table. Well, maybe a little. I did ask folks to consider moving vegetables to the center of the plate -- but in familiar dishes like pastas and salads and soups. Still, it was all about the recipes and techniques, with, of course, my ever-vigilant enthusiasm for having fun in the kitchen lurking in the background.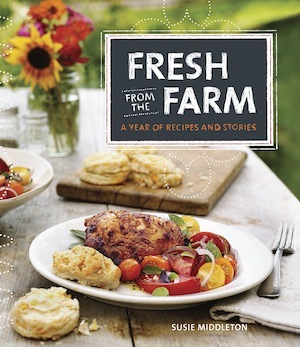 But this time around, I've gone out on a limb and done something different. Something very personal. I've written a cookbook that tells a story. Fresh From the Farm: A Year of Recipes and Stories is the story of fulfilling a dream I never really knew I had.
I didn't know the dream was real, because I didn't know how to listen to my inner voice. There was too much noise in my world. But that all changed when I hauled myself off to a new life, post mid-life crisis. (I'm sorry to say that if you're looking for the nasty, juicy bits, they're not in this book. The next one -- maybe. This one is about joy and deliciousness and gratitude and baby chicks and strawberry-rhubarb crisp.)
I knew that I wanted to spend more time outdoors, that I wanted to grow vegetables, and that I somehow wanted to be part of the team working to restore real food to the world. I knew I was ready to be my own boss -- and to live on a much smaller budget.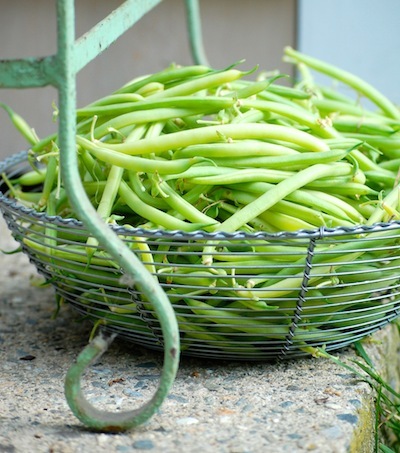 But I didn't know that what I really wanted was a farm stand... and a hoop house... and 500 laying hens! To live my happiest life on a small farm, on the island of Martha's Vineyard, in a tiny old farm house with no insulation and a rescue dog named Farmer. And a handsome carpenter. And a little girl. To snip frilly lettuce and curly kale and toothy arugula from our own beds -- 12 months of the year. To pick bunches of zinnias every August morning and stalk wild blueberries in overgrown fields. To win blue ribbons at the Fair. To grow a jungle of tomato seedlings. To ride on a tractor.
And to slosh through the goopey mud in February to collect eggs from the now-dank chicken coops. To pick the squishy potato beetles off the big sticky eggplant leaves. To weed until the sun sets. To work all day, every day, seven days a week.
See, that's just it -- a dream fulfilled isn't remotely like a fantasy. There's always crappy stuff to deal with. People like to toss around the term "living the dream" as if you've somehow taken up residence in a romance novel. But I think they're missing the point. A dream isn't a dream unless you own it and live it. And feel at last as if your life makes sense.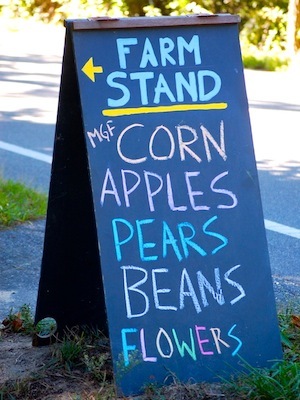 For me, I knew that cooking and enjoying good food were an important part of the equation. I just didn't realize that growing food and sharing it with my neighbors was key, too. I also didn't realize how important natural beauty and color and shape and texture were to me. I'm mesmerized by the colors of Fairy Tale eggplants and Sunburst squash and fascinated with the patterns of a chicken's feathers. I've discovered that I love photographing the farm because it allows me to hold on to snippets of beauty. (Before I go all ju-ju on you, I do have to say that enjoying the natural landscape has become a spiritual thing for me, too. I had to tell you that, because it's the truth. And it's something I apparently missed desperately in my old office life.)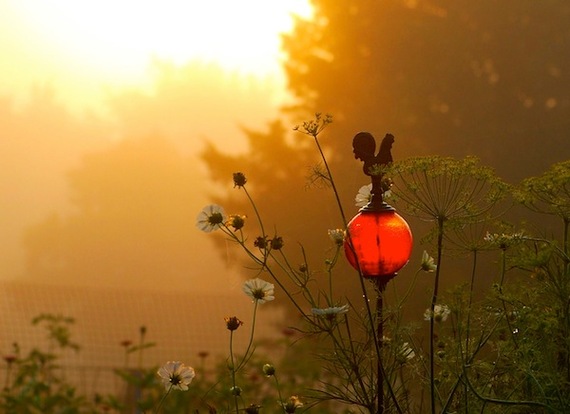 I wish I could show you every single one of the 200 photos that are in Fresh From the Farm, because they're an important part of the story.
And it's funny, as a result of this low-budget farm life I lead (which means very few restaurant dinners), cooking is even more important now than it ever was. And it can be really challenging, too. Nothing's worse than letting fresh food go to waste, so often I'm playing around with yet another way to cook something.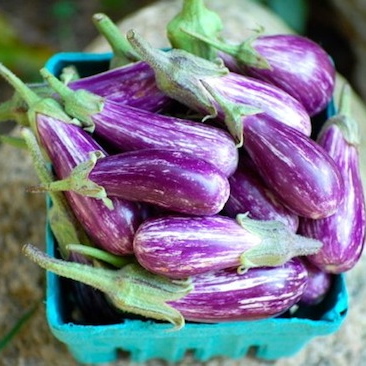 Which means (you'll be happy to know) that the 125 seasonal recipes in Fresh From the Farm are front and center. You can count on deliciousness (Farmhouse French Toast with Backyard Berry Syrup, Roasted Tomato Rustic Tart), smart techniques (Grill-Roasted Fingerlings with Rosemary, Lemon, Sea Salt & Fresh Corn Vinaigrette; Honey-Vanilla Roasted Pears) and great ways to use interesting vegetables (Spicy Thai Shrimp and Baby Bok Choy Stir-Fry; Swiss Chard & Fresh Peas with Ham and Maple-Balsamic Sauce). And, like the recipe for Roasted Beet Jewels I've included below, simple twists that turn ordinary vegetables into something special.
So eat your beets. Try growing baby bok choy (it's easy, I promise!). Build a little chicken coop (we've got a design for one in the book!). Make a Winter Market Meatloaf for your sweetie or Chinese Grilled Chicken and Bibb Lettuce Wraps with your kids. Enjoy cooking and food for the beauty and pleasure it brings us. And while you're reading Fresh From the Farm, think about what your own inner voice might be saying if you stopped to listen to it. You just never know. Here's a video sneak-peek of mine.

Roasted Beet "Jewels" with Cranberries, Toasted Pecans & Balsamic Butter

This easy and delicious side dish is a great way to introduce people to roasted beets--or beets in general. You'll love it, too, because the small-diced beets cook in only 25 minutes--no boiling or long, slow roasting here. This is also the kind of dish that's as nice in winter as it is in summer. If you can find golden beets, use a mix of colors here. Or you can also substitute carrots for half of the beets.

1 1/2 pounds beets (preferably half red and half golden), topped and tailed but not peeled
Extra virgin olive oil
kosher salt
1 tablespoon orange juice
1 tablespoon seedless red raspberry jam
1 teaspoon balsamic vinegar
1 1/2 tablespoons unsalted butter, cut into 6 pieces and chilled
1/4 cup very finely chopped dried cranberries
1 teaspoon chopped fresh thyme
1/2 cup chopped toasted pecans
small fresh parsley or mint leaves for garnish (optional)


Serves 4

Heat the oven to 450°F. Cover two heavy-duty sheet pans with parchment paper. Keeping the red and golden beets separate (if using both colors), cut them into medium-small dice (no more than about 1/2-inch). Put each color in a bowl and toss with 2 teaspoons olive oil and 1/2 teaspoon kosher salt. Transfer each bowl of beets to separate sheet pans and spread in one layer. Roast until the veggies are tender and shrunken, about 25 minutes. Transfer to a mixing bowl.

Put the orange juice, raspberry jam, and balsamic vinegar in a small saucepan over medium heat. Stir or whisk continuously until the jam is completely melted and the sauce is slightly more viscous (it may be steaming but it should not boil), about two to four minutes. Remove the pan from the heat and immediately add the cold butter. Swirl the pan until the butter is melted and the sauce is slightly creamy. Add the cranberries and thyme and stir. Pour and scrape the balsamic butter with the cranberries over the roasted beets and mix and toss gently. Add most of the pecans and stir gently again. Transfer to a serving bowl and garnish with the remaining nuts and herb leaves (if using).
Susie Middleton is editor at large for Fine Cooking magazine and blogs at sixburnersue.com. She's the author of Fresh From the Farm: A Year of Recipes and Stories (The Taunton Press, Feb. 2014) and two other cookbooks. She is co-founder of Green Island Farm.