Try as I might, some days I feel more like an armchair locavore than the real deal. I've read all the Animal, Vegetable, Miracle-inspired memoirs, and yet still I haven't found my sweet spot for eating a mostly local diet. Really, it's shameful, considering all the trouble I went to two years ago to simplify my life. I decamped from my career and moved 250 miles from suburban Connecticut to rural Martha's Vineyard. Shoot, I even had a spiritual and ecological epiphany and traded lots of material stuff (television being the least missed; the clothes dryer being the most) for yoga, long walks, centering prayer, and a vegetable garden. (I know, I'm like a bad cliché.)
But food is my love (and my work), so really what I lusted after most (especially as I slowly, painstakingly began to educate myself about the State of Food in our country) was a chance to eat an all-local diet. I joined a CSA. I learned to harvest mussels. I snipped wild watercress from streambeds in spring and picked wild blueberries on hidden hillsides all summer. I adopted a local bakery (or at least it feels like that with the money I spend on fresh bread there). Since the day I got here, I haven't (knowingly) bought or cooked with an egg that an Island hen didn't lay. And I've learned which farms have "magic" refrigerators that fill up with pork and beef after the fall slaughters. I even signed up for a chicken CSA.
But I still go to the grocery store. A lot. Not only have I not completely weaned myself off processed food (Coffee Heath Bar Crunch ice cream being the most frequent offender), but I buy out of season vegetables. Sometimes from faraway countries. Sometimes even in plastic bags. No, I'm not trying to parody the local food movement--I genuinely regret every purchase I make that doesn't support local growers and encourage the Island's drive towards a more local economy. (And I have to say, I've completely stopped eating factory farmed meat unless it is offered to me by a kind, unknowing person in the comfort of their home, and I would feel rude refusing it.) The problem is that I develop recipes for a living, and I often have to cook with ingredients (like boxed chicken broth or ubiquitous grape tomatoes) that folks can get anywhere. On top of that, because magazines work so far in advance, I'm often developing recipes (like Thanksgiving side dishes in June) out of season.
I'm always looking for that between-deadlines window--a week, a month, a fortnight--when I might try an all-local diet in earnest. (Or at least the 99-percenter. I can live--just barely--without chocolate, but not coffee. Luckily, we at least have a coffee-roaster on-Island.) Now, thanks to a kick in the pants from the HuffPost"s No Impact Week, and a happy confluence of expiring deadlines (maybe not so happy when I look at my checkbook), I've got my window.
The timing is excellent for another reason: I've just been reunited with my chest freezer. I'm told that chest freezers get a thumbs-up from the energy folks, because they are 10 to 25 percent more efficient than upright freezers. They're heavily insulated, and since cold air sinks below warm air, the top-lift door tends to let less cold air out. The freezer arrived just in the nick of time, not only because my fisherman friend just caught two plump Striped Bass for me, but because my rabid attempts to get berries and green beans and corn kernels into the freezer this summer have created a preserving conundrum. One hard lesson I learned this year--if you're going to grow or harvest a lot of your food locally and seasonally, you must learn how to preserve it, or much of it will go bad. Next year, I will embrace canning. But for this year, blanching (or roasting or soup-ifying) and freezing was the expeditious solution for me.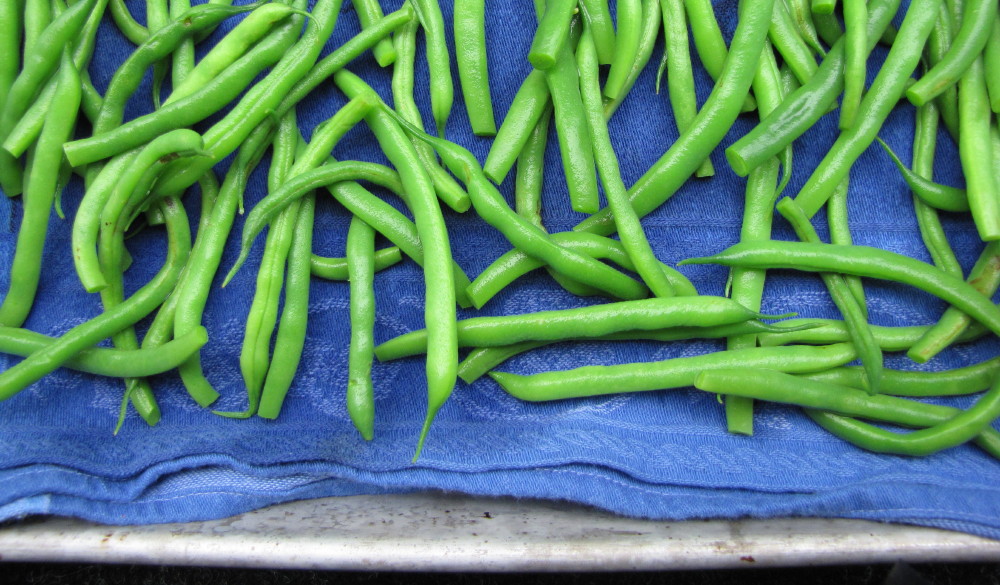 But I've been running out of room, and man (or woman) cannot live on green beans and blueberries and two striped bass for the winter (or for a week for that matter). I really wanted to stock up on local meat from Morning Glory Farm down the road, because right now their freezers are busting with pork butt, short ribs, and ground beef, but the farmstand (and their freezers) close in December. I had also gluttonously collected free butternut squash from the "reject" pile at the CSA the other day, and roasted them all in one big batch. Along with some windfall apples and local cider, I turned them into 6 quarts of delicious soup that would be a treat during No Impact Week. Now I was able to tuck them into my chest freezer with a big sigh of satisfaction. I'm now truly a freezer geek, logging stuff in and out of a cool notebook I keep on top of the freezer. And I'm ready to go 99-percent local for No Impact Week, and maybe even hit the 50-percent mark this winter. Little goals are good.
In that spirit, I've settled on the 100-mile local diet for No Impact Week. As much as I would like to do the 19-mile diet (the length of this island), I think it's more practical and neighborly to patronize some of the excellent Massachusetts and Rhode Island farms and artisans for a few things, including cheese and butter. (Okay, I admit, I haven't been saving my duck fat and pork fat, so without olive oil, I'll need some sort of cooking fat.) Thanks to my full freezer, I think I'll be able to eat about 80-percent Island-local for the week. The harder thing is going to be resisting the lure of ice cream and chocolate. Well, maybe the timing on No-Impact Week is even better than I thought. There could be a positive impact on my waistline. Now if I could just find my bicycle.