This September marked the launch of the new Eckhart Tolle - Huffington Post Channel. Eckhart Tolle brings his profound, yet simple teachings to the Pulitzer Prize winning Huffington Post. Arianna Huffington, the editor-in-chief of the Huffington Post Media Group says, "The Huffington Post is prioritizing its coverage with many sections devoted to how to help people thrive. We wanted to have the most significant spiritual teachers on The Huffington Post, and so we're thrilled to have a section dedicated to Eckhart's teachings."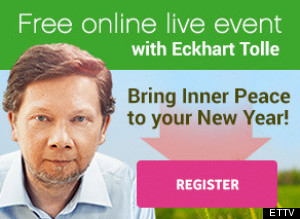 Eckhart wrote in A New Earth, "Awareness is the power that is concealed within the present moment. ... The ultimate purpose of human existence, which is to say, your purpose, is to bring that power into this world." The mission of Eckhart Tolle's Huffington Post channel is to create a portal for presence to shine through our computer screens, and remind us of our life's purpose which is to bring awareness to whatever we are doing, wherever we are, in the present moment. The wisdom of his teachings will be shared and expanded upon by Eckhart Tolle as well as other voices: spiritual teachers; intuitive healers; conscious business owners; mindful mamas and soulful scientists, all coming together to share, inspire and transform through the practices and teachings of Eckhart Tolle.

When asked how Tolle's books have influenced her, Arianna says, "It was actually at the time when my life was filled with 'time famine.' I was longing for this inner stillness, and there was something in The Power of Now that made it so clear to me that the inner stillness is actually essential for creation. Eckhart writes that all true artists, whether they know it or not, create from a place of inner stillness. When we get caught up in the stress of our daily lives, and completing our projects, and getting through our to-do list, this is something we forget."

The Eckhart Tolle - Huffington Post channel reminds us through conversations, interviews, videos, and articles to bring awareness to the present moment -- to create from the place of inner stillness -- as we move through our daily lives with our to-do-lists, projects and commitments. As Eckhart says, "In today's rush we all think too much, seek too much, want to much and forget about the joy of just Being."

In celebration of the new Eckhart Tolle - Huffington Post channel, we invite you to join us for a special Live Online Event with Eckhart Tolle on Oct. 26 at 4:00 pm ET. Click here to register.
For more information about Eckhart Tolle, please click here.