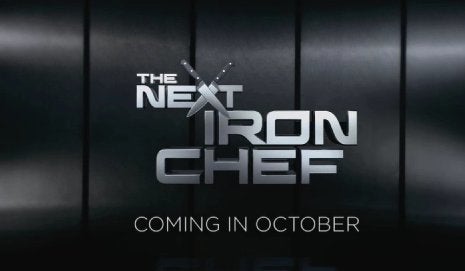 A new Iron Chef has been crowned, and celebratory spoilers are being served.
On the finale of Next Iron Chef Super Chefs (Sunday, Food Network; series completed), the Chairman's challenge -- pressure -- lived up to its threat. Aside from the coveted title being at stake -- who doesn't want to be in the Chairman's stable? -- there were "surprises" promised. Or threatened, depending on your point of view.
The contest boiled down to an east coast/west coast thang with New York-based chef Geoffrey Zakarian going mano a womano with San Francisco treat Elizabeth Falkner. Best known as a pastry chef, Falkner's facile hand with weird ingredients, such as tuna jerky soufflé and bagel ice cream, took her to the culinary version of an Ultimate Fighting Championship. But Zakarian, a master of Mediterranean cuisine, was ready to inflict the kind of damage a truckload of Hello Kitty bandages wouldn't fix.
Joining judges Simon Majumdar, Iron Chef Michael Symon and Iron Chef America in the UK Judy Joo, were Iron Chefs Bobby Flay and Masaharu Morimoto, with most of the previously eliminated chefs looking on from the Kitchen Stadium peanut gallery. (Absent: Robert Irvine, who was probably resuscitating an ailing chicken joint on 'Restaurant Impossible,' Wednesdays, 10 PM ET, Food Network.)
The battle: Create the ultimate holiday meal from the secret ingredients -- standing beef rib roast, squash, parsnips, Brussels sprouts, apple cider, and every chef's staple, candy canes.
Zakarian had visions of a "fanciful modernist Christmas" dancing in his head. Falkner's decision to make agnolotti, little pillows of filled pasta, was based on children nestled all snug in their beds, etc. The two sped over to the ingredients and started cooking and...
Wait -- without stopping the clock, the Chairman called both chefs over to unveil his first surprise: cranberries. And no, this wasn't the kind of gift you can hide in the cupboard next to the bread machine. The consolation was that they could use any eliminated chef for help in creating a cranberry dish. Zakarian and Falkner quickly agreed that Alex Guarnaschelli would be the ultimate sous chef.
Zakarian enlisted Guarnaschelli to make cranberry risotto with sake, while on the other side of Kitchen Stadium, Falkner planned a halftime palate cleanser of cranberry sorbet. Everyone was a frenzied blur of cooking and...
Hold up! Surprise number two: The Chairman blew the lid off two ice cream makers. Falkner's solution: Eggnog ice cream. Zakarian's plan: buttermilk pot de crème. That's in addition to the chefs making beef Wellington, salt cod brandade, crispy creamy Brussels sprouts for vegetarians... Y'all can relate, right?
When Guarnaschelli's 15 minutes of fame as Zakarian's little helper were up, over she went to Falkner, who had the celebrated chef shaving fennel and chopping greens. Regrettably, time ran out before Guarnaschelli could really show off her chops by smashing candy canes.
Not enough pressure for these cookers? Chairman's surprise number three was martini glasses, cuz holidays without alcohol are like -- well, bad, that's what they're like! Falkner mixed up a California Christmas cocktail of gin, Cointreau, Clementine and lemon juice, while Zakarian mixed the clems with elderflower liqueur and rum. Ho ho ho, yo!
Judgment time. Falkner presented her salt cod dressed in black garlic aioli. The black garlic caused dissent among the judges; some liked the strong flavor, while others found it a little too muscular. Next up were squash agnolotti with Brussels sprouts in brown butter cider sauce with goat cheese. Majumdar fell hard for the goat cheese with sprouts -- a red flag Iron Chef fans know well, as praise does not always lead to a win. The kudos continued, with Flay describing Falkner's beef Wellington, wrapped in prosciutto and pastry, as risky and terrific, and Majumdar admiring Falkner's chutzpah (yes, he went there!).
Then came the possible game changer: Falkner's cranberry sorbet salad of frisee and clementines -- served with a gelée. Symon nearly had '70s flashbacks of Jell-O molds, but Majumdar was swooning. By dessert, chocolate cake with peppermint snow, Falkner seemed ready to be fitted for her Iron Chef toque.
Not so fast... Zakarian presented his modern luxury Christmas dinner, starting with cranberry risotto and Mad Man Cosmopolitan. (Joo: "Oh that's REALLY good.") Zakarian's Brussels sprouts with apple mustard and apple cider reduction got a mild swipe from Morimito, who called it "a side dish," and Majumdar said Zak's crown roast beef was both overwhelming and overcooked. However, his parsnip cardamom bisque with sausage stuffing went down well, as did his buttermilk frozen custard.
Though every mom advises waiting an hour before choosing the next Iron Chef after a meal, it was decision time. If there were a competition for Iron Chef judges' comments, Majumdar would get points for using the word "chutzpah," but Morimito would win hands-down for his comment about Zakarian's food: "I can feel his heart."
So, who is (cue sound of clashing knives) the next Iron Chef? If you haven't already watched your DVR, look away, Dixieland! The newest iron chef is...
The chef who said, "Shazam!" upon winning: Geoffrey Zakarian. Congratulations, Iron Chef Zakarian, and may we say, nobody sports a Hello Kitty bandaid like you do.